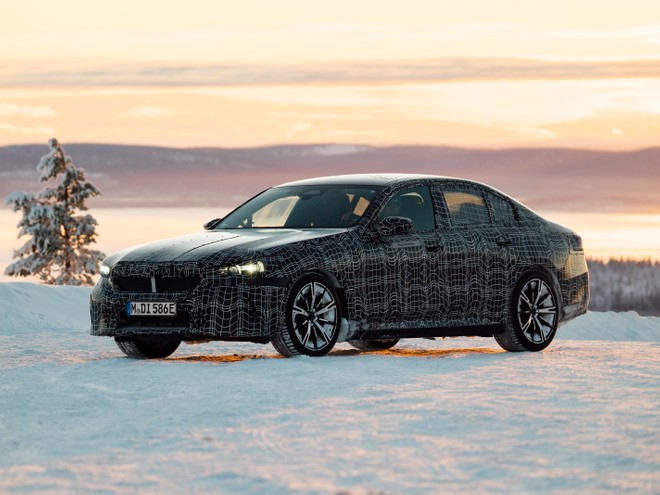 The new generation of the 5 Series will make its debut on the market. in October. As we know, the sedan will be; also proposed in a 100% electric version which will be; called BMW i5. Now, the car manufacturer wanted to tell something more about it. of development testsof the battery-powered model and, in particular, those faced in Northern Europe in extreme climatic conditions that have just ended. At the same time, the brand also shared some images of the new electric model, obviously still camouflaged with films that cover the bodywork to hide the details of the design.
DEVELOPMENT TEST

The German brand reports that the ice and snow tests lasted about a year. Everything is started in February 2022 when the forklifts of the electric sedan undertook a journey of around 3,000 km from Munich to the BMW Group's winter test center in Arjeplog in northern Sweden. This center is the ideal place to put the mechanics of new cars to the test.
The snowy roads and frozen lakes of Swedenthey are ideal places to check components of the chassis, steering and braking systems and dynamics and stability systems; driving. In addition to the tests in Northern Europe, the BMW i5 is being tested. It has also been tested in and around Munich, as well as in the vicinity of the Dingolfing plant with the aim of perfecting the set-up and delivery of the powertrain.
Part of the development work was carried out by the company. been carried out during the most recent months; cold even on the ice and snowy roads of the Alps. Last winter, the BMW i5 prototypes were sent to these places for functionality tests. and reliability; of powertrain and chassis control systems in extremely difficult road and weather conditions. The technicians have so; had the opportunity to verify the state of development of the car before returning to carry out new tests in Northern Europe which took place in February 2023. In this case, the German brand was able to fine-tune all the transmission control systems and the chassis.
Unfortunately, BMW did not want to share any more technical information; on his new electric sedan. So, we still don't know anything specific about powertrains. The debut, however, is approaching and it is; More information is likely to arrive in the coming months. Let us remind you that in 2024 BMW will bring a new range of products. the station wagon version of its i5 is also making its debut.
The 5G smartphone for everyone? Motorola Moto G 5G Plus, buy it at the best price from Amazon Marketplace for 251 euros.