Many Ukrainian NGOs are involved in investigating Russian war crimes in Ukraine. How do they work with authorities and collect their evidence?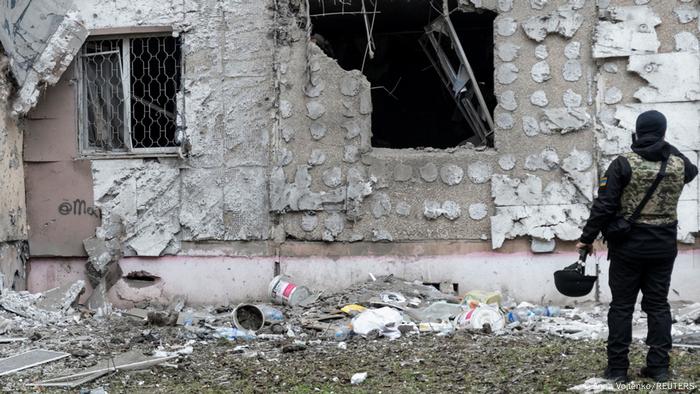 A man documents the destruction of a residential building in Cherson
About 75,000 war crimes committed by the Russian army since the start of the widespread invasion in February last year have so far been registered by Ukrainian authorities. Investigators and prosecutors, as well as international investigative bodies, are working flat out to secure evidence and interview witnesses. But the sheer magnitude of the crimes alone shows that it could take decades to actually bring most of the guilty to justice.
The investigators are also supported by more than 30 Ukrainian non-governmental organizations, which formed a coalition called the "Ukraine 5 AM Coalition" a year ago. Its goal is to give a voice to the victims of Russian aggression and to hold accountable the outright war criminals as well as the top leadership of the Russian Federation. Some member organizations of the association have been dealing with this since the illegal annexation of Crimea by Russia in 2014. Now they are sharing their experiences with their colleagues from civil society, but also with representatives of the investigative authorities.
"Not a country has ever been able to prepare to solve all war crimes. In Ukraine, too, there were no such experiences until 2014, so civil society intervened here," says Roman Avramenko, head of the Truth Hounds organization, which documents war crimes.
< h2>My contacts as sources
According to him, the partnership between officials and human rights activists is going well. The NGOs collect testimonies from crime victims via their own hotlines and directly on site, they exchange information with government agencies via a specially set up electronic database and even conduct their own investigations in some places. Sometimes they even train Ukrainian investigators to recognize what counts as war crimes in the first place.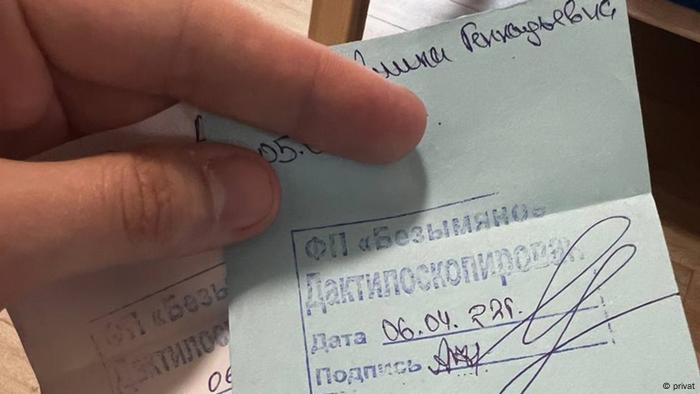 Pass of a filtration at the expulsion of Ukrainians from the Russian occupied territories
The chairwoman of the board of directors of the Center for Human Rights ZMINA, Tetyana Peschonchyk, cites examples of forced deportations that neither the law enforcement officials nor the victims themselves recognize at first glance as war crimes. "ZMINA documented 233 cases of deportation during field missions, for example in villages in the Kharkiv region on the border with Russia. And in conversations with the people, we found that hardly any of those affected had reported themselves to the law enforcement authorities. Often they understand People don't even realize that a crime happened to them because the deportations were disguised as evacuations," she says.
The situation is even more complicated for journalists and activists who belonged to the resistance movement in the Russian-occupied areas of Ukraine and are imprisoned there, says Olha Skrypnyk, head of the organization Crimean Human Rights Group. You often only find out about the disappearance of such people from their relatives. Often there are no official charges against the detainees, which means that they hardly have any legal protection. Therefore, NGOs are almost the only ones who manage to locate such prisoners through their own contacts and networks in Russian prisons.
"We already know of at least 110 people being held in a new, specially equipped detention center in Simferopol (in Russian-occupied Crimea, ed.) but the means of locating these people and their situation to check, are severely restricted. Russia does not want to officially recognize many as prisoners of war, which makes their release practically impossible," says the human rights activist.
From aggressive calls to ecocide
Oksana Romanyuk, head of the Institute for Mass Information (IMI), which has documented crimes against journalists for many years and has recorded more than 500 crimes against media representatives since the start of the Russian invasion, believes that for years the term " disinformation".
"When we talk about Russian propaganda, we forget that it is actually an extreme form of hate speech. This year it has become extremely aggressive: there are already direct calls for genocide, bombing of civilian objects, murder of Ukrainians, and all of this can even be traced back to Putin's doctrines," she explains.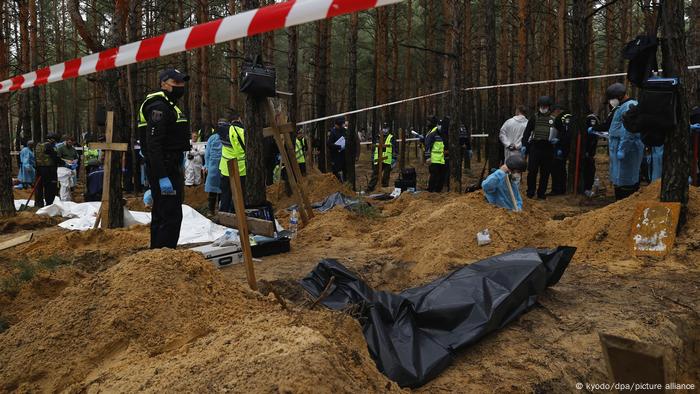 Investigation of mass graves in Izjum, Ukraine
IMI tries to criminalize cases of aggressive propaganda, but notes that international law does not yet include such a crime. "I realize that these are crimes against humanity, that they are crimes of aggression, but this dimension of such a crime is not described anywhere. Therefore, we face the challenge of ensuring that these propagandists receive a just punishment, including internationally level," emphasizes Romanyuk.
Ukrainian ecologists are faced with a similar problem trying to document the crime of ecocide, which is also rather unusual for international law.
What to do with the evidence?
NGOs strive to establish effective cooperation with law enforcement agencies. However, due to the peculiarities of criminal procedural law, materials collected by them still cannot be easily incorporated into official criminal investigations. "Adding a video from YouTube or a journalist's article to the file, for example, requires a variety of procedures, and they are often classified as inadmissible evidence in court," says Olga Reshetylova, co-founder of the Ukrainian "Media Initiative for Human Rights".< /p>
Ukraine war: hope that the Butscha perpetrators will be convicted
Often, the organizations also receive photos and videos of those affected via social networks. But how can you ensure that the image material is authentic and that the person transmitting it is also trustworthy? To solve this problem, the Bar Association of Ukraine promotes the mobile app "eyeWitness to Atrocities", developed by the International Bar Association (IBA) for recording atrocities. The application makes it impossible to falsify photo or video evidence because it simultaneously records the coordinates of the shooting location and uploads all data to the secure IBA servers, assures Dmytro Hladkyj, a lawyer from Zaporizhia.
Adaptation from the Ukrainian: Markian Ostapchuk