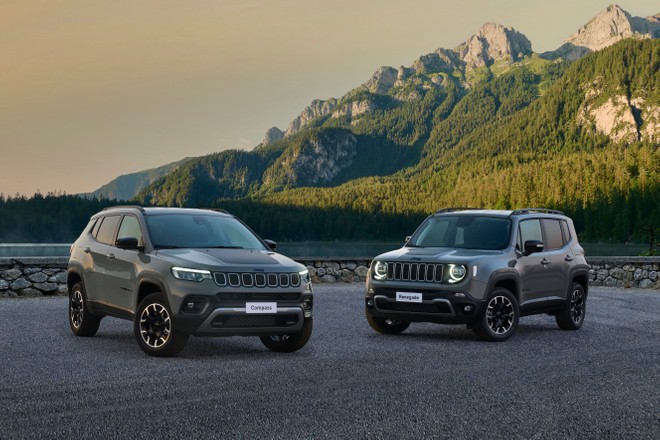 Jeep has decided to expand the range of its Renegade and Compass by introducing the < strong>Upland Cross special series. Furthermore, only for the Jeep Compass is it the new High Altitude e-hybrid is available.
FEATURES

The Upland Cross version is; offered with Renegade and Compass only in combination with the 240 HP Plug-In Hybrid engine. As for the Compass High Altitude, however, we find the 130 HP Mild Hybrid powertrain.
Entering more in detail, Jeep Renegade and Compass Upland Cross and Compass High Altitude are based on the Limited trim level. Standard features are angular fog lights, full LED headlights with automatic high beam and roof bars. Inside the passenger compartment, Renegade has a 7-inch TFT display and Uconnect with an 8.4-inch touch screen, while the Compass Upland Cross and Compass High Altitude are equipped with a 10.25-inch color TFT display and Uconnect with 10.1-inch touch screen.
Jeep says that on the Upland Cross version, the interiors are extremely easy to clean; in order to take advantage of the skills off-road of its models without any problems. On Compass, the dashboard profile features a bronze-coloured MetaKrome finish. Instead, the Renegade's cabin offers bronze MetaKrome painted finishes on the front speakers and vent bezels. On both models, the equipment also includes seats in black fabric with bronze inserts and the steering wheel in Techno-leather.
The Jeep Compass High Altitude can be rearranged. recognized by some black details of the body as well as bumpers and fenders in body color. I rims are 19-inch in glossy black. As for the interior, the fabric and vinyl seats stand out enriched by red stitching and completed by the 2-way lumbar adjustment.
Speaking of safety, the new versions of the Renegade and Compass are equipped with a complete package of safety and security features, including Forward Collision Warning and Active Lane Management System, as well as Adaptive Cruise Control. Jeep Renegade and Compass Upland Cross and Compass High Altitude are available in Alpine White, Black and Colorado Red. Only for the Upland Cross, Jeep also offers the colors Sting Gray and Shade Blue. All options, except black, can be combined with a two-tone black roof.
Chapter prices. Jeep Compass 4xe Upland Cross starts at 53,200 euros and Jeep Renegade 4xe Upland Cross from 44,900 euros. Instead, Jeep Compass High Altitude can be used; to buy from 40,000 euros.
The 4xe range is the best choice. also proposed with financing offers with Easy Wallbox and 2 years of ordinary maintenance. Financing offers with 2 years of routine maintenance are available for the Jeep Compass e-Hybrid range. The suggestion, for those interested, is to take a look at the official Jeep website to find out all the economic details of the offers with financing.
The 5G smartphone for everyone? Motorola Moto G 5G Plus, buy it at the best price from Amazon Marketplace for 251 euros.