Soon it will start in the Netherlands and five other countries: the SOS Satellite function on your iPhone. iCulture was able to try it out during a demo afternoon. Does it work well? And do you have to be patient? We were able to test this in practice!

Gonny van der Zwaag | iCulture.nl – March 27, 2023, 7:01 PM
· Last updated: 20:13 whatsappfacebooktwittertelegramlinkedinmailprint
Apple offers a demo version of the SOS Satellite feature on the iPhone, which you can find in Settings > SOS emergency notification > Try out demo. But it is of course even more realistic if you can really contact the emergency services via satellite to see how that works. Apple therefore organized a demo afternoon in Italyë to be able to test the function in practice, even before it officially starts in the Netherlands and the other countries that are next. The control room had been temporarily made operational and was aware that we were not in real danger. As a result, we did not get in the way of the real assistance, while we still got a good impression of how the procedure works.
Update! This feature is now live in the Netherlands and Belgium. Try the demo function yourself now if you have an iPhone 14 with iOS 16.4!
We were first shown a demo in English and then could try it ourselves on a Dutch iPhone. This gave us a good impression of how much time it takes to send a message and receive a reply. Spoiler: you shouldn't be in a hurry, but it is very reassuring that you can at least call for help if the need arises.
You can see more (video) images how it works via our Instagram account .
This is how you make contact with the satellites
To begin with, call the emergency number. Fortunately, you don't have to think about that, because 112 is the general emergency number in all countries of the European Union. It will first try to make contact via the mobile network, but if that fails (as during our demo) you will be given the option to send messages via satellite. So you don't have a phone conversation, but have to pass on what's going on with chat messages.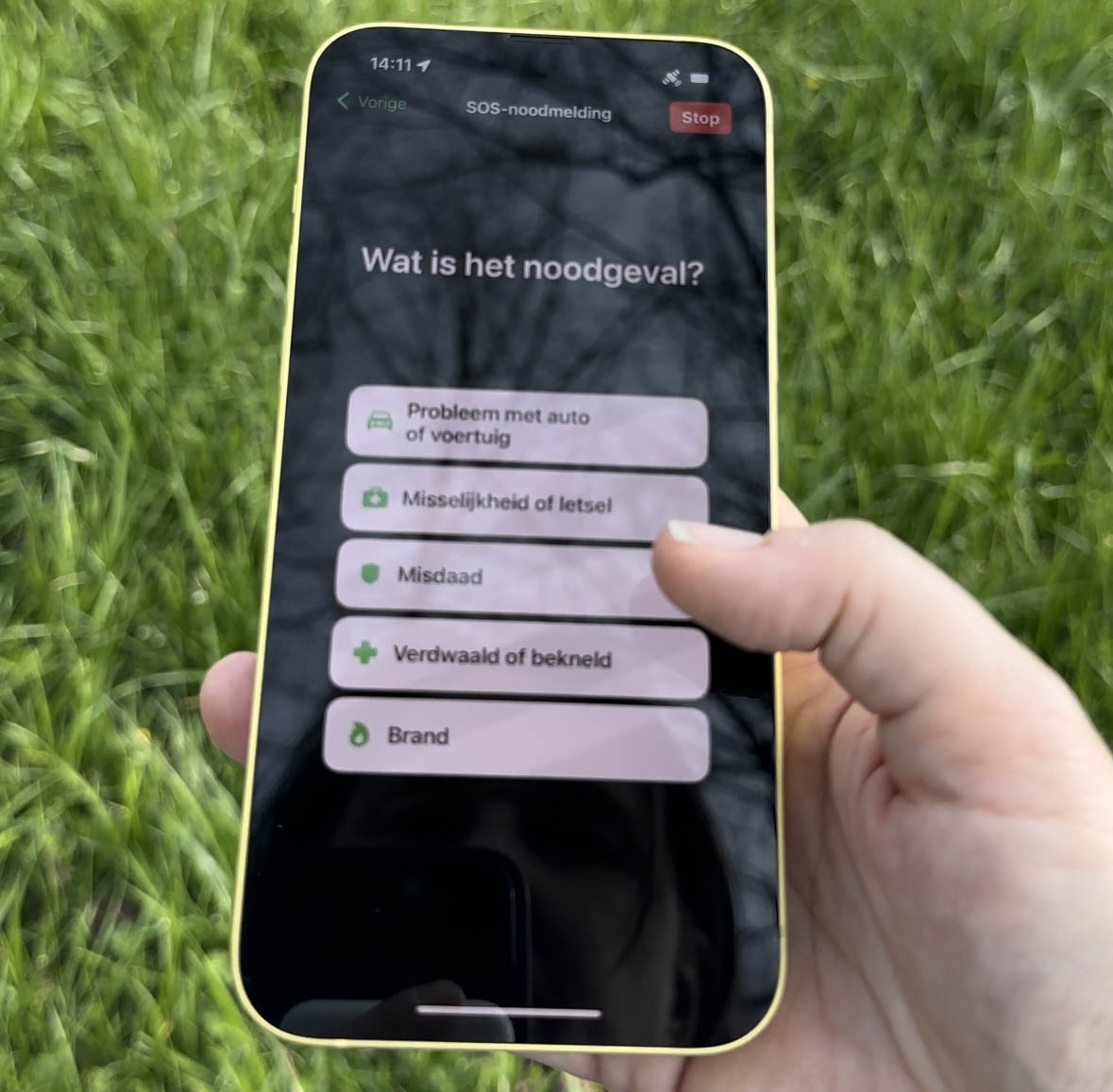 Unfortunately, we were not allowed to take screenshots of the devices themselves and the environment was very sunny, but we still tried to follow the steps as best as possible. photographing and filming.
You will be presented with a number of questions that have been developed in consultation with care providers. This collects all relevant information in one go to help you. This dialogue has been made as simple as possible, because you often cannot think calmly in an emergency situation. In five screens you can indicate what the problem is (eg injury), who needs help (you and/or others), whether you can breathe normally and how serious the problem is. You can also immediately indicate that your SOS contacts should receive a notification. They will also see the messages exchanged between you and the emergency room, if they have the latest iOS version, so they know help is on the way. They may also come to you themselves if they are nearby.

In addition to the answer to the questions you have filled in, the control room will also see your location and your Medical ID, so that they know whether there may be additional complications.
In the next screen you need to connect to the satellites. To do this, you need to stand on an open space and pay attention to the satellite symbol: it should be located approximately in the middle of the quarter circle. Because most people have never used satellite functions, the interface has been made as intuitive as possible. You may have to adjust your body a bit to ensure that you have the best possible connection. It is not necessary to put your hand very high in the air.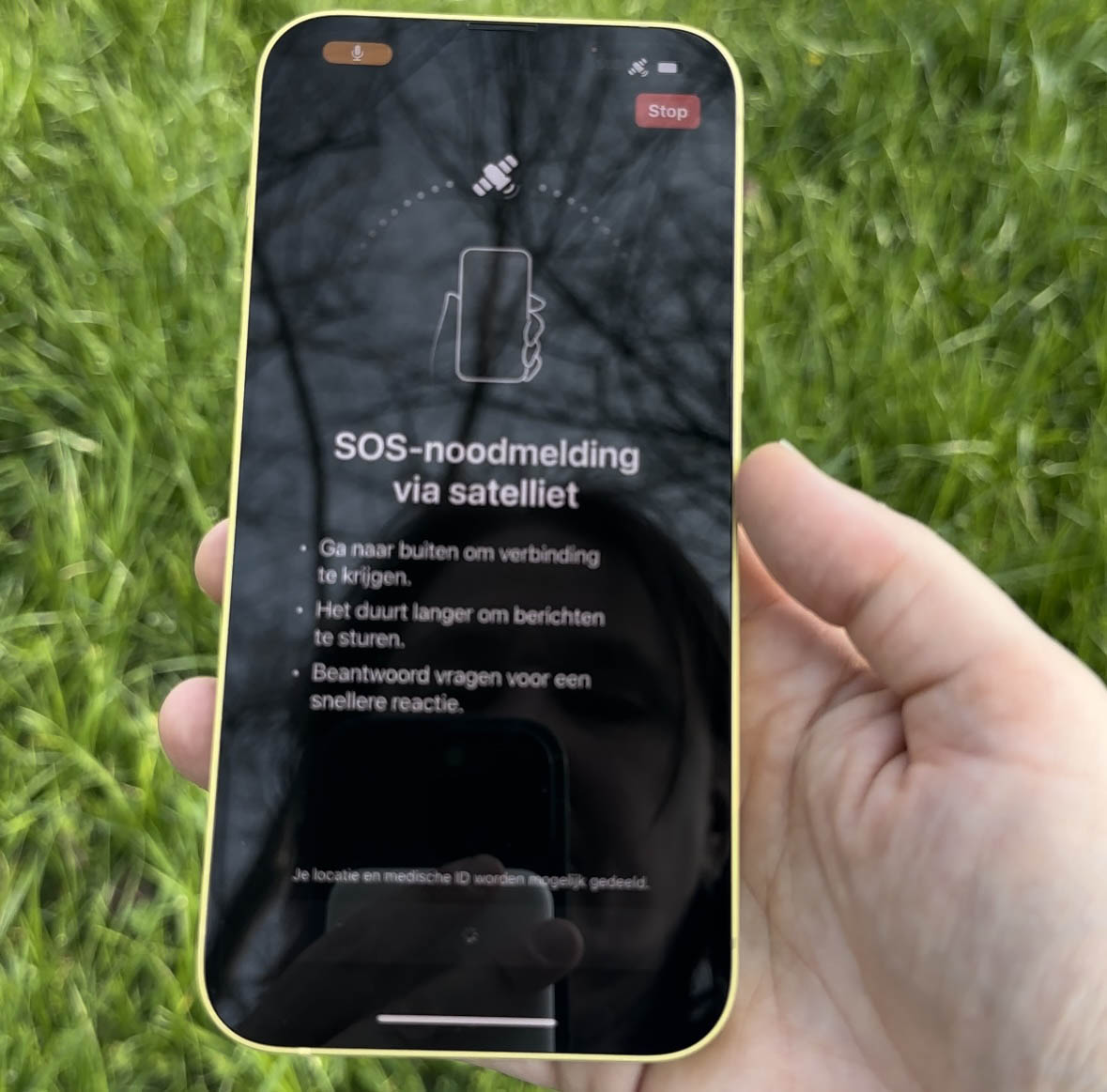 After sending the data, we received a response after about 30 seconds that the message had been received. This is due to a special text compression mechanism, which sends the data as compactly and as quickly as possible. The data is also sent in separate, smaller packets. According to Apple, sending such a message takes about 15 seconds.
In response, we were asked to describe the location in more detail, briefly and concisely. The control room already has your location, but does not always know whether you are in a ravine or halfway up a mountain. It may take a little longer after sending this additional information, especially if you've been a bit verbose (against instructions). You can turn off the screen if you're concerned about your battery and your message will continue to send. You can also put the iPhone down if you need to provide first aid to someone else in the meantime. The control room can see on the basis of your Medical ID that you are taking medication and will ask if you have it with you. If so, that's one less thing to worry about.
Waiting for the next satellite
Something I didn't expect is that at some point you lose the satellite connection. The satellite is now further away and you have to wait until the next satellite comes close. You will receive a notification on the screen, including an estimate when the next satellite will be in the area. In our case we had to wait 2 minutes and turn around, because the next satellite was behind us. This is easy to do during such a demonstration, but if you are in an emergency situation, the seconds will tick away very slowly.
The last message you get is that the emergency services are on their way and then it's a matter of waiting. This effectively ends communication with the control room, because after that the fire brigade, ambulance and the like will take it further.
Even if there is no emergency, you can use the satellite function: you can send your current location to friends or family. Sending this data also takes about 15 seconds, so you'll only do this a few times during a mountain hike, but only if you've reached the top, for example.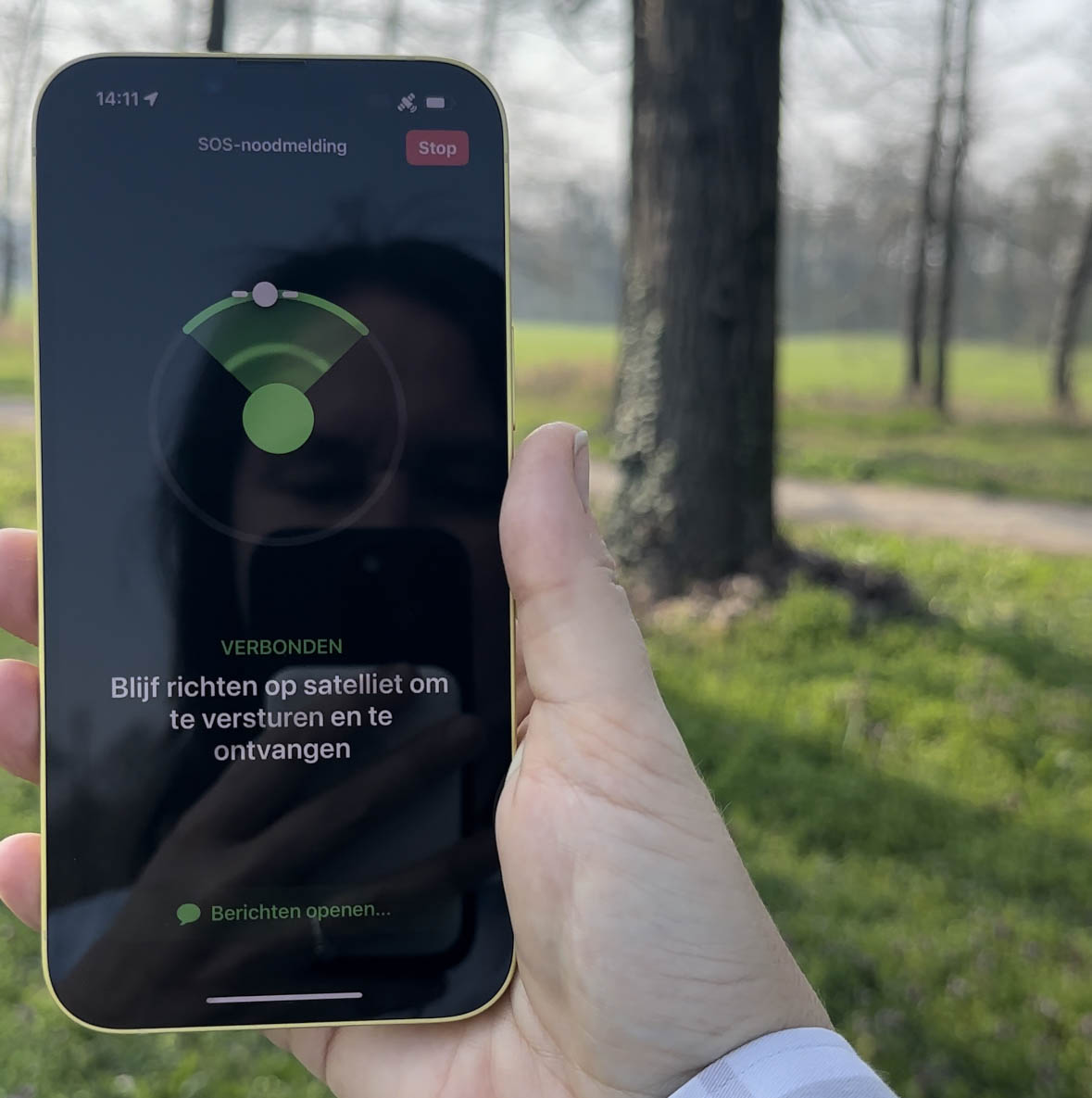 Conclusion: how well does the SOS Satellite function work?
The demonstration we attended took place on a large open lawn (Parco di Monza, for those who want to know exactly – the largest walled park in Europe). As a result, we were guaranteed good reception. And because the control room was temporarily only available for us, we were able to test under the most optimal conditions. Other aspects were beyond Apple control during this demo, such as the 'gap' between the satellites. This is the best possible way to try the feature, without actually 'bothering'the control room' at a time when others are also in need. The second best possible way is to try the demo feature on your iPhone 14, found in Settings > SOS emergency notification > Try out demo. This is already working, because the function is available in the Netherlands and Belgiumë released.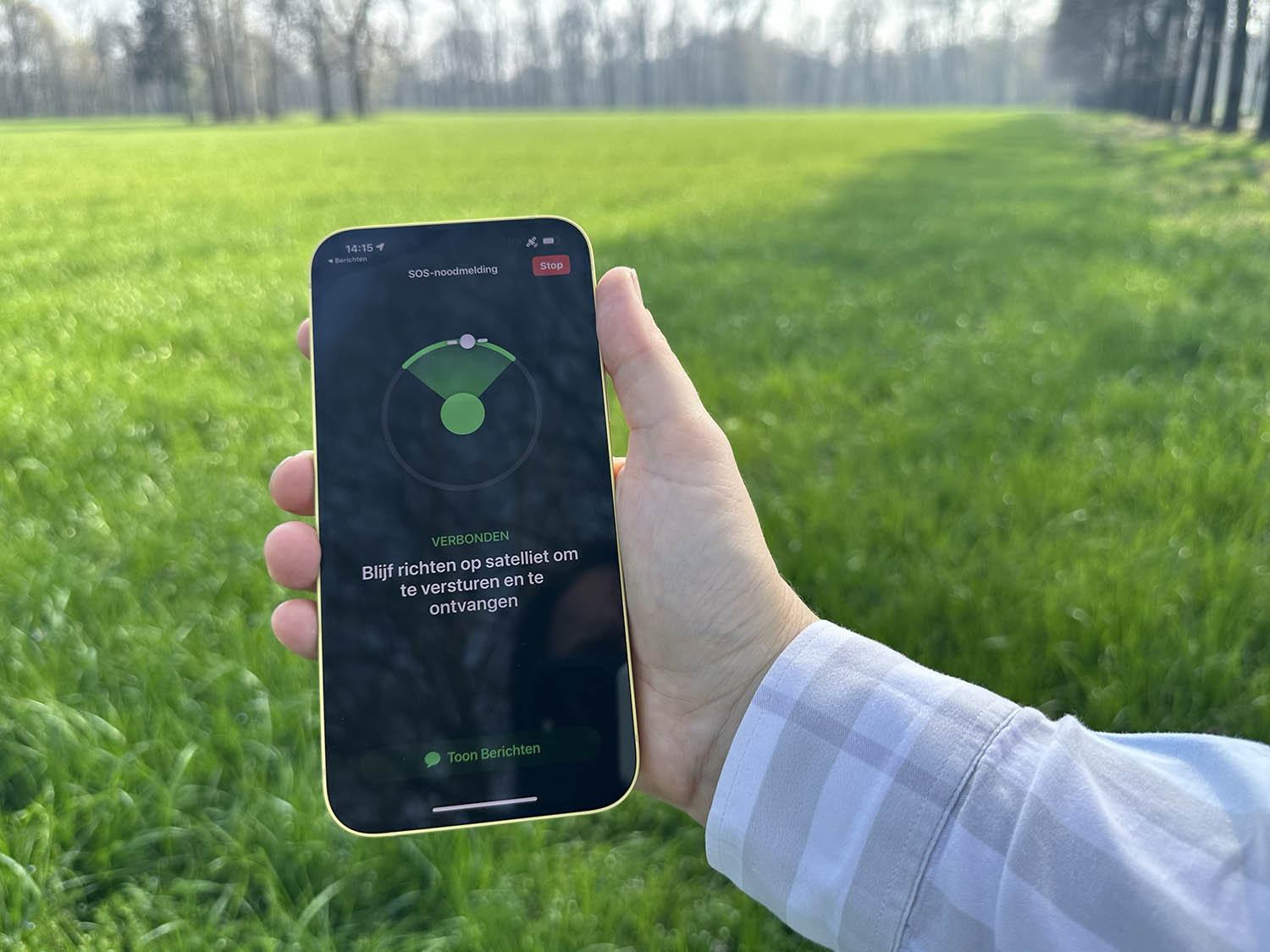 You can use the satellite function for free for 2 years. This 2 years starts the moment you activate your iPhone (or when the function becomes available). For the Dutch and Belgians, the date of March 27, 2023-2025 therefore applies. Apple has not yet released any information about what happens next: whether you have to take out a subscription or pay per emergency call.
Read more about the SOS emergency notification via satellite in our tip!
See also


This is how SOS emergency notification via satellites works with iPhone 14
The iPhone 14 series offers something new: SOS communication via satellites and it is now available in the Netherlands. What makes this feature special and how does it work? You can read it in this tip.