What were the best iOS and Mac apps of the past month? iCulture lists the harvest of February 2023 for you. You should definitely try this one!

Redactie iCulture.nl – 26 March 2023, 13:00 whatsappfacebooktwittertelegramlinkedinmailprint
In the monthly App Gemist section you can read which apps from the past month are worth checking out. We always discuss about ten apps for iPhone, iPad and Mac. These could be apps that you may not have known about or that are useful or just fun to try. And that could also be veterans who have received a major update and are therefore getting some extra attention.
Reviewed earlier this month on iCulture:
Board game classic Cluedo now at Apple Arcade
Google Translate gets a brand new design on iPhone
Microsoft wants to release its own app store for Xbox games on the iPhone
With this app you can view hundreds of detailed buildings from Apple Maps worldwide
Everyday apps become smarter and more human thanks to GPT-4
Waze is going to help everyone with an electric car find the right charger
Gowalla is back on the iPhone after 10 years: for real social contact
Spotify gives the home screen a makeover, now also with music previews
Microsoft makes Outlook for the Mac available to everyone for free (just like on iOS)
Bluesky iPhone app now available for download, invented by Twitter founder
🇳🇱 Dutch apps of the month March
Peter
This app was available for download under the name WatchGPT for a short time, but has now been given a new name because the App Store does not have names with 'GPT' allows more. This is a trademark of OpenAI. The idea of ​​this Dutch app, created by Hidde van der Ploeg, is simple but genius. With Petey you can use ChatGPT on your Apple Watch and ask all sorts of questions. When you ask Siri a question, you are often redirected to web search results. That is not useful on the Apple Watch and Petey comes in much better then.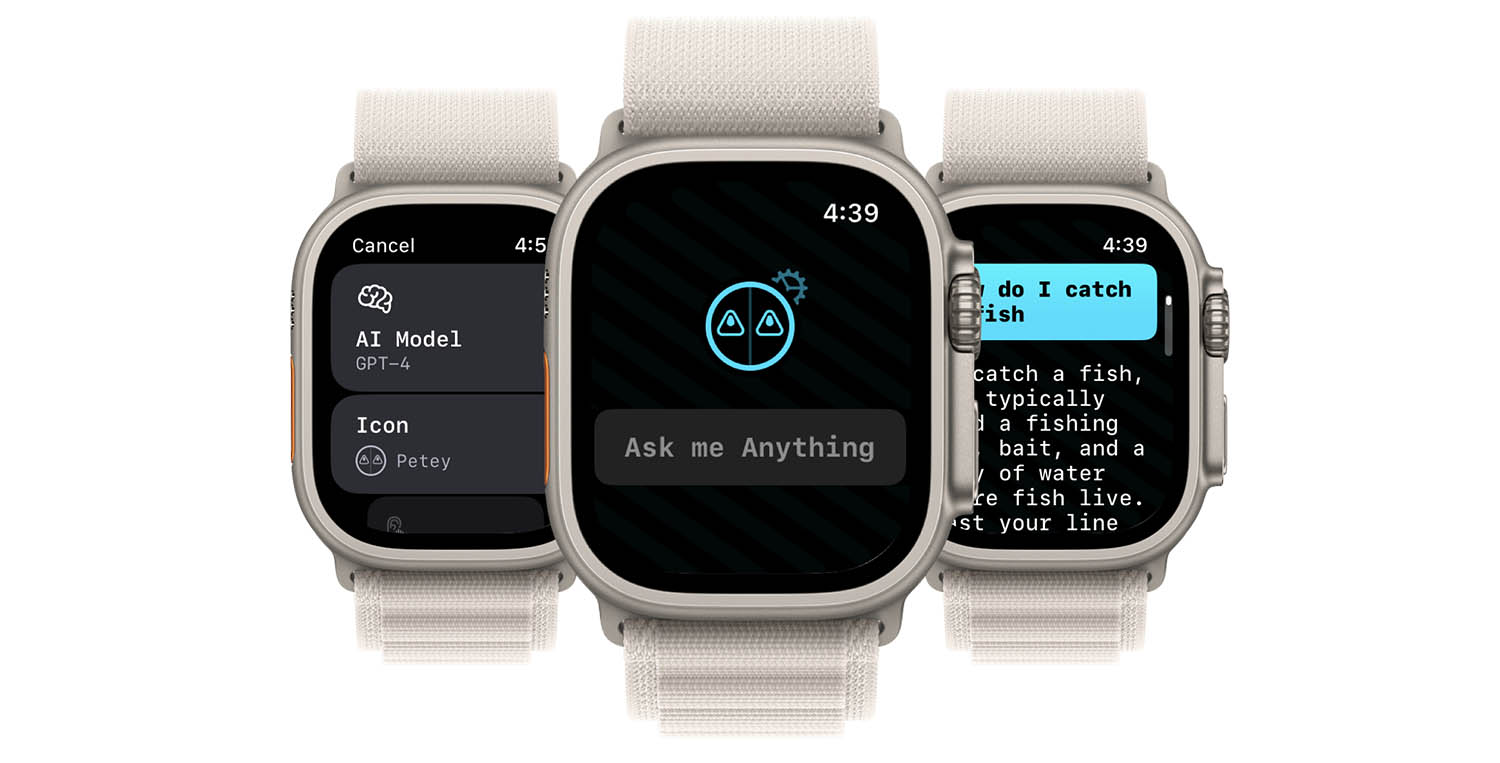 You will get useful answer with this app – and that too in an appropriately robot-like interface. With text-to-speech, the app reads out the answer. Petey is the AI ​​assistant on your Apple Watch, which you never thought you needed, but which comes in handy very often. If you put a shortcut to Petey on your watch face, you can also start Petey very quickly.
MacGPT
When it comes to Dutch developers, Jordi Bruin is never far to find. This developer rapidly releases all kinds of interesting apps and feels exactly the zeitgeist. MacGPT is a Mac app that makes ChatGPT easier for you to use. Instead of logging into OpenAI's website in your browser, you can make it easier for yourself by installing MacGPT. You can then work much more efficiently. MacGPT loads ChatGPT's user interface, but is also quickly accessible from the menu bar. You can optionally set a key combination to open MacGPT even faster.
You can download MacGPT from Jordi's website.
News
Nuws is a new Dutch app, intended for people who don't feel like reading the same news twice. At Nuws you only read about topics that interest you, based on themes that you choose in advance. According to developer Wouter, the app is still in beta phase, but it is already in the App Store.
Detail Duo
Detail Duo is a new app from the Dutchman Paul Veugen. This is an app that allows you to film with two cameras at the same time. You make a video with the camera on the back of your iPhone and at the same time you also capture images with the front camera. For example, you can comment on what is shown via an insert. Paul has been working on it with his team for the past two years. It's aimed at podcasters, coaches, and all sorts of other people who often need to create video. You can then share the video to Instagram, Twitter, TikTok or YouTube.
One ​​iPhone.
Two cameras.
Infinite possibilities.

Try it on iOS: https://t.co/zd2B3oXVIe pic.twitter.com/DvcrndXGe8

— Paul Veugen (@pveugen) March 18, 2023
When starting the app, choose the desired video layout. This will be improved in a next update, where you can still switch between different layouts during or after the recording. The film recordings are automatically saved in iCloud, without you having to export or save. You can also immediately open the video on the Mac from iCloud and continue editing there.
Swipe4Work
The Swipe4Work app prevents discrimination in job applications and also makes applying for jobs easier. With this app you can apply anonymously, so that you are helped without prejudice to a new job. You can apply with one swipe to the right, without needing a resume or motivation letter. The app contains a matching algorithm that ensures that you only see vacancies that match your profile and search preferences. This saves time and prevents unnecessary applications for vacancies that do not suit you. You indicate in which industry you want to work, how many hours you want to work, what your salary indication is and what skills and characteristics you have. This allows employers to quickly and easily see whether a candidate is suitable for the position.
Swipe4Work has now started in the northern provinces and from there wants to roll out the platform across the rest of the Netherlands.
Stippl
Stippl is a new Dutch app to make a travel plan. It replaces the Excel spreadsheet that some people use to plan their holidays. You enter the destinations and dates, book a hotel via Booking, Airbnb and other providers (this is also the revenue model of the app) and arrange transport directly from the app, including purchasing airline tickets. There are also practical functions, such as a packing list and a checklist with to-do's before you can travel. The app already contains some ready-made packing lists, which you can reuse and adapt. In Stippl you can also keep track of your costs and distribute them automatically.

If you don't yet know where you will be doing on the spot, Stippl offers inspiration for activities, hotspots and catering at the destination. You will see recommendations from previous Stippl users (who hopefully have the same taste). You can save everything you like in your account, per category and location. You can also indicate per item whether you recommend it – or not. Friends and family can see your favourites, trips and experiences during the trip by following your account.
If you don't feel like putting effort into a journey at all, you can copy a complete journey from another user and do exactly the same. The app is free to download and can also be used in Dutch.
More apps of the month of February
iCulture App of the Month: Petey We've already discussed it above with the Dutch apps, but we think Petey also deserves a mention as app of the month. We think that Petey is one of a kind and is also very well executed. The popularity of this app reflects the craziness surrounding ChatGPT and related techniques: companies such as Microsoft and Google are rolling over each other with announcements not to miss the boat. Nevertheless, as an independent developer, Hidde van der Ploeg has succeeded in making something that was not there before.
The app has already been adapted for the latest variant GPT-4. This is a paid update, in addition to the purchase price. But if you want to spontaneously experiment with ChatGPT during the day, then Petey is a real must-have.
Petey 1.2 is now available in the App Store 🎉

🧠 GPT-4 Support (In-App Purchase Required)
💬 Multiple prompts (reply to Petey)
🎨 Change the icon for the complication

And a lot more smaller improvementshttps://t.co/cbpNgOhrcG pic.twitter.com/9IgiNGbyAa

— Hidde van der Ploeg (@hiddevdploeg) March 21, 2023
Magic Highlighter
Magic Highlighter is a Safari extension that highlights keywords. For example, if you are looking for something with Google or an alternative browser such as DuckDuckGo, it is so handy that the words you are looking for are immediately recognizable. Magic Highlighter does that for you. This Safari extension was created by Caleb Hailey and can be used on the iPhone, iPad and Mac. This is especially useful on the iPhone and iPad, because the quick key combination ⌘F (for searching on a page) is not available there. Magic Highlighter can highlight multiple keywords for you at the same time. It works with Google, Bing, DuckDuckGo, Neeva, Kagi, and the Brave Search browser. The app works locally and does not send data to external servers.
Landmarks
This is an app that we have written extensively about before. The Landmarks app features 300 three-dimensional buildings and landmarks found in Apple Maps. They come from the detailed city maps available in more and more places, including Chicago, London, Los Angeles, New York, San Francisco, Sydney, Toronto and several other cities. The Canadian developers André Baev and Simon Gardinier used this data. See the Royal Opera House in London or the Golden Gate Bridge in San Francisco, without having to do a scavenger hunt in Apple Maps. The app is available for iPhone, iPad, Mac and Apple TV and requires a device with at least an A12 chip or M1 chip.
See also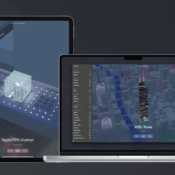 With this app you can view hundreds of detailed buildings from Apple Maps worldwide
Apple Maps shows hundreds of buildings and landmarks in detailed 3D, but you just need to know which buildings they are. This app puts hundreds of them together for easy viewing, both in day and night themes.
eM Client
The e-mail application eM Client known from the Mac will soon also be available on the iPhone. A beta is currently running through TestFlight. The Mobile eM Client App works with IMAP accounts and supports POP3, Exchange, Microsoft 365 and Google Workspaces. It is not yet known what the iPhone app will ultimately cost, but on the desktop this is a pricey solution: you pay €60 for a license or €130 for lifetime updates. There is also a free version for the Mac to get to know the app, but it is so limited in terms of functions that you quickly reach for the paid version. In the test version for iPhone, many functions are still missing. You can retrieve mail, but extras such as contacts, calendars, tasks, notes and chats have not yet been added.
em Client for iPhone can be tested here.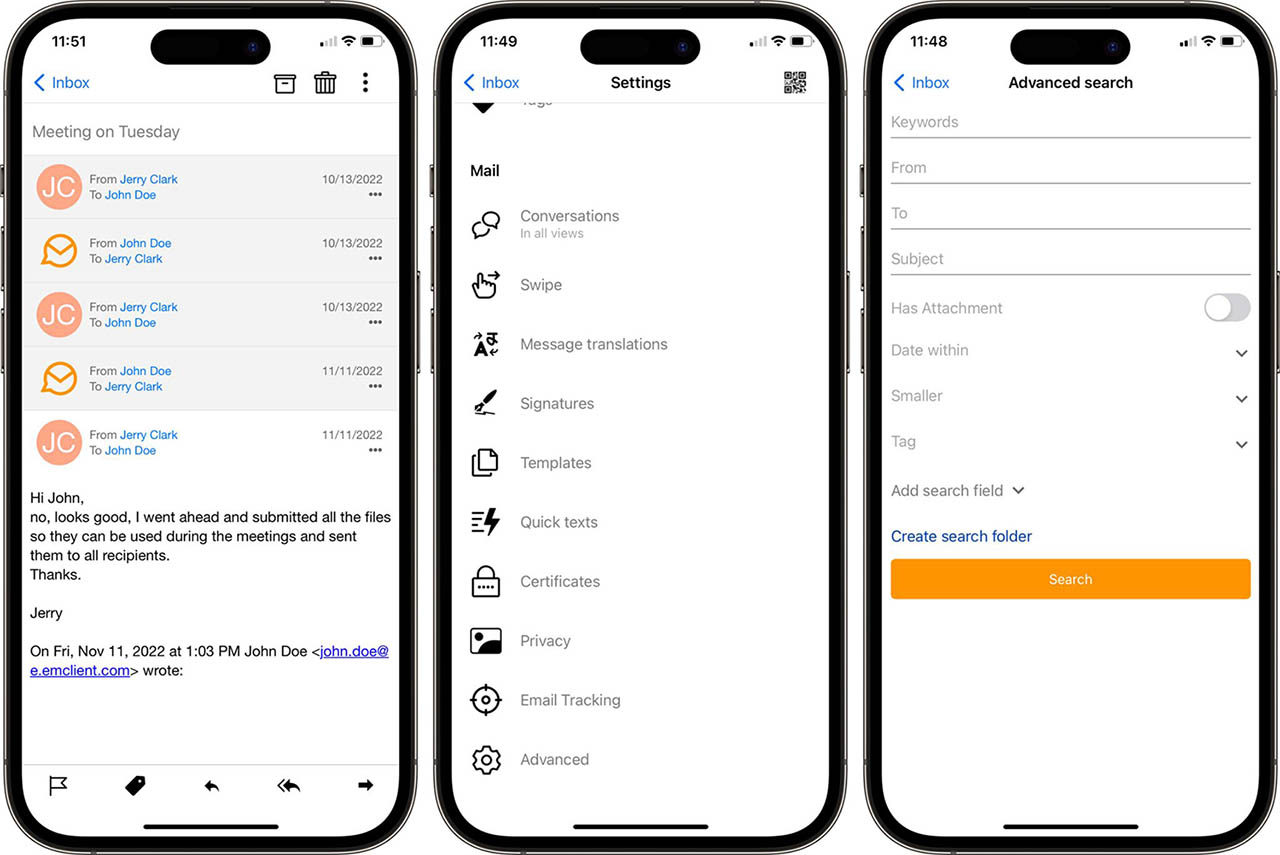 HE. NET Network Tools
If you use the Fing networking tool, you might also be interested in this free alternative. HE.NET Network Tools contains a large collection of practical tools for your home network, such as an IP calculator, port scanner, Traceroute, WHOIS, sending PINGs and performing DNS queries. It can be used on iPhone and iPad and can even generate two-factor passwords. The app is only 6MB in size and requires iOS 13. There are no ads or in-app purchases.
Antoine
If you're looking for more of a system tool for your iPhone, Antoine is worth checking out. This is a real-time system log viewer, suitable for devices running iOS 13 through iOS 16.2. The app has a clean console style look and displays real-time Syslog/OSLog logs. You can search all kinds of log files on your device, without needing a Mac. You can also filter by process, message, type and other parameters. Antoine was already available on the project's GitHub page, but is now also available through the Chariz repository. You don't need a jailbreak.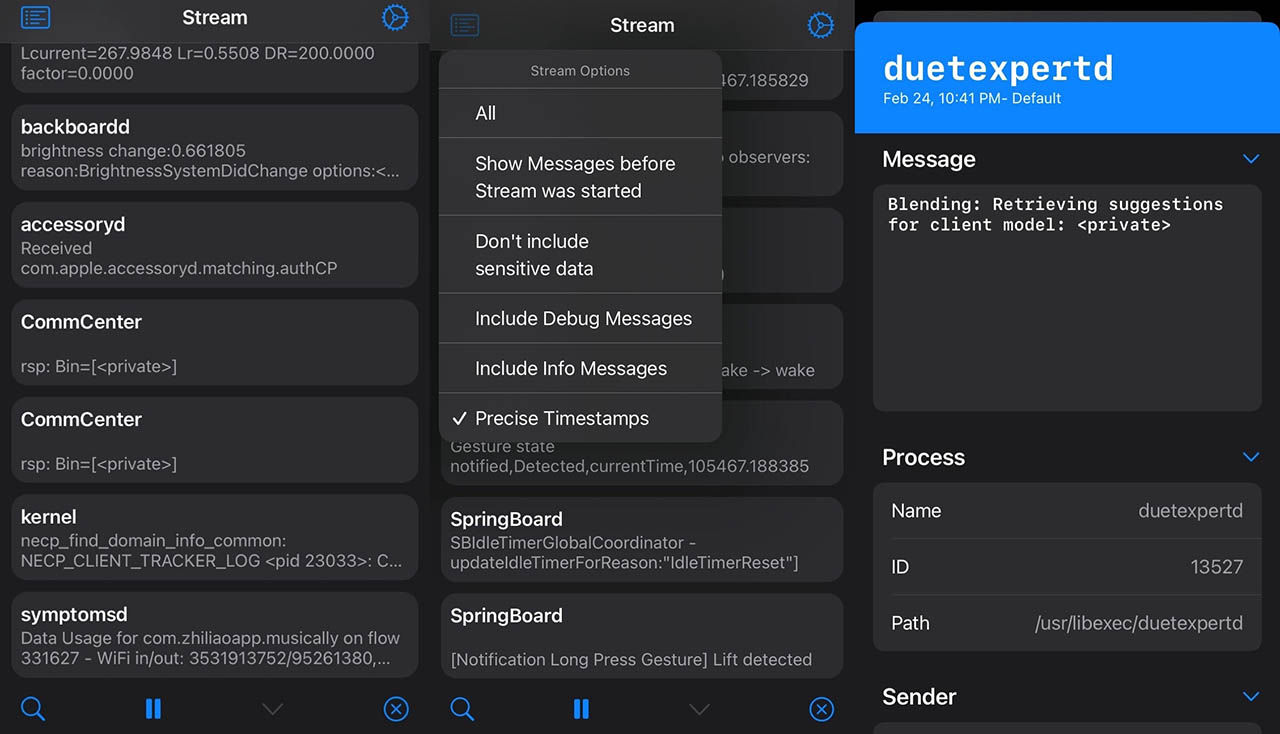 Music Library Tracker
Spatial Audio is one of the plus points of Apple Music. There are countless tracks with spatial audio, but how do you find them? They can only be identified by the 'Dolby Atmos' label on the playback screen and there are no filtering features in Apple's Music app. The new 'Music Library Tracker' however, will come to your aid. This one was created by freelance developer Ben Dodson and is quite simple in design. You connect to your Apple Music account and the app shows which songs can be listened to with Spatial Audio. The app also creates a playlist of all songs. The app updates the lists regularly so you don't miss any new songs. However, the app still has its limitations. For example, it only shows audio tracks that are in your personal library. More information can be found on the developer's website.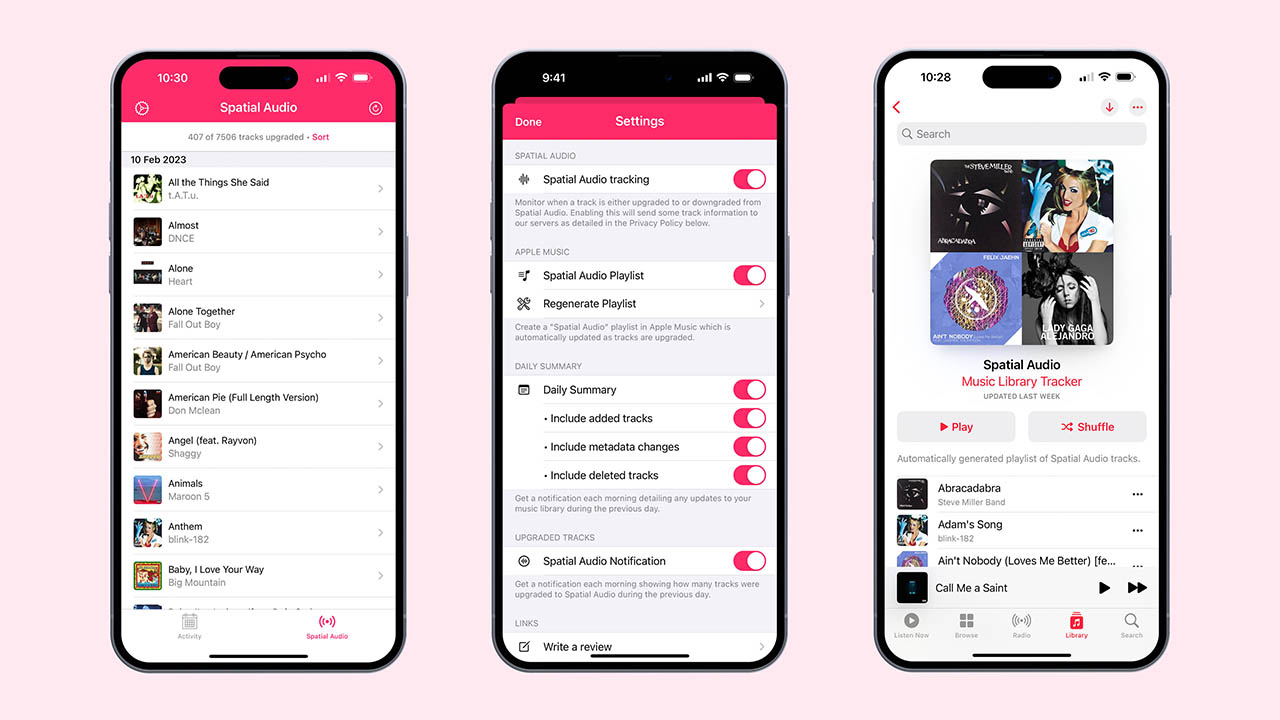 ReplyCube
ReplyCube is an Apple Mail extension to provide canned replies. This way you can go through your mail faster, especially if you often have to give the same answer. It was created by Funn Media, who previously marketed popular apps like Calory and WaterMinder. Apple added support for Mail extensions in macOS Monterey and the makers of ReplyCube took advantage of that. There aren't many extensions yet.
In ReplyCube you create the reusable replies and text fragments you want to use to reply to email. You can also filter for certain types of messages here. ReplyCube's text editor supports standard formatting, as well as images and files. If you need to reply to an e-mail, you have a standard answer ready in just a few clicks. The app is free to download and use for seven days. After that you have to take out a subscription of €11.49 per year.
Gowalla
After 10 years of absence, Gowalla is back on the iPhone. With this app you can check in on locations and pass on tips for nice restaurants and bars to friends. The app was re-released during the SXSW festival, where the original version also launched in 2009. After being acquired by Facebook, Gowalla was pulled from the App Store. However, founder and CEO Josh Williams still sees a future in it and hopes that a new payment model will catch on.
See also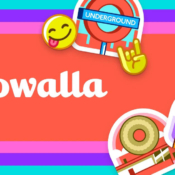 Gowalla is back on the iPhone after 10 years: for real social contact
The social event SXSW is in full swing this week. The most notable announcement for iPhone users? Surely that is the return of Gowalla. Go-who?