At FC Bayern Munich, Thomas Tuchel takes over as coach from Julian Nagelsmann. The record champions caused a bang during the international break in the Bundesliga.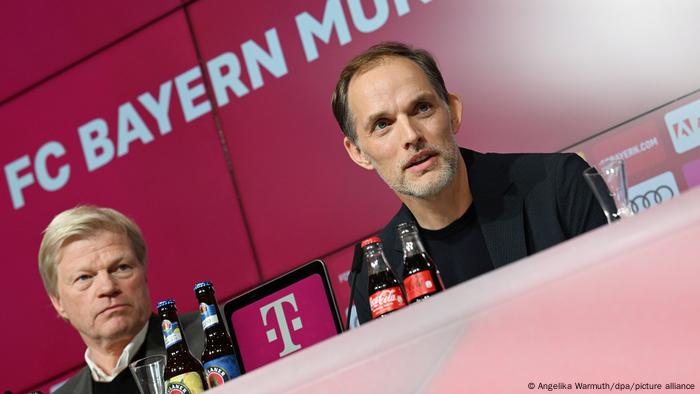 New coach in Munich: Thomas Tuchel (r.) next to FC Bayern boss Oliver Kahn (l.)
"It's an honor and a distinction to be asked by FC Bayern," said Thomas Tuchel when he was introduced to the German record champions on Saturday afternoon as the successor to the dismissed Julian Nagelsmann. "The DNA of the club is very clearly defined. It's about winning, it's also about the way of winning," explained Tuchel. "The squad is put together accordingly. It's one of the most talented and the best squads in Europe. You can play for any title with this squad."
Bayern had parted ways with Nagelsmann the day before and at the same time confirmed that Tuchel would be the new coach. The 49-year-old former coach of Borussia Dortmund, who has been with English Premier League club Chelsea since his release was without a contract in September 2022, now has the task of leading Munich to the eleventh German championship title in a row and also getting as far as possible in the Champions League. His first appearance on the Munich coaching bench will be in the Bundesliga classic against his former club Dortmund, which will rise after the international break.
Bayern boss Oliver Kahn emphasized that Tuchel, like in his time worked with many top stars like Neymar or Kylian Mbappé at Paris Saint-Germain, which was certainly not easy.
"We need a top man like that now. He has gained a lot of experience abroad," said sporting director Hasan Salihamidzic. The negotiations between the Bayern management and Tuchel began last Tuesday. He signed a contract in Munich until June 30, 2025.
Poor record in 2023
For Nagelsmann, who was sold to RB Leipzig a year and a half ago for a transfer fee of 25 million euros and then signed a five-year contract in Munich, the defeat at Bayer 04 Leverkusen and the associated slipping to second place in the table last Sunday was obvious one setback too many. The 2-1 draw against the Werkself was only the third defeat of the Bundesliga season, but Bayern have only won five of ten Bundesliga games in 2023 and have picked up ten points less from BVB since the start after the winter break. In addition – much to Nagelsmann's annoyance – tactical considerations before the games in question had repeatedly reached the public.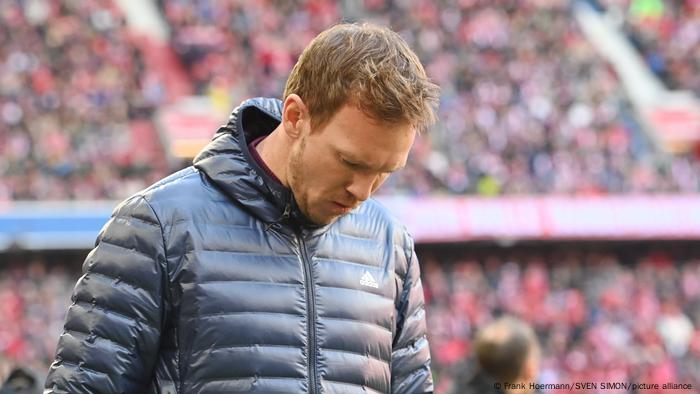 Julian Nagelsmann's tenure at Bayern Munich ends after just under 21 months
"I can only say that Julian Nagelsmann is an outstanding coach," said national team captain Joshua Kimmich when Nagelsmann's dismissal was not yet officially certain, but had been announced by "Bild". "I would say that he's easily in the top three of my best coaches," says Kimmich, who has already had a number of well-known coaches.
"Only" a championship title
Similar to Niko Kovac, who, like Nagelsmann, was once brought to Munich by the competition, but had no lasting success there, "only" a championship title remains. Nagelsmann led Bayern to their tenth championship in a row in his first season. However, even then he was criticized because Bayern had failed early on in the DFB Cup at Borussia Mönchengladbach and had lost out in the Champions League in the quarter-finals against Spanish outsiders FC Villarreal.
In the During the current season, Nagelsmann wanted to prove it to everyone, but now he had to resign. Thomas Tuchel could reap the fruits: In the Champions League, Bayern play in the quarter-finals against Manchester City, in the DFB Cup in the quarter-finals against SC Freiburg. And everything is still possible in the Bundesliga, even if Bayern are currently "only" second, a point behind Borussia Dortmund.
The article was updated on March 25.
asz/sti/sn/mb (dpa, sid)