For decades, Armenia and Azerbaijan have been fighting over the Nagorno-Karabakh region. The ceasefire agreed in 2020 is fragile, even civilians are preparing for a possible escalation. From Yerevan Anja Koch.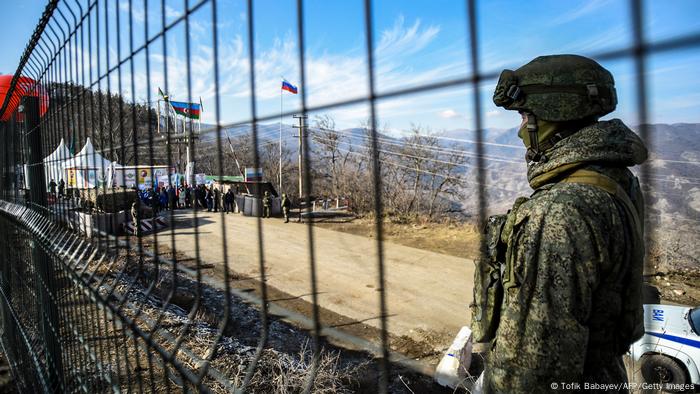 A Russian soldier on the Armenian-Azerbaijani border
For training, Gohar has put on a camouflage jacket. It's Friday evening, shortly before 8 p.m., in an aging hall on the outskirts of the Armenian capital Yerevan. The 27-year-old has already done several rounds of push-ups and squats, and now she still has a lesson in weaponry ahead of her. "The situation in our country is so unstable that every Armenian should know how to shoot," she says, adding: "In case something goes wrong." Gohar is alluding to the fragile ceasefire between Armenia and neighboring Azerbaijan. The last war in autumn 2020 lasted 44 days, 6500 people died. Gohar comes here six times a week, for paramilitary training organized by the organization "Voma", for three hours each time – although she has a job as a dentist and is the mother of a one-year-old son. "It's important that we all, including civilians, are prepared," she says.
Others see it that way too: 25 participants came to the training session that evening, more than half of them women. In one corner of the hall they practice mountain climbing, in another they practice first aid for wounded soldiers. Kalashnikov dummies stand next to a first-aid kit. According to its own statements, the organization "Voma" has already trained between 5,000 and 6,000 volunteers, financed primarily by donations from Armenians abroad. It is said that the demand for the training has increased enormously since the last war.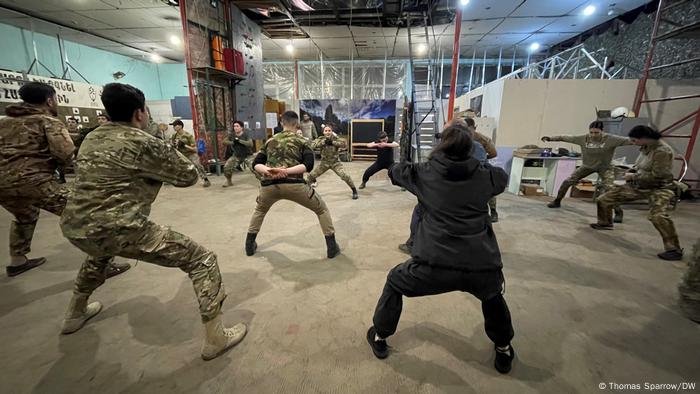 Training on the outskirts of Yerevan civilians six times a week.
Two wars cost tens of thousands of lives
The conflict between the two former Soviet republics of Armenia and Azerbaijan has been going on for decades. The focus is on the disputed region of Nagorno-Karabakh, in which mostly Armenians live. After the collapse of the Soviet Union, the independent Nagorno-Karabakh Republic was proclaimed, but the international community has never recognized it. Shortly thereafter, in 1992, war broke out between what was then militarily superior Armenia and Azerbaijan. It lasted until 1994, claimed tens of thousands of lives on both sides and led to mass flight and expulsion. After that, Armenia occupied the area that is part of Azerbaijan under international law. In the second Karabakh war in 2020, Azerbaijan gained control over large parts of the region. The human rights organization Amnesty International accuses both sides of having committed war crimes.
The war officially ended on November 10, 2020 with a Russian-brokered ceasefire agreement. A visit to the Armenian village of Sotk, just five kilometers from the Azerbaijani border, shows how fragile this agreement is. In September 2022, the village was shelled by Azerbaijan. Mayor Sevak Khachatryan shows a house hit by a shell. "A family of seven lived here," he says, adding that the attack took place during the night. Now only remnants of the walls remain, the windows are shattered, broken dishes lie on the floor, a single spoon and an old frying pan. "It's a miracle that no one was injured," says Khachatryan. "All residents fled to safety shortly before the attack." In the neighboring house, however, a young woman was injured, "she had come from abroad to visit her mother". The television is still in the completely destroyed living room and reminds us of better times.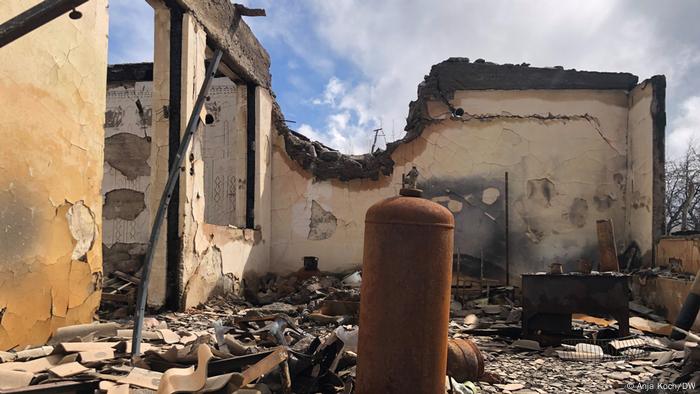 The village of Sotk was shelled by Azerbaijan last September
Abandoned by protecting power Russia
Attacks also took place in other places along the border in September, for which both sides blame each other. The Russian peacekeepers, who are tasked with monitoring compliance with the 2020 ceasefire agreement, were unable or unwilling to prevent the escalation. In any case, many Armenians feel abandoned by the former protecting power Russia. "The war in Ukraine also affects us Armenians because it has created a power vacuum in the South Caucasus," says Tigran Grigoryan, head of the think tank "Regional Center for Democracy and Security" in Yerevan. If Azerbaijan breaks the agreement, Moscow – unlike before – would no longer intervene. To Russia's chagrin, Armenia and Azerbaijan have agreed to an EU observer mission. Around 100 police officers from various EU countries are to patrol the border villages in Armenia and document possible incidents. "We can't intervene, we only have binoculars and cameras," says Markus Ritter, head of the EU mission. Many Armenians are happy about the EU presence, says Ritter, but at the same time dampens expectations. The observers are not allowed on Azerbaijani territory, so Ritter and his colleagues cannot judge whether, for example, there are troop movements there in preparation for new attacks. "Many Armenians are expecting an offensive by Azerbaijan in the spring. If that doesn't happen, then our mission will already be a success."
In the past few days there have been incidents again: Armenia accuses Azerbaijani troops of killing a soldier. A week earlier, Armenia is said to have shelled Azerbaijani positions, sources in Baku say.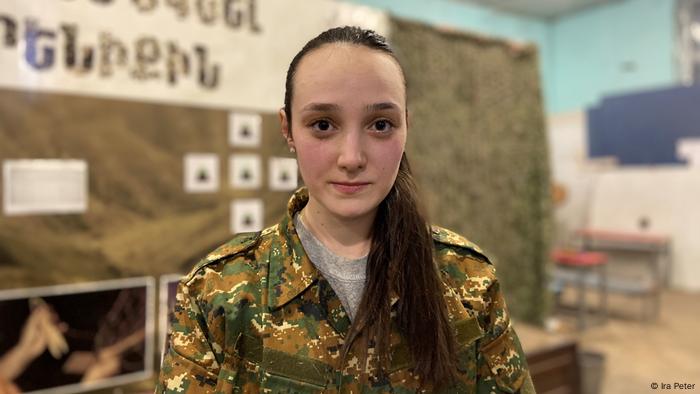 "In Armenia, everyone should know how to shoot," says 27-year-old Gohar
It's reports like this that keep Gohar going to Yerevan for paramilitary training. She is already halfway through the three-month training course. What will the future bring? "There are two scenarios," she says. "The optimistic thing is that we'll manage to sit down and settle our differences. The pessimistic thing is: we'll fight until a nation dies."
The research was supported by Friedrich-Ebert -Foundation, endowment.