This year, all iPhone 15 models are expected to get a Dynamic Island. Still, Apple is not going to copy the function 1-to-1 from the current iPhone 14 Pro. It contains a new component.

Gonny van der Zwaag | iCulture.nl – 25 March 2023, 13:06 whatsappfacebooktwittertelegramlinkedinmailprint
According to a tweet from analyst Ming-Chi Kuo, Apple will incorporate the iPhone's proximity sensor into the Dynamic Island, rather than next to it. With the current iPhone 14 Pro, the proximity sensor can be found below the screen, outside the Dynamic Island. If it is integrated into the Dynamic Island with the iPhone 15 models, this does not mean that this area will become larger. According to Kuo, there are virtually no external changes to be seen. According to previous rumors, the new module is codenamed 'Sphinx' got.
The proximity sensor measures whether the iPhone is held against the ear. During a telephone conversation, the screen is then switched off, so that you do not have bright lighting near your eye. The shifting of the sensor could be related to improvements in Face ID, but this does not change the functionality of the Dynamic Island. It may be mainly due to cost savings. Kuo has learned that Apple supplier Finisar is supplying the proximity sensors. They also have other specs: they go from a wavelength of 1380nm to 940nm. In this case, a smaller number does not mean a lower quality. A smaller wavelength should even provide better performance.
IQE將取代聯亞,成為iPhone 15系列的proximity sensor的 磊晶晶圓 (epi wafer) 獨家供應商。所有iPhone 15機型雖& #22343;採用與iPhone 14 Pro機型相同的動態島& #35373;計,但差別在於iPhone 14 Pro將proximity sensor放置屏 下/在動態島外,而iPhone 15系列則在 動態島面積幾乎沒有變化下&# 65292;將proximity…

— 郭明錤 (Ming-Chi Kuo) (@mingchikuo) March 24, 2023

The updated Dynamic Island with built-in proximity sensor applies to all iPhone 15 models expected in September. Other screen functions such as the always on display and ProMotion for smoother images will probably only be found on the Pro models.
You can find a summary of all expected features of the iPhone 15 screen in our overview.
See also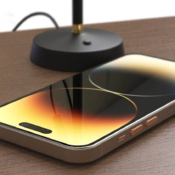 iPhone 15 screen: curved edges and narrowest bezels ever
What do we already know about the iPhone 15 series screen? In this article you can read all the rumors, expectations and more about the screens of the iPhone 15 and iPhone 15 Pro. There are rumors about the Dynamic Island, the screen edges and more.