Luxury car brand Lucid Motors has announced that every new electric car they release will now be equipped with wireless Apple CarPlay. The iPhone connects automatically as soon as you get in.

Gonny van der Zwaag | iCulture.nl – 24 March 2023, 8:22 whatsappfacebooktwittertelegramlinkedinmailprint
Lucid Air with wireless CarPlay
Connecting your iPhone is therefore no longer necessary, unless you also want to charge the device. With CarPlay you can then access Apple Maps, Apple Music, iMessage and much more. The CarPlay interface resembles that of your iPhone, so you'll be familiar with it right away. You may be less familiar with the Lucid Air brand. This brand has existed since 2016 and focuses on the higher segment. Direct competitors are the Tesla Model S, the Fisker Karma and the Porsche Taycan. It also appeals to people who previously bought a Mercedes-Benz, BMW or Audi. Lucid Air opened its first European showroom in May 2022. Not entirely coincidentally, Munich was chosen. This was followed by sales and service locations in the Netherlands, Norway and Switzerland.
Founded by the brains behind the Tesla Model S, Lucid Motors is based in California. The cars themselves are produced in a new factory in Casa Grande Arizona and that has an impact on the price. The Lucid Air Pure is the most basic version and starts at €100,000.

Dutch customers can choose from two versions: the Dream Edition P and Dream Edition R, both for €220,000 each. The main plus of the R-version (Range) is the enormous range: you can drive about 900 kilometers with it. If you opt for the P version (Performance), you get an extra powerful engine with an output of 1,126 hp. This allows you to sprint from a standstill to a speed of 100 km/h in 2.7 seconds. The R version seems to be the better choice, because it only takes a fraction longer to reach 100 km/h: 2.9 seconds. Also special is the top speed of both versions, which is 270 km/h, which is particularly high for a fully electric car. Lucid also makes the Air Touring and Air Grand Touring models.
Apple CarPlay® is standard on every #LucidAir. pic.twitter.com/Daw0zDlne4

— Lucid Motors (@LucidMotors) March 23, 2023
Wireless CarPlay in Lucid Air
Wireless CarPlay has been around since 2015, but the rollout among manufacturers has been very slow so far. That's because it requires customers to buy a new car or install a built-in CarPlay system. One of the cheapest solutions is the CPLAY2air, a wireless adapter for CarPlay. But if you purchase such an expensive Lucid Air, you obviously don't want to work with separate adapters. Incidentally, these models also have standard Android Auto built in. It can be viewed on the 5K Glass Cockpit display which is 34-inches in size. The curved screen surrounds the driver as if it were a kind of cockpit. But please note that the CarPlay area is relatively small as shown in the pictures.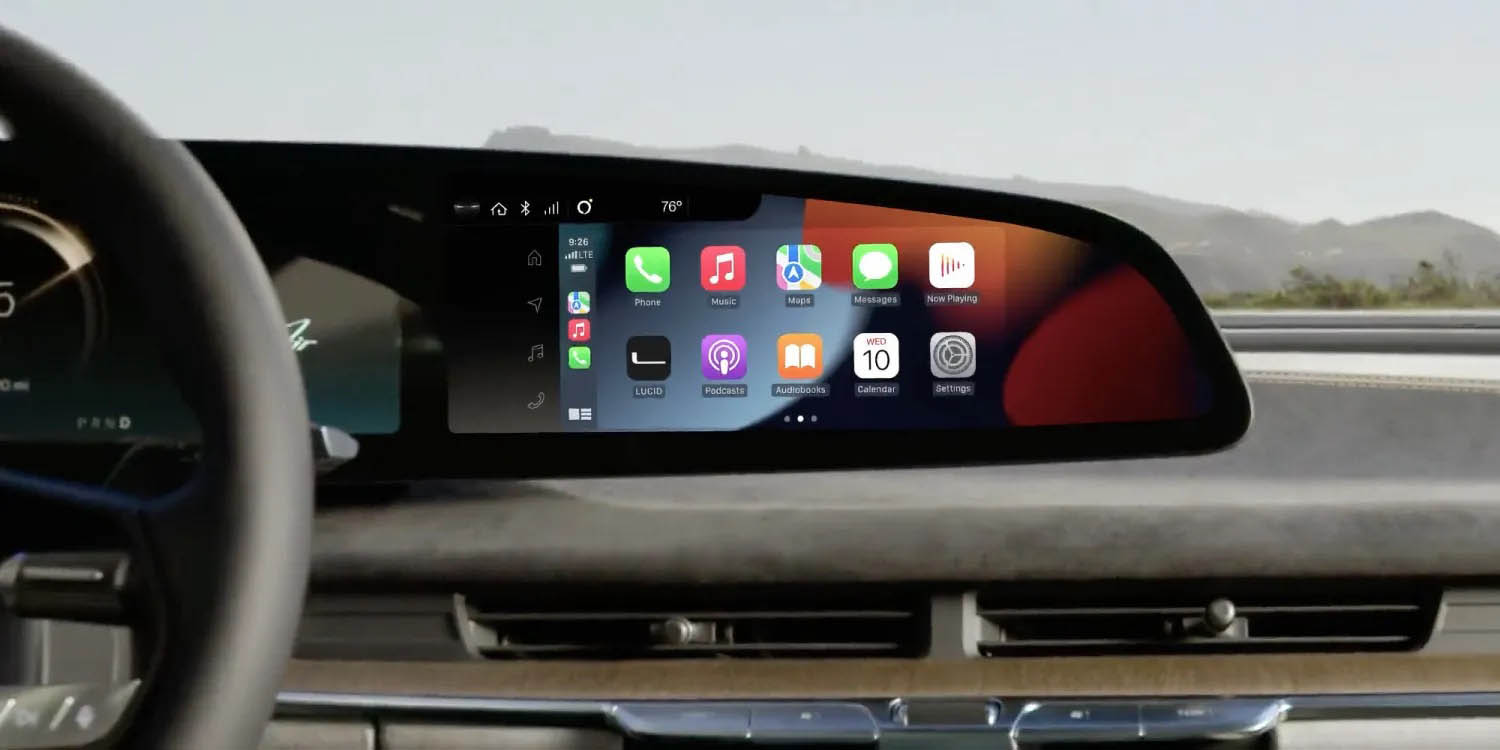 The most popular electric car in the luxury segment, Tesla, still lacks CarPlay. Luxury brand Rivian has decided to abandon it altogether, while some electric cars from Ford, Volkswagen and Chevrolet have had it from the start.
See also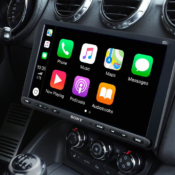 Build in CarPlay? These CarPlay systems are available aftermarket
Do you already have a car and would you like to use CarPlay? With these aftermarket CarPlay radios you make your car suitable for CarPlay, so that you can use suitable iPhone apps in the car.