With the upcoming update to watchOS 9.4, a useful feature will be added for people who often oversleep. Active alarms are no longer muted when your hand rests on the screen.

Gonny van der Zwaag | iCulture.nl – 22 March 2023, 21:05 whatsappfacebooktwittertelegramlinkedinmailprint
It's a handy standard feature that has been available on the Apple Watch for a few years now: if an alarm goes off, all you have to do is place your hand on the screen for three seconds. to lay the screen. Holding your palm still on the Apple Watch is a godsend if you're in the cinema and suddenly a call comes in, but it also has an undesirable effect. If you happen to sleep with your hand on the Apple Watch screen, the alarm will not go off.
This will be fixed in watchOS 9.4. The alarm goes off anyway, whether the screen is covered or not. Incidentally, this has always been the case on the iPhone: whether your iPhone is lying with the screen down or set to Do Not Disturb, the alarm will always go off. This way you can be sure that you will always be woken up, even if you don't feel like other notifications and sounds. For people who only go to bed with their Apple Watch and leave the iPhone in the living room, watchOS 9.4 is therefore very welcome.
You'll have to wait a while for this. The Release Candidate of watchOS 9.4 appeared earlier this week, indicating that the update is almost ready for the general public. We expect watchOS 9.4 on Monday evening, along with iOS 16.4 and the other updates.
If you're new to this feature of holding your Apple Watch still with your palm, it's good to know that you can set it up as follows:
Go on the Apple Watch, go to Settings.
Choose Hear & Feel.
Turn on the switch under Cover before hushing.
See also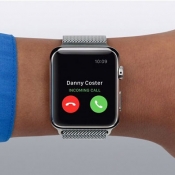 Silence Apple Watch notifications with your palm
Received a notification on your Apple Watch, but forgot to mute it? You can silence your Apple Watch with the palm of your hand, but you have to turn it on first. This tip explains how it works.