In their first intergovernmental consultations, the German and Japanese governments agreed on deeper cooperation on strategic raw materials and military security.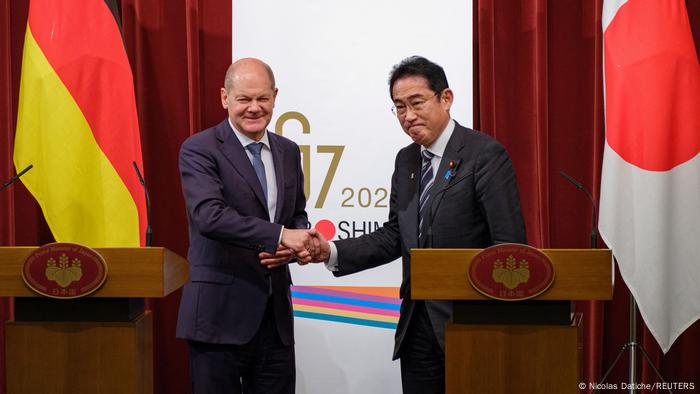 Chancellor Olaf Scholz after a press conference with Japanese Prime Minister Fumio Kishida
The geopolitical upheavals caused by the alliance between Russia and China and the war against Ukraine are bringing Germany and Japan closer together. At the first bilateral government consultations, for which Chancellor Olaf Scholz traveled from Berlin to Tokyo with six of his most important ministers, the two countries agreed on intensified cooperation for economic and military security.
"With these consultations, the close cooperation with Japan has reached a new level," explained Scholz and announced a "new impetus" for the relationship with the "value partner". They met to learn from each other and to act together want to reduce dependencies and increase the resilience of our economies," explained the Chancellor. Specifically, he mentioned the protection of critical infrastructure, the protection of trade routes and security of energy supply.
Stronger supply chains with "like-minded people"
"Japanese-German relations are stronger and closer than ever," Japanese Prime Minister Fumio Kishida said. According to him, the two countries have agreed to strengthen supply chains "between like-minded countries" for minerals, semiconductors, batteries and other strategic areas agreed to "counteract economic coercion". With this, Kishida alluded to China's global importance in the mining of rare earths for batteries and the production of solar modules. Japan is also likely to put economic security high on the agenda at the G7 summit in Hiroshima in May.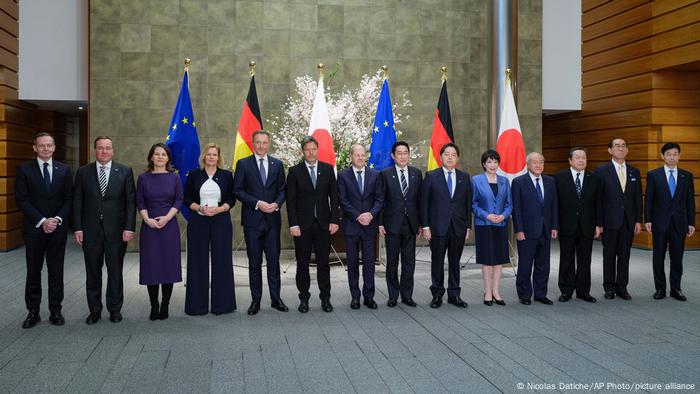 Consultations in Tokyo: Chancellor Scholz traveled with six ministers
One result of the consultations is that experts from the Federal Institute for Geosciences and Natural Resources and the Japan Organization for Metals and Energy Security should talk to each other more intensively about "extraction, refinement, processing and recycling". "If you can bring together the knowledge of both sides, that will lead to a considerable increase in the scope for action," said the Chancellor.
Both countries also want to talk about protecting infrastructure, for example how mobile networks can be organized "open, secure, diversified and resilient". Japan has already heavily regulated market access for the Chinese network provider Huawei.
Proximity to China
There was also a lively exchange at company level. The delegations were top-class. Siemens Energy, Heraeus, Beiersdorf, Boehringer Ingelheim and Mahle were represented on the German side, while Toyota, Mitsubishi Electric, Hitachi, NEC, Itochu and others took part on behalf of Japan. Mitsubishi Electric, for example, was able to contribute its own experience from measures taken to ensure more stable supply chains by optimizing procurement and material strategy.
The industrial group was the first company in Japan to set up its own department for economic security as early as October 2020 , which examines possible dependencies and vulnerabilities in the value chain and risks in business activities globally and not least in the USA and China.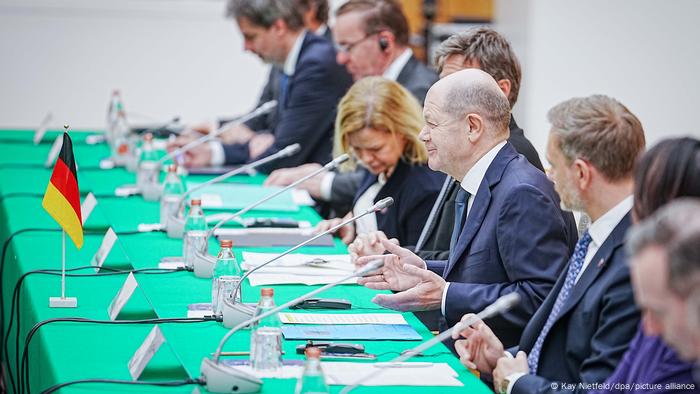 Talks in Tokyo: Germany and Japan agreed on closer cooperation
Germany is currently learning lessons from the great dependence on natural gas from Russia, which could only be ended at great expense. The focus was on their own vulnerability due to the close economic ties with China. Even before the visit, Chancellor Scholz had declared Japan to be a role model for Germany.
Like Germany, Japan is dependent on imported fuel and resources. The Japanese auto and electronics industries rely heavily on rare earths from China. But Japan passed its own economic security law last year, which is intended to better protect national supply chains, infrastructure and technologies. The government in Tokyo is already actively looking for alternative sources of supply for strategically important raw materials and products such as chips, pharmaceuticals and medical technology and is building up its own stocks.
Synergies in the armaments sector
Also in the security and defense policy, Germany and Japan want to dovetail more closely. Boris Pistorius was the first German defense minister to visit Japan in 16 years. A legal framework is being created for mutual logistical assistance and support, for example during joint manoeuvres. Berlin wants to send a frigate to the Pacific region for the second time next year, which will then dock in Japan again. Chancellor Scholz explained that the mission should be understood as a "commitment to the freedom of the seas".
Defense Minister Pistorius spoke of "possible synergies" in the armaments sector, since both Berlin and Tokyo are currently increasing their defense budgets significantly. However, a concrete project is not yet in sight: Germany is building a new air combat system with France and Spain, while Japan wants to develop a fighter jet with Great Britain and Italy.