Ember previously made coffee cups that were for sale through the Apple Store. Now they also have a baby bottle that can heat itself. This delivers milk at exactly the right temperature.

Gonny van der Zwaag | iCulture.nl – 18 March 2023, 11:30 whatsappfacebooktwittertelegramlinkedinmailprint
Ember Baby Bottle System
The baby bottle is ready for use in five minutes and measures the temperature at several points, so that the milk is never too cold or too hot. Via the iPhone app you can see whether the desired temperature has already been reached and you can use it to keep track of how often the baby has already been bottled. The bottle can be used both at home and on the go. If you need warm milk, place the bottle on the Smart Warming Puck and press a button. The milk is then heated to the correct body temperature or the desired temperature for breastfeeding or powdered milk.
When the puck is charged, you can take it with you to heat up milk on the go. For on the go there is an Insulating Thermal Dome, which can keep the milk cool for up to four days. The idea for this baby bottle came (as is often the case) after a personal experience. Clay Alexander, CEO of Ember, had a baby ten years ago and was worried about everything at the time. While trying to calm the baby down with one hand, he had to warm water for the bottle with the other hand. That seemed like an eternity and he wasn't sure if the temperature was correct by testing it on his wrist. That had to be better.
The result is this fairly expensive system, which gives parents more time. The warming cup is connected to the new Ember Baby app, which can be downloaded for iPhone and Android. You can heat the cup remotely, for example to have milk at the right temperature when you give the bottle at night. You get two bottles and several spouts, for increasingly older babies. They are compatible with other systems such as those from Philips Avent Natural. The bottle costs $400 through the manufacturer.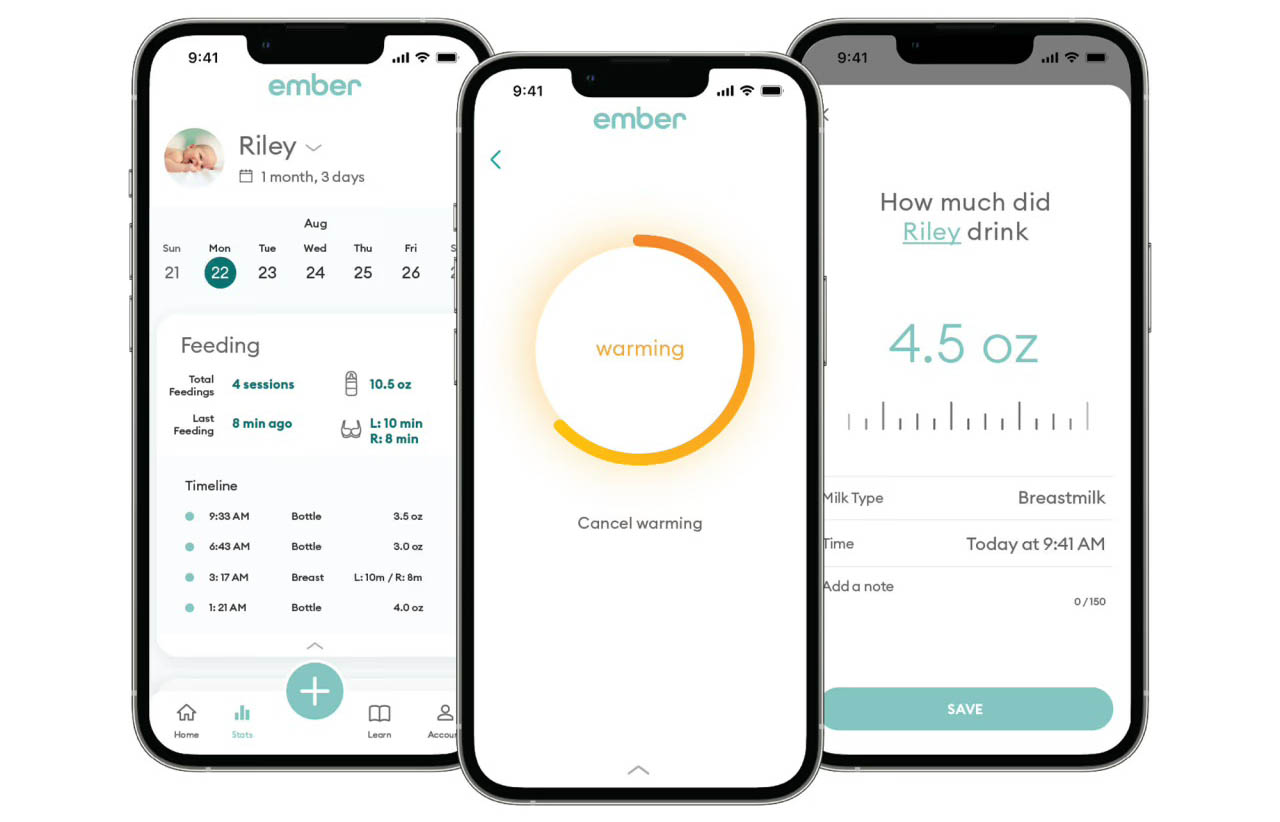 The Ember travel mug, which has been around for some time, can be found at the Apple Store, but beware: 'it ain't cheap!