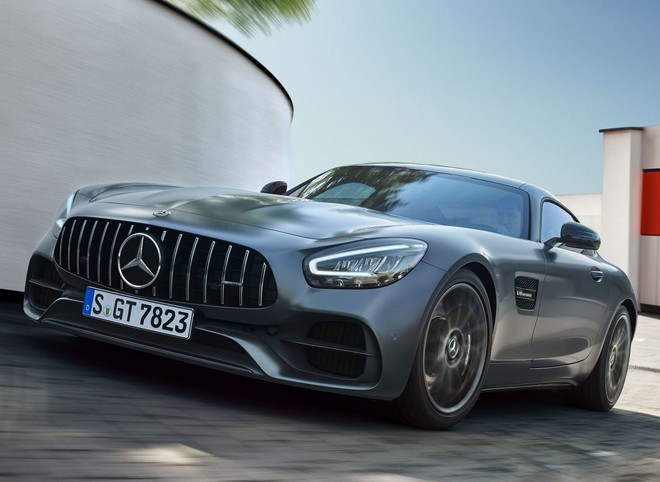 Development work on the new generation of the Mercedes-AMG GT Coupé continues. In this period, the German car manufacturer is testing the new sports car on the snowy roads of Northern Europe to put the mechanics to the test in these extreme conditions. Thanks to a new video from CarSpyMedia we can take a further look at the car and also hear the sound of the engine.
DEBUT IN 2023
The new Mercedes-AMG GT Coupé it is closely related to the Mercedes-AMG SL. The video shows a car still partially disguised thanks to films that hide some aspects of the design. In any case, we can observe that compared to the roadster, the coupé presents a more elegant look; aggressive. In particular, there will be differences especially at the front level where we will find a redesigned grille, new air intakes and headlights with different shapes. The new generation of the Mercedes-AMG GT Coupé will have also a passenger compartment with a 2+2 layout.
The interior should not present any particular differences compared to those of the roadster and therefore we will find the latest generation of the MBUX infotainment systemwith a large vertical touch display. Speaking of the engines, past spy photos had allowed us to see a forklift of the new Mercedes-AMG GT equipped with a Plug-in powertrain. Therefore, it is It is possible that the latest version is performance of the coupé German can adopt the same powertrain as the Mercedes-AMG GT 63 S E Performance. This would mean that a 4-litre twin-turbo V8 would be available combined with an electric motor capable of delivering a total of 620 kW (843 HP) with 1,470 Nm of maximum torque.
Performance, therefore, would be very high given that the Mercedes-AMG GT 63 S E Performance reaches 316 km/h and accelerates from 0 to 100 km/h in 2.9 seconds. Rumors also state that the new sports car could also be offered in a second version equipped with a non-electrified V8.
Obviously, we will discover all the secrets of the coupé German at the time of its presentation which should take place by the end of the year.
[Video: CarSpyMedia]
Best Hardware at a small price? Poco X3 Pro, buy it at the best price from Amazon Marketplace for 281 euros.