With DuckDuckGo you can search the internet in a privacy-friendly way. In this tip you can read how to set DuckDuckGo as the default search engine on iPhone and iPad, instead of Google.
The search engine DuckDuckGo protects your privacy better than Google, because no user profile is created. Alternatively, you can also use the Dutch search engine Startpage, which is even more privacy-friendly. Both providers try to collect as little information about you as possible so that you are not shown any personal ads. This tip explains how to set up DuckDuckGo in Safari on iPhone and iPad.
What is DuckDuckGo?
Setup
Targeted search with !bangs
English search results
DuckDuckGo app
DuckDuckGo on Mac
Alternative: Startpage
DuckDuckGo: The Privacy Friendly Search Engine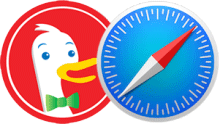 If you search for information about shoes in Google, you will see advertisements about the same shoes a little later. That will not happen to you at DuckDuckGo. This search engine does not create a profile and therefore does not know what you have searched for before. No data is stored, the makers promise, and your search behavior is not registered. As a result, you always see clean search results that are not tailored to your interests or previous searches. It is a bit comparable to the 'incognito' window in normal search engines. Also, previous searches do not play a role in showing the results.
Setting up DuckDuckGo on iPhone and iPad
You can set DuckDuckGo as the default search engine on the iPhone and iPad, instead of Google. Here's how:
Go to Settings.
Browse to Safari.
Tap Search Engine.
Choose DuckDuckGo .
Now when you open Safari and enter a search query in the address bar, DuckDuckGo searches instead of Google, Yahoo, or Bing. From now on you can also use DuckDuckGo via the Spotlight search function.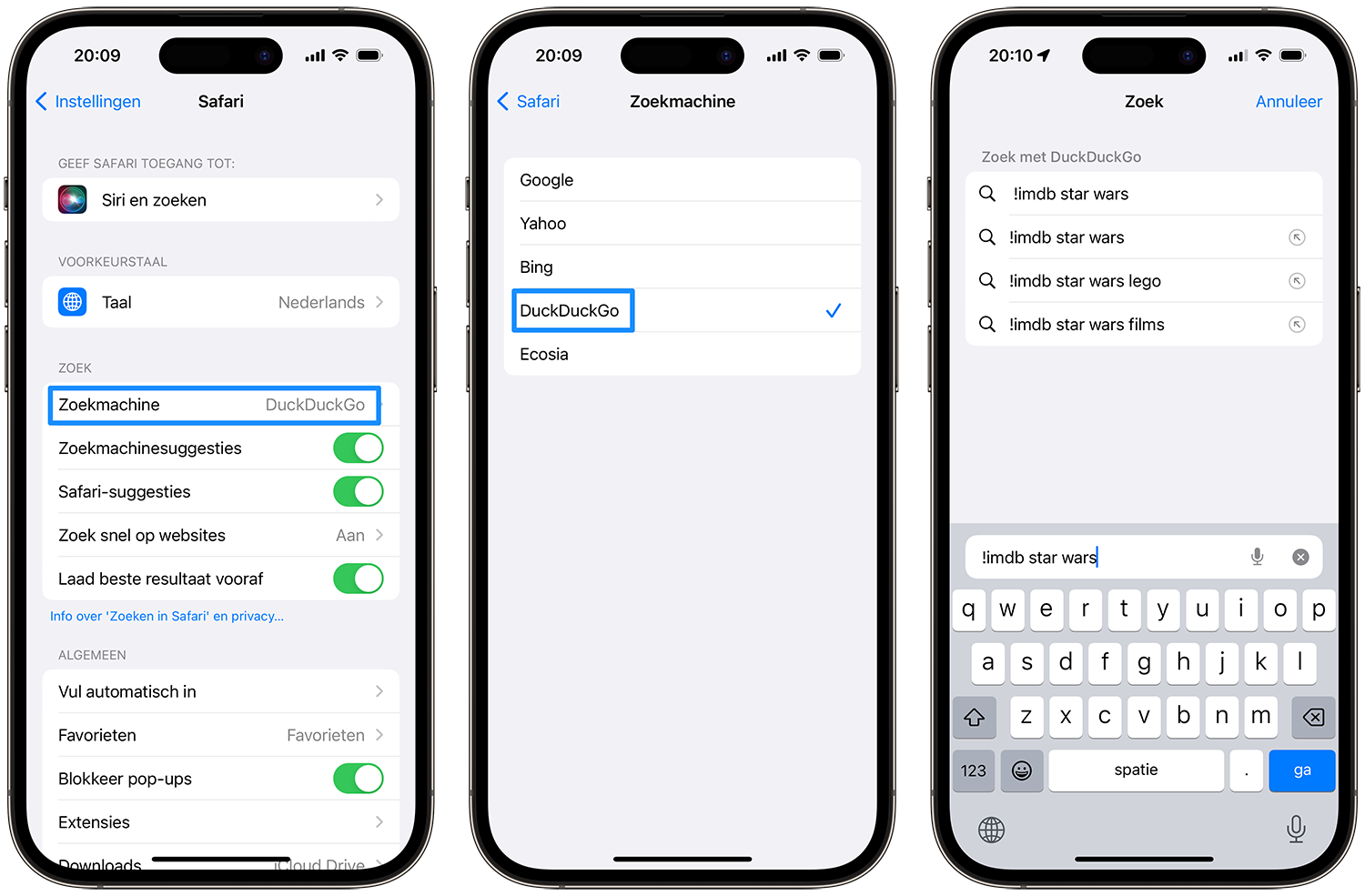 Targeted search with DuckDuckGo !bangs
DuckDuckGo has a handy way to target with so-called !bangs. It allows you to search hundreds of sites. For example, include !wikipedia, !amazon, or !youtube in the search to search only those sites.
There are even abbreviations for even more efficient searching, for example !g (Google), !i (images) and !yt (YouTube). If you want to see results without a sex and violence filter, use !safeoff in your search. There are many more useful tricks to search smarter with DuckDuckGo. Read the explanation page about !bangs.
Dutch search results in DuckDuckGo
A disadvantage of DuckDuckGo is that this search engine is not tailored to a region by default. It will therefore be slightly more difficult to find good local content for Dutch users. Fortunately, there is something that can be done about this: open the hamburger icon in the app, tap No Region and change it to Netherlands. You can also filter the search results by Dutch. In Google you usually use site:nl for this, but with DuckDuckGo you put r:nl-nl after the search.
DuckDuckGo as a separate app
If you love DuckDuckGo, you can also install the DuckDuckGo app. This app includes DuckDuckGo's search engine but also offers articles that other users have chosen because they are interesting. You can use this app in addition to DuckDuckGo in Safari. Another option is to simply continue using Safari in conjunction with Google's search engine and use the DuckDuckGo app if you want to search for topics that no one is concerned about, such as symptoms of a particular disease.
DuckDuckGo on Mac
For Mac users, there is the option to just browse to DuckDuckGo.com. But you can also use the DuckDuckGo Privacy Essentials, which are available as a Safari extension. You can also use this in Chrome and Firefox.
DuckDuckGo used to offer a Safari extension for the Privacy Essentials, but due to changes in Safari this no longer works. The current extension uses features introduced since Safari 13. You therefore need at least macOS Catalina for it.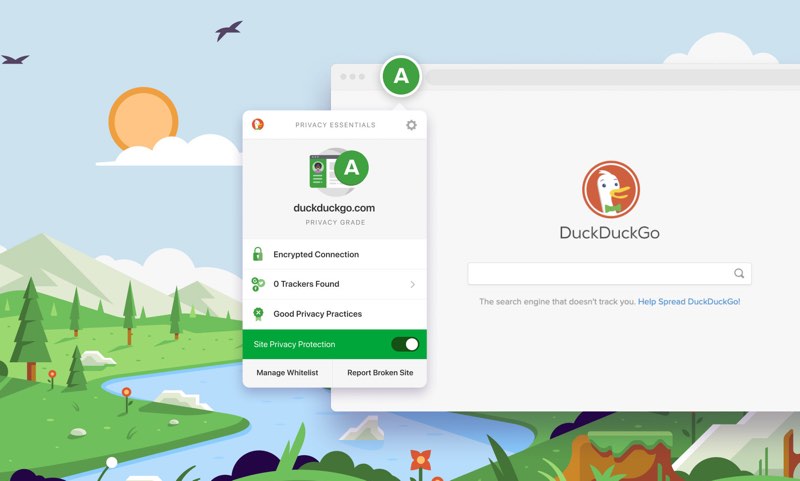 The extension works like this: it blocks third-party trackers on websites. You can create a whitelist for specific sites. You can also click on a button in the toolbar to see a report about the website you are visiting, including the number of tracking scripts and whether the connection is encrypted.
DuckDuckGo is one of four search engines that Apple officially supports in Safari, and the search engine has switched to Apple Maps for displaying location information.
Dutch alternative: Startpage
If you prefer to search via a Dutch party, Startpage is the one that has nothing to do with the links pages of Start page. No, Startpage has a completely different approach. They promise to be the world's most private search engine. For extra privacy there is the Private Proxy function. The big advantage of Startpage – except for the fact that they are Dutch – is that it is searched through Google. So you get the same results as you used to, but without being snooped on.
You can set Startpage as the default search engine in Safari on the Mac. Unfortunately that doesn't work on the iPhone or iPad, but maybe one day it will. The Startpage iPhone app can no longer be downloaded, so you will have to do it via the browser.
More privacy-friendly search engines can be found in our overview.
See also


These are the best privacy-friendly search engines for your iPhone and iPad
If you're looking for a privacy-friendly search engine for iPhone or iPad, we have several alternatives. With Startpage, Brave, DuckDuckGo, Qwant and more, there are plenty of options to search anonymously, without leaving a trace.