The wife of the imprisoned Nobel Peace Prize winner Ales Bialjazki calls on the EU to do more to free political prisoners. In the DW interview, she describes the daily terror in her homeland.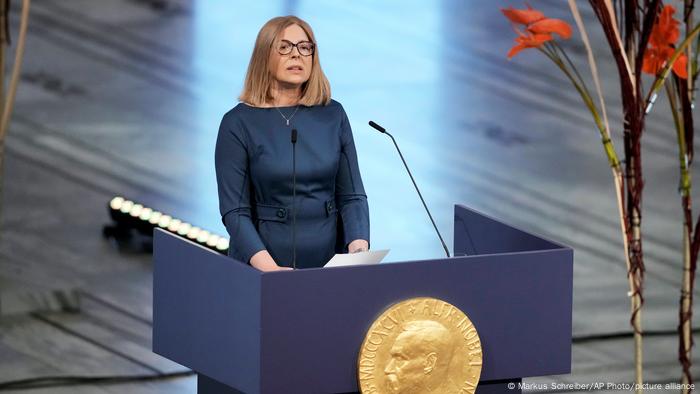 Natalia Pintschuk accepts the Nobel Peace Prize in Oslo on behalf of her husband Ales Byaljatski
She accepted the Nobel Peace Prize in Oslo in December 2022 on behalf of her husband, who is imprisoned in Belarus. Human rights activist Ales Bjalyazki has been using for two decades.
Just three months later, on March 3, 2023, the 60-year-old was sentenced to ten years in prison. His colleagues from the human rights center "Vyazna" (Spring), Valentin Stefanowitsch and Vladimir Labkovich, to nine and to seven years respectively. The dissidents had helped people who had been arrested during the mass protests against the fake presidential election in Belarus in 2020.< /p>
Eleven days after the verdict, Deutsche Welle managed to speak to Byalyatski's wife. The interview with exiled Natalia Pinchuk, who does not want to give her exact whereabouts for security reasons, was conducted digitally.
Deutsche Welle: Ms. Pintschuk, what triggered the conviction in you personally?
Natalia Pintschuk: The verdict hit me hard. I already had to go through the first arrest of Ales, which makes it even worse because I know what that means (Editor's note: In 2011, Byalyatski was sentenced to 4.5 years in prison, but was released after three years by the ruler Alexander Lukashenko under pressure from the world community). Ten years is a long time. In Belarus, opponents of the government are sentenced to up to 25 years in prison… For some, given their age and the unbearable prison conditions, that means life imprisonment. A sentence of ten years is intended to destroy health and the human being itself. You can't just accept that.
"Terrible things are happening"
Did the Nobel Prize influence the verdict in any way?
The fact that the trial was not held behind closed doors was most likely a reaction to the price. This was intended to challenge the West. The authorities are trying to portray human rights activists as criminals so that the verdict does not look politically motivated, but is associated with smuggling. But they did not succeed.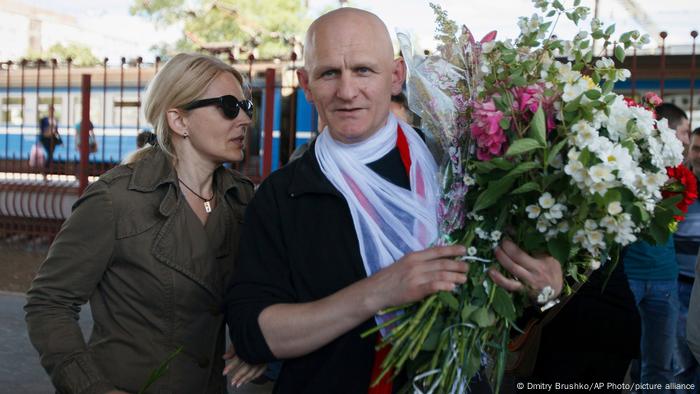 Ales Byalyatski with his wife after his release in June 2014 in Minsk
What did the Nobel Prize change for your husband and other political prisoners?
Most importantly, the award drew attention to what terrible things are happening in Belarus. The daily terror, the repressions have not stopped since 2020. Hundreds of people are being detained, arrests are being made every day. The number of around 1500 political prisoners is tiny compared to the actual number, because we don't know anything about many of them.
Can you tell us how you live at the moment?
We wives have to regulate our lives somehow. I've lived with Ales for 35 years, it's hard not to have him around, I have to get used to it every day. For the time being I will stay away from Belarus, for how long it is difficult to say. At the moment there is no hope that Ales and his colleagues from "Vyazna" will be released.
What helps you in this difficult time?< /p>
When Ales was first arrested, I made new friends. They were fellow sufferers, for their sons and husbands were also in prison. When our loved ones were released, our friendship was not lost but preserved. And as a time of new trials dawned, we became even closer.
Do you have any information about how your husband is doing?
There are few opportunities to get any. There is correspondence, but not all of his letters reach me, and neither do all of mine reach him. Ten years ago, lawyers could still hand over something. Now they are silent because otherwise they could lose their license or be thrown in jail. One of Ales' lawyers has already been sentenced to a long prison term, another has had his license suspended… Defending human rights defenders is a dangerous occupation.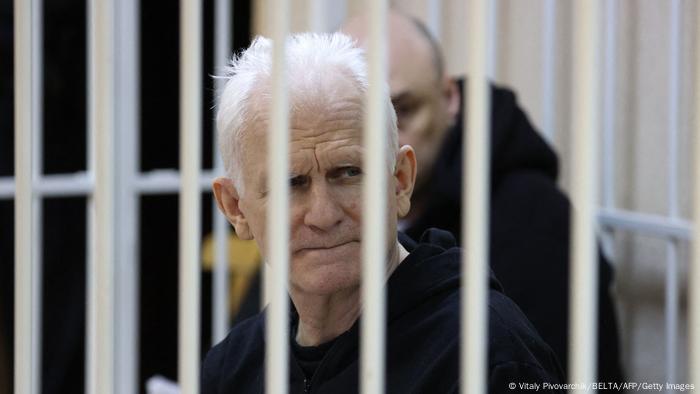 Nobel laureate Ales Byaljazki during the trial against him in January 2023
"I feel support from Ukraine"
Your husband received the&nbsp ;Nobel prize accepted. The award also includes the amount of 300,000 euros to which he is entitled. What do you do with it?
I symbolically received the medal and diploma, they are kept with friends. The money can only be paid to Ales when he gets out of prison. So the prize is "waiting" for his release.
Are you in contact with the other prizewinners, the Russian human rights organization "Memorial" or the "Center for Civil Liberties" in Ukraine?
There is no direct contact, but there is support for Ales, especially from the Ukrainian side, for which I am very grateful. However, the fact that Belarus is also considered an aggressor makes the situation worse. In this situation, the Belarusians, as a people, are not to blame. They support the Ukrainians for the most part, you should know that. Belarusians are not Russians, they have no imperial ambitions, they do not need war. You have to distinguish what position the state power represents and who the people are for. On February 24, Belarusians took out the Ukrainian flag in Minsk. There are now laws according to which people risk their lives if they show support for Ukraine.
In 2020 and 2021 Belarus was the focus, meanwhile War in Ukraine reporting….
That's correct. I felt that myself. In 2011 the support was great, and my husband Ales felt it too. Now the fact that there are many political prisoners in Belarus is being suppressed. The Nobel Peace Prize for ales put a little more focus on Belarus. It is important for the world to understand that the Belarusians are ready to fight for their beliefs, even when virtually all of Belarus is now in prison.
"Sometimes work goes better quietly"
What would you like to see from the international community?
Solidarity in concrete actions. The imprisonment of people is also a blow to their families. They must be helped so that they can help their loved ones in prison and themselves. Many are forced to emigrate, and they too need help, at least initially, until they find work. "Purges" are underway in Belarus, and anyone who is considered disloyal to the state power loses their job. Getting a new job is almost impossible. The EU could support these people and give them a chance to survive.
What can you do for political prisoners? In the past, for example, they were released in exchange for an easing of sanctions.
One cannot always name the steps that would facilitate the release of political prisoners. Sometimes work is better in silence… It is to be hoped that EU politicians will find ways to take steps that will contribute to the release of political prisoners.
The interviewer was Elena Doronina. The Text adapted from Russian.