In order to become climate-neutral by 2050, the EU is relying on technologies such as wind and solar energy, heat pumps and electric cars. DW follows how well Europe is doing with the restructuring of the economy.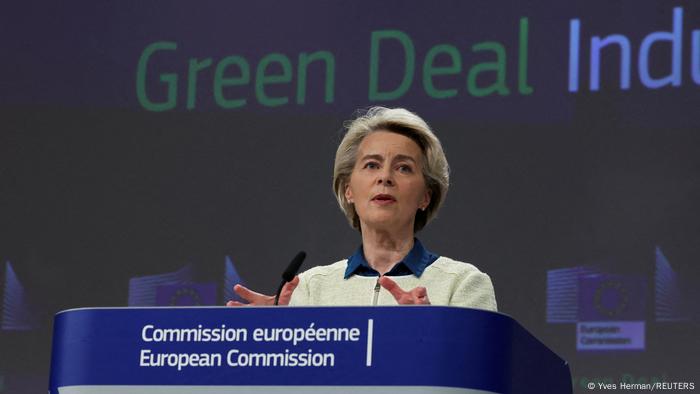 EU Commission President Ursula von der Leyen presents the "Green Deal Industrial Plan" (February 1, 2023)
In order not to further heat the planet, the EU promised in 2019 to become the first climate-neutral continent by 2050. Despite the pandemic, war and energy crisis, European legislators are working to curb environmental pollution.
They have already enacted some of the goals from the so-called "European Green Deal" and are still negotiating others . They have attached green conditions to corona relief packages and abolished rules that prevent the expansion of renewable energies.
"COVID has not brought down the Green Deal," says Pieter de Pous, analyst at the Berlin climate think tank E3G. "It actually made him stronger."
If Europe can turn its economy around, it would set an example for other big fuel emitters from the US to China. And it could show countries in Africa and Asia that industrialized countries are serious about stopping climate change.
But how close is the EU to its climate goals? And how much is left to do?
Together with partner media from the European Data Journalism Network, DW follows the progress of the EU in five key areas. This article will be updated regularly as new data becomes available.
EMISSIONS: Reduce Greenhouse Gases
The EU has reduced its annual greenhouse gas emissions by about 30 percent since 1990 – mainly because member states now burn less coal. By the end of the decade, greenhouse gas emissions are now expected to fall by 57 percent compared to 1990 levels.
​
"The truth is, the world is not on the path that Limiting warming to 1.5 degrees," said EU Commission Vice-President Frans Timmermans, the "architect" of the Green Deal, when announcing the new target at the COP27 climate conference in Egypt in November 2022. "We need more ambition."
But the new target is hardly more ambitious than the originally agreed 55 percent. And it's not enough for the promise to limit global warming to 1.5 degrees Celsius by the end of the century. The Climate Action Tracker, produced by two environmental research organizations, shows that European emissions need to fall by at least five percentage points more for a total of more than 62 percent.
With With their current legislation, the EU member states are only heading for 36 to 47 percent less greenhouse gases.
ENERGY: More renewable sources
The EU currently generates 22 percent of its energy from renewable sources. According to the plan announced last year, it should be 40 percent by the end of the decade. After Russia attacked Ukraine in February 2022, the EU Commission decided to increase this goal again: to 45 percent. That would require a quick, decisive push to electrify particularly polluting industries and clean up the continent's power grid.
The draft has already gone through two rounds of EU bureaucracy. However, it still has to be approved by those member states that want to leave the target at 40 percent.
​
Europe has been struggling to replace natural gas as an energy source ever since Russian President Vladimir Putin decided to attack Ukraine and shut down gas pipelines to Europe. Germany, the EU's largest economy, as well as other countries, have coal-fired power plants reopened, signed long-term new contracts with gas producers in Africa and the Middle East, and built terminals for shiploads of LNG from abroad. At the same time, Germany and other EU countries have pledged to expand the use of renewable energy and also make it easier for companies to use it.
Analysts expect pollution to rise as countries start burning more coal again. But they are even more concerned about plans to build new infrastructure for natural gas, which could pollute the environment for decades to come. This jeopardizes the plan to use 45 percent green energy by 2030.
ENERGY: Electricity from solar panels and wind farms
Solar and wind power companies expect the EU to build 220 gigawatts of solar power and 92 gigawatts of wind power over the next four years. It helps that renewable energies are becoming cheaper and cheaper. According to London-based climate think tank Ember, that would be even more than is needed in some scenarios to limit global warming to 1.5 degrees.
​
"To get out of this crisis, we need a massive influx of reliable, homegrown renewable energy," said Harriet Fox, solar analyst at Ember. "If the EU is serious about expanding renewable energies, then there is no reason not to meet the industry's targets."
The projections of the wind power industry are less optimistic than those of the solar industry. This is mainly due to the long time it takes to obtain the necessary permits and build wind farms. In November, EU member states agreed to grant these permits more quickly in future. In this way, companies could skip some of the bureaucracy of assessing the environmental impact of a project in order to shorten the time between planning and construction.
BUILDINGS: heating without gas
The EU wants more buildings renovate and increase the share of renewable energy in this sector to 49 percent by 2030. In a draft, the European Commission is committed to installing solar panels on new public and commercial buildings by 2027, and on existing buildings by 2028. New residential buildings are to be equipped with solar modules from 2030.
In addition to clean energy infrastructure, the EU would also need to electrify applications that require fossil fuels – such as gas heating. An effective alternative are electric heat pumps.
According to model calculations by the EU Commission, heat pumps powered by electricity from renewable energies should generate at least three times as much heat as before by the end of the decade. A preliminary analysis by the Regulatory Assistance Project – a global non-profit organization working to make buildings carbon neutral – estimates that this would require installing new pumps twice as fast as previously. High gas prices have already boosted demand for heat pumps, but a lack of qualified installers is currently slowing down expansion.
​
TRAFFIC: Driving without petrol
The EU Commission wants to reduce the CO2 emissions of new cars by 55 percent by 2030 and reduce them to zero by 2035. That would be one of the easiest ways to make the transport sector climate-friendly. It is the only area in which emissions have been rising steadily so far: In 2021, greenhouse gas emissions from transport were 15 percent higher than 1990.
However, some Member States, including Germany and Italy, have so far rejected this target.
​
Experts believe that the goal is achievable, but also not very ambitious. More and more electric cars are being sold in the EU: in 2020, 11 percent of all new vehicles were electric, by 2021 it was already 18 percent.
​
Emissions could fall even faster if more people leave the car at home – in favor of public transport, bicycles or footpaths.
FARMING: Clean up the farms
The EU has made little progress in agriculture, which is responsible for around ten percent of Europe's greenhouse gas emissions. They are made up of different factors, such as methane gas that is released when cows burp, nitrogen oxides from fertilizers, or liquid manure that contains both.
​
Two thirds of the greenhouse gases from European agriculture come directly from livestock farming. The EU plans to introduce sustainable feed additives that reduce methane emissions from cows and to plant less soy for animal feed on deforested land. But the necessary change is not possible without EU citizens changing their eating habits.
The data sources on which this article is based can be found here. This project is part of a cooperation between several members of the European Data Journalism Network. DW managed the project, Openpolis, Pod črto, Denik Referendum and VoxEurop were partner editors.