iOS 17 will be unveiled later this spring, but not much is known yet. So it's time to list our wishes for iOS 17 for you. Which improvements should not be missing this year and should be added to iOS 17?

Benjamin Kuijten | iCulture.nl – 13 March 2023, 18:30 whatsappfacebooktwittertelegramlinkedinmailprint
Our wishes for iOS 17
In recent months we have heard little about iOS 17, while the update will be officially announced within three months. The only thing we've heard in the corridors is that iOS 17 (and the other updates) will be fewer major updates than previous years, with fewer major innovations. Why is that? Apple would mainly focus on the upcoming mixed reality headset, leaving less development time for this year's iOS update. But that doesn't mean there won't be anything: there will be plenty of news to get us excited about. What that is is still the question. The answer to that will not follow until WWDC 2023, possibly early June. Until then, you'll have to make do with our wishes for iOS 17, which we hope will become reality this year.
More stability, less bugs
Design upgrade< /li>
Redesigned Home screen with more freedom
Access screen improvements
Redesigned Calendar app
Improved Siri
More with Dynamic Island
Split View to iPhone
More openness for web browsers
More features for the Netherlands
#1 More stability, less bugs
We understand that software is always accompanied by some bugs and problems, but in recent years it has been very common with major iOS updates. Even now, forums like Reddit regularly complain about strange (visual) bugs in the current version of iOS 16 and that is remarkable to say the least. Now that it seems that fewer major features will be added in iOS 17, we hope that Apple will mainly focus on better performance, more stability and fewer bugs. We all benefit from that in the end.
#2 Design Upgrade
iOS has been largely the same for years now. Admittedly, every year Apple tackles one part of the operating system that gets a slightly refreshed design. But for the most part, the operating system is still the same as it was years ago. Now we don't think Apple should change it just to change it, because there has to be a reason. But that is what we are concerned with. Take the icons of the standard apps for example. They still look different on the iPhone (and iPad) than on the Mac. On the Mac, macOS Big Sur released a new set of icons more than two years ago, with more depth. We'd still like to see this come to the iPhone so there's more uniformity between the two operating systems. macOS Ventura already made part of the operating system more similar to iOS and iPadOS, but we think iOS 17 can take that a step further.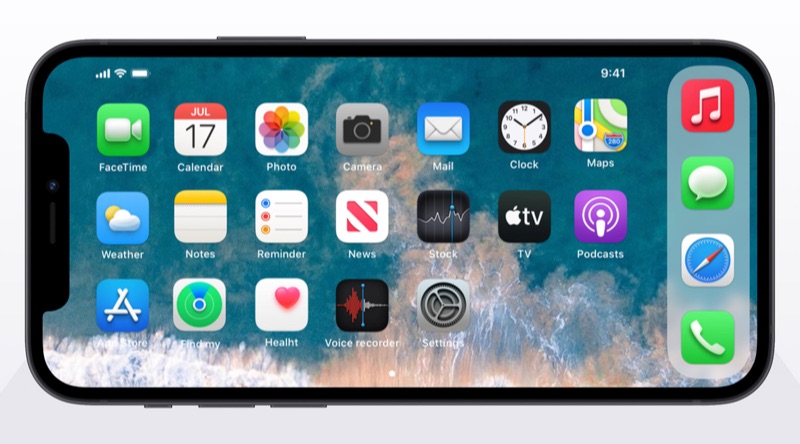 An earlier draft of iOS 15 already showed what the new icons could look like.
#3 Redesigned home screen: more freedom for users
All apps and widgets on your home screen can still only be placed in a fixed grid. It is therefore not possible, for example, to only put apps on the bottom and top row of your home screen, with empty space in between. There are all kinds of detours with, for example, empty widgets, but as far as we are concerned, we as users should be given a little more freedom. Think of the desktop of your Mac, where you can also put all files and icons wherever you want. Although we don't need that much freedom on an iPhone (it would be nice if icons are always neatly placed right below and above each other), the iPhone can learn a lot from that.
And then also make moving apps easier. A newly downloaded app always appears at the very end of the home screen, but if you want to move it to a folder, for example, it can just mess up your entire layout. Take a look at how it works on the Apple TV: with a press of the remote control you can immediately put an app in a folder of your choice, without having to move it.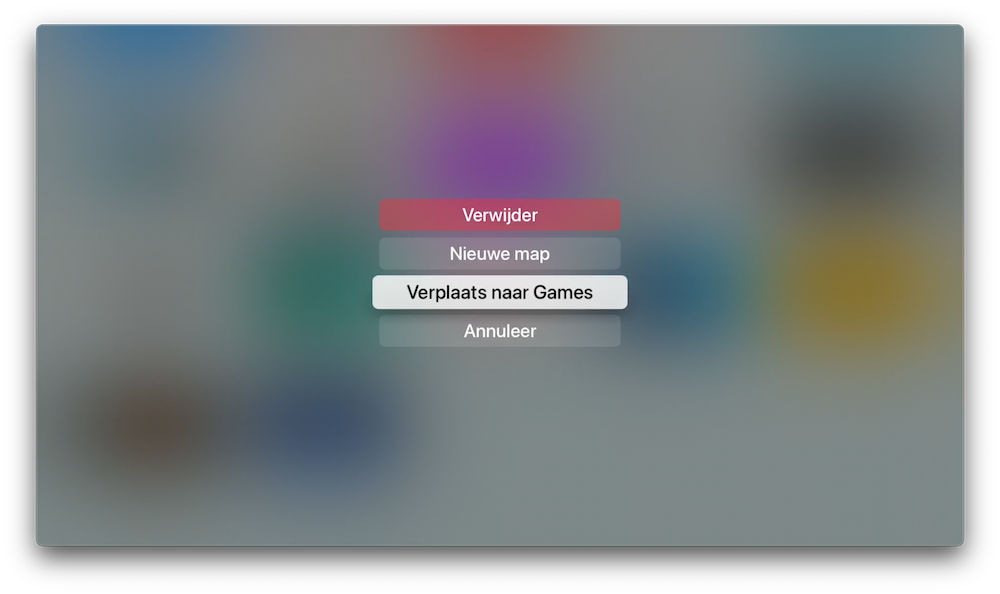 On the Apple TV you can immediately download apps in a folder put: why can't this be done on the iPhone?
The widgets on the home screen can also be upgraded. These are still mainly glanceable: they quickly display useful information from the associated app. They are also sometimes used as a shortcut to a certain part of the app. But what if they were interactive? Think of checking off a shopping list or playing and pausing music.
#4 Lock screen improvements: sharing and more options
In iOS 16, the Lock screen got a major upgrade: with widgets, a customizable clock, and much more, you can do a lot more with the Lock screen than before. It works like a kind of Apple Watch watch face, where you can choose from a set of standard backgrounds and put widgets of apps on it. And by creating multiple access screens, you can easily switch between sets. What we would like to see is the ability to easily share such an access screen. We think this is a real addition, because the same is possible with Apple Watch watch faces. And if Apple adds more options, sharing such a set lock screen will only become more convenient.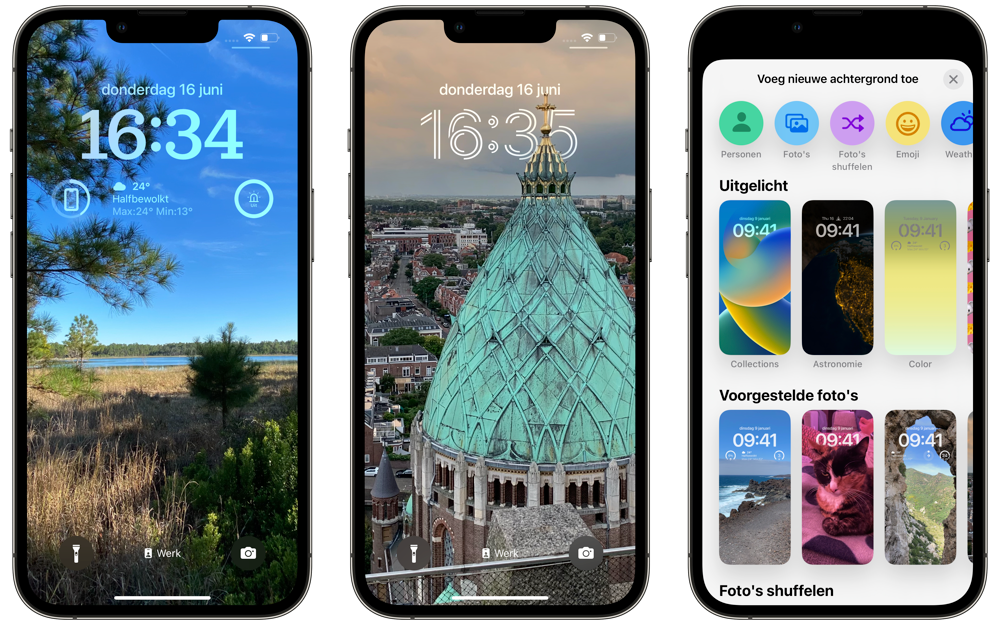 Incidentally, we hope that Apple will bring back a number of previous functions that have now disappeared. For example, it is no longer possible to set a light and dark version of a background (unless you still have an old standard iOS 15 background in your collection). It is also no longer possible to set your own photo as the background for your access screen and to put a standard Apple wallpaper on your home screen. Funnily enough, the other way around is possible, so we hope Apple brings this kind of thing back soon. We would also like to have older Apple wallpapers available again. After all, with dials they are not simply removed (at most redesigned).
#5 Redesigned Calendar App
The Calendar app has actually looked the same for years and only gets a few minor improvements every year. But Apple doesn't really pay attention to the app, it seems. Why is the Calendar app still not working with the Reminders app? Or, for example, a link to the Weather app for scheduling appointments? Switching between views should also be a lot more convenient, such as an extensive week view. Last year, the Apple Watch version of the Calendar app received a much-anticipated update, and now it's the app's turn on iPhone (and iPad).
#6 Improved Siri (especially in Dutch)
For years there have been many complaints about Siri and how smart (or rather: how stupid) the assistant is. Especially in recent months, forums like Reddit have regularly complained about the strange answers Siri gives, to questions that used to work fine but are now suddenly not understood. We really hope that Siri will now get a serious upgrade, with improvements mainly being made to Apple's servers. We also hope that the Dutch version of Siri will sound better. For several years now, Apple has improved neural-text-to-speech voices in English, German, French, Spanish and some Scandinavian countries, among others. This makes the voice sound a lot better and more natural. But we still do not see this in Dutch, while with the HomePod we are increasingly dependent on the voice assistant. We therefore hope that Apple will fulfill this wish this year. And then immediately add the Flemish Siri voice again!
#7 Do more with Dynamic Island
The Dynamic Island was introduced with the iPhone 14 Pro and is the new notch at the top of the screen. This black bar is interactive and is the place for a number of system notifications, small widgets such as your music and, for example, Live Activities. The Dynamic Island is rumored to be coming to all iPhone 15 models this year, so reason enough to expand this even further. For example, we would like to see notifications coming in from here, it can become the home of Siri and much more. There have already been drafts showing what that could look like, including this iOS 17 concept video.
#8 Split View to iPhone
A few years ago, Apple brought the picture-in-picture mode from the iPad and Mac to the iPhone, so that you can watch a movie while you are chatting with someone, for example. Especially now that the iPhone screens have become bigger and bigger, such a function comes in handy. We therefore hope that Apple goes a step further with iOS 17, by bringing a function such as Split View to the iPhone. For example, you could easily perform a calculation with the Calculator app while you are reading something in Safari. Or you are working on a document in Pages while you want to discuss something with a colleague in WhatsApp. Split View support seems like a useful addition, even though you probably don't need it every day.
#9 More openness to web browsers
There are indications that Apple (whether under pressure or not) wants to relax the strings and give developers more freedom. Would there be plans to allow alternative app stores. Although we are not necessarily in favor of that, we think one limitation is a bit outdated. In 2023, web browsers on iPhone (and iPad) are still not allowed to use their own engine. Every web browser app runs on WebKit, the same engine as Safari. As a result, there are fewer advantages for other browser apps, because they all perform equally fast. On the Mac, each browser can use its own engine and we believe that should also be done on the iPhone and iPad. Apple is already adding more features to web apps in iOS 16.4, and there are indications that browsers like Chrome are working on a new version that does indeed use its own engine, so we're certainly hopeful that this iOS 17 wish will become a reality.
#10 More features for the Netherlands
We just mentioned support for the new Siri voice in Dutch at Siri, but there are still more functions that we would like to use in the Netherlands. Think of offline Siri, support for Live Text with translation, Visual Lookup, the improved dictation function and much more. There are still many Apple features and services that are not available in the Netherlands and Belgium. working and with fewer major improvements expected, now is the time to catch up for countries that do not yet have certain features. .gif" />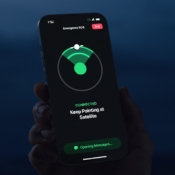 These Apple services and – functions are not yet available in the Netherlands and Belgium
Apple is constantly announcing new products, services and functions, but not everything can be used immediately in the Netherlands and Belgium. In this overview you will find the most important new products and services that are not yet available in the Netherlands and Belgium.
Do you have any more wishes for iOS 17? Let us know in the comments. iOS 17 is expected to be announced at WWDC 2023, which is likely to take place in June.
See also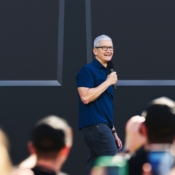 WWDC 2023: Everything about Apple's 2023 developer conference is Apple's WWDC '2h23>3 annual developer conference for 2023. Every June, Apple announces all innovations in software here. When is WWDC 2023 and how will Apple host it this time? You can read that in our overview of WWDC 2023.
Opening image: via Concept Central