We haven't seen much real footage of Apple's upcoming mixed reality headset, but the first part is said to have leaked. But what are we actually seeing here?

Benjamin Kuijten | iCulture.nl – 13 March 2023, 19:30 whatsappfacebooktwittertelegramlinkedinmailprint
Will it finally happen this summer? A mixed reality headset from Apple has been rumored for years and according to the latest information, Apple will finally officially announce this headset during the upcoming WWDC in June. We will probably hear more details about the headset from the rumor mill before then, but will we also see images? In any case, parts of the headset have surfaced today. Unfortunately, we cannot deduce much from it.
'Part of Apple headset leaked'
The part was shared by Mr. White on Twitter, who has often shared prototypes of Apple products. On the various photos we see the possible cabling of the headset. In one photo we clearly see the shape of glasses or headset, although it remains difficult to determine whether this really comes from Apple's mixed reality headset. Another photo shows three sensors. The latter shows many similarities with a component in the HomePod, as someone on Twitter noted. That does not mean that the parts are not really from the headset. For example, Apple can reuse parts, as they often do.


In the photos we see typical parts that you find in products. The so-called ribbon cable is often used to connect components, such as the screen to the motherboard. That these parts are inside the upcoming headset is therefore no surprise. Unfortunately, functions or specific properties cannot be derived from these images.


Recently, many details of the Reality Pro headset were leaked, including the operation with hand and eye gestures . We will hopefully know what all of this is about in June when Apple finally unveils the headset. Incidentally, Tim Cook would be the one who wants to release the headset quickly, while the design team would have preferred to wait.
See also

< img src="/wp-content/uploads/939dc92b84941652771e1063d8acf6ba.gif" />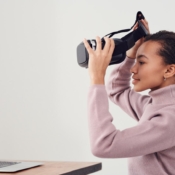 Leaked: "How to control Apple's Reality Pro headset ( and you can do this)'
Lots of details have been leaked from Apple's upcoming mixed reality headset. According to a reliable source, you operate it with eye and hand tracking and the operating system looks like the home screen of your iPhone and iPad. You can even use it as an external display for your Mac.