Apple is going to sell a competitor to the AirTag through the Apple Store. The Chipolo Card Spot is a flat tracker that easily fits in your wallet.

Gonny van der Zwaag | iCulture.nl – 13 March 2023, 18:00 whatsappfacebooktwittertelegramlinkedinmailprint
It is remarkable that Apple will not sell the Chipolo One Spot, which we previously reviewed. This round tracker has been available for some time and is a direct competitor of Apple's own AirTag. This is not the case with the Chipolo Card Spot: Apple itself does not yet have a flat tracker and apparently does not intend to release one. A Chipolo spokesperson has confirmed that the Chipolo Card Spot will be available for purchase in the Apple Store.
Still, you don't have to wait for Apple to sell it, because this map-shaped tracker has been available at Amazon.nl and tink for some time. You pay €39,- and that is also the price we expect from Apple and that Chipolo charges itself.

< img src="/wp-content/uploads/162fb15587fbf9c0d2a143581de1ecbd.jpg" />
Chipolo Card Spot does have some drawbacks
Good to know: the Chipolo does not notify you when the battery is low and does not have a removable battery. And because it doesn't have Ultra Wideband, you can't find it that easily. Furthermore, it has a physical button, which can make the card beep when you sit on it.
If you want to buy one, make sure 'Spot' in the name, because only these versions work with Apple's Find My network. The normal Chipolo Card is available in various colors and is slightly cheaper, but only works with the own Chipolo app.
The AirTag was released in April 2021 and has been around for almost two years now. Since then, Apple has not released an update or new shapes and variants. However, AirTag holders and pendants are regularly released in new colors.
See also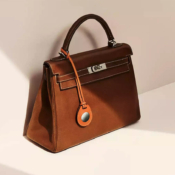 The best AirTag pendants for keys or bags
Do you often lose things? With these accessories you can attach an AirTag to your most important items, so that you can find what you hold dear.