Apple CEO Tim Cook is said to have pressured his company to release the first-generation mixed reality headset this year. However, Apple's design team thinks it's too early.

Gonny van der Zwaag | iCulture.nl – 13 March 2023, 8:40 whatsappfacebooktwittertelegramlinkedinmailprint
Tim Cook wants the headset to come soon
Tim Cook would have sided with COO Jeff Williams, who also believes that the headset should be released soon. They are directly opposed to Apple's design team, reports the Financial Times ($). Since the departure of Jony Ive in 2019, Apple's design team has been under the direct direction of Williams. Since then, employees are said to have increasingly complained that new product development is increasingly being led by people with an operational management background. The same goes for Tim Cook himself, who served as Apple's Chief Operating Officer (COO) for many years in the past. Perhaps it is also the reason why Jony Ive's successor is now stepping down.
The headset release date is said to have become the subject of heated debate within the company. For example, the industrial design team would have warned that the products in this new category are not yet ready. They wanted a delay until there is a better developed, lightweight AR glasses. But that could take a few years.
See also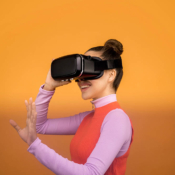 Apple's AR/VR headset: 'Announcement postponed to June 2023 during WWDC'
If the rumors are to be believed, the announcement of Apple's own AR/VR headset is scheduled for 2023. But the planning would now have shifted again, to an announcement a little later this year. In this article you can read everything we know so far about the release of Apple's first headset, based on rumors.
However, Apple's operations team wants to release an early version of the product, in the form of ski goggles and mainly focused on VR. This would allow you to watch 3D videos, perform interactive workouts and make FaceTime calls with virtual avatars. Tim Cook and Jeff Williams have the most powerful voice as CEO and COO. They would have ignored the design team's warnings and are now pushing for a rapid introduction of a headset with limited functionality. Former Apple engineers who worked on the products report that they were pressured to bring the headset to market. An engineer said that it used to be more fun to work at Apple: all kinds of smart technical solutions were devised to meet the "ridiculous requirements" of the design team. This made the work challenging. But since then, the operational branch within Apple would be in charge.

Apple's headset would have been in active development for seven years, which is twice as long as it took for the very first iPhone. Tim Cook would feel very connected to it, as this is the first major new platform to emerge entirely under his leadership. The last time a new platform was added was the Apple Watch, which Steve Jobs would have had a great influence on. An additional platform has since been added for the Apple TV (an existing product) and the HomePod, but these are not products that will drastically change your life or behavior. That should be the case with the forthcoming headset.