Fatal shootings like the recent one in a Jehovah's Witnesses meeting hall in Hamburg are very rare in Germany. Because the country is one of the European countries with the strictest gun laws.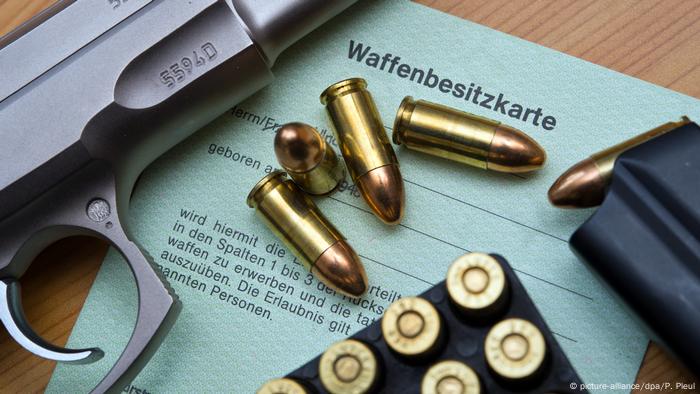 Gun ownership card and a 9 mm caliber pistol with cartridges and magazine
According to the gun law in force in Germany, you need a gun owner's license to own or buy a firearm. And a gun license to use or carry a loaded firearm. This means that collectors, for example, only need the first card. Hunters, on the other hand, do not need a firearms license as long as they have a hunting license and only use their firearms for hunting game.
A firearms license allows firearms owners to transport a firearm, but not to carry it on them. This means it must be carried unloaded and locked when carried in public, for example in a locked suitcase.
A firearms license is only issued in rare cases: essentially when the applicant can prove that he or she is exposed to a greater risk than the general public and that carrying a firearm increases their safety Law no regulation stating whether or not a gun must be concealed or loaded in public.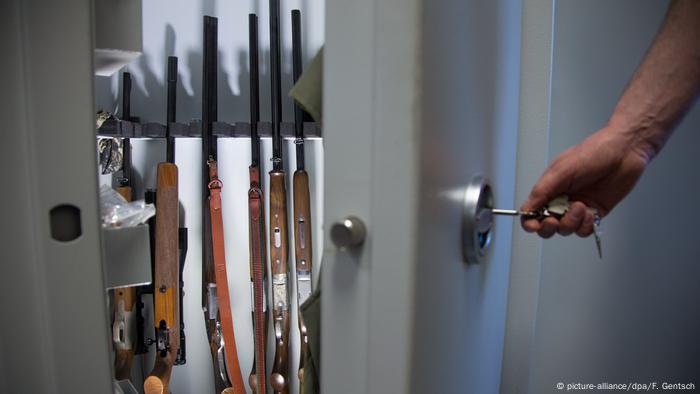 The German weapons law also regulates how weapons must be stowed away
There is also an easier to obtain small firearms license required for wielding lower powered weapons such as stun guns, flare guns, or anything that can only fire blanks or irritants. Low powered airguns (less than 7.5 joules) also fall under this definition. In total, the cost of an application, including the necessary insurance, can amount to around 500 euros.
Which weapons are legal in Germany?
German law distinguishes between weapons and weapons of war, the latter being listed in the War Weapons Control Act.
In Germany it is illegal to possess or use weapons of war. This includes all automatic rifles, machine guns (unless antiques from World War II or earlier) and barrels or breeches for such weapons. Pump-action shotguns are also prohibited under the Weapons Act. Some, if not all, semi-automatic weapons are also defined as weapons of war.
Who is allowed to carry weapons in Germany?
< p>Anyone applying for a German firearms license must:
1.) be at least 18 years old,
2.) have the required reliability and personal suitability
p>
3.) demonstrate the required expertise
4.) demonstrate a need and
5.) Proof of liability insurance for personal injury and property damage of at least one million euros.
How to prove reliability and personal suitability
The local authorities are responsible for processing of applications for a gun license and is therefore responsible for checking reliability, personal suitability and needs. Depending on where the applicant lives, either the public order office or the police is the responsible authority.
According to the law, applicants are considered unreliable or personally unsuitable if they:
have been convicted of a criminal offense within the last ten years
their circumstances justify the assumption , that they will handle weapons recklessly
have been a member of a prohibited or unconstitutional organization
have followed or supported activities in the last five years that pose a threat to Germany's foreign interests
have been taken into preventive police custody more than once in the last five years
alcohol or are addicted to drugs or mentally ill


Winnenden, 10 years after the killing spree
In addition, anyone under the age of 25 applying for their first gun license must have a certificate about the "mental aptitude" from a medical officer or psychologist.
How do applicants prove their expertise?
Applicants for a gun license must pass an exam or undergo certain training in order to purchase a gun. The state exams relate to the legal and technical aspects of firearms, safe handling and shooting skills.
Specialist knowledge can also be proven by other tests, as long as they relate to the same areas: These include tests for a hunting license, tests for the gunsmith trade or a three-year full-time employment in the arms trade.
The completion of certain courses in handling with firearms, which conclude with an examination, is recognized as expertise. In addition, state-recognized shooting sports associations can conduct their own tests.
How do applicants demonstrate a need?
The law states that applicants for a firearms license must demonstrate a certain need, and defines this as "personal or commercial interests that deserve special recognition, primarily as a hunter, sport shooter, traditional marksman, gun or ammunition collector, gun or ammunition expert , endangered person, gun manufacturer, gun dealer or security company".
People who have been shown to have an unusually high risk of becoming a victim of a crime may also be deemed to have a need to own a firearm.
Members of shooting sports associations and clubs can also demonstrate the need for a firearms license if they present a certificate from a traditional marksmen's association confirming that they need these firearms to uphold a tradition.
The text has been adapted from the English. An earlier version of this article stated that hunters in Germany must have a firearms license. In fact, they need a hunting license. This has now been corrected.