With the AS-T10G3, Asustor is introducing an expansion card that offers both 10 Gigabit Ethernet and two M.2 slots for NVMe SSDs. The new plug-in card can upgrade both functions at once in a NAS system via a PCIe 3.0 x4 slot.
10 GbE + M.2 was not available from Asustor
According to its own statements, the AS-T10G3 is "long-awaited" and was developed by Asustor due to "great demand" from users of Asustor NAS systems. In fact, unlike QNAP, the manufacturer has not yet offered such an expansion card for its own NAS systems that retrofits both 10 Gigabit Ethernet and M.2 slots. The network card AS-T10G2, which was already available, only upgrades 10 gigabits, but no M.2 ports. The recordings on the new AS-T10G3 for the NVMe SSDs now support the usual 2280 form factor. The NVMe SSDs can be passively cooled with the included aluminum heatsink.
10GbE controller by Marvell
The AS-T10G3 uses the Marvell AQC113 10GbE as a network controller and, in addition to 10 Gigabit Ethernet, as usual also supports slower networks with 5 Gbit/s, 2.5 Gbit/s 1 Gbit/s, 100 Mbit/s and 10 Mbit/s . The 10 Gigabit Ethernet port is an 8P8C connector, also known as an RJ-45, which allows the use of copper patch cords. Reading speeds of up to 1,171 MB/s and writing data of up to 1,119 MB/s can be achieved with the expansion card on suitable systems.
The AS-T10G3 fits into current Asustor NAS devices that offer a PCIe slot – including the 2nd generation Lockerstor 4 and 6 and Lockerstor rackmount devices. An expansion bracket for the Lockerstor Gen2 NAS is preinstalled on the AS-T10G3, full and half height brackets are also included.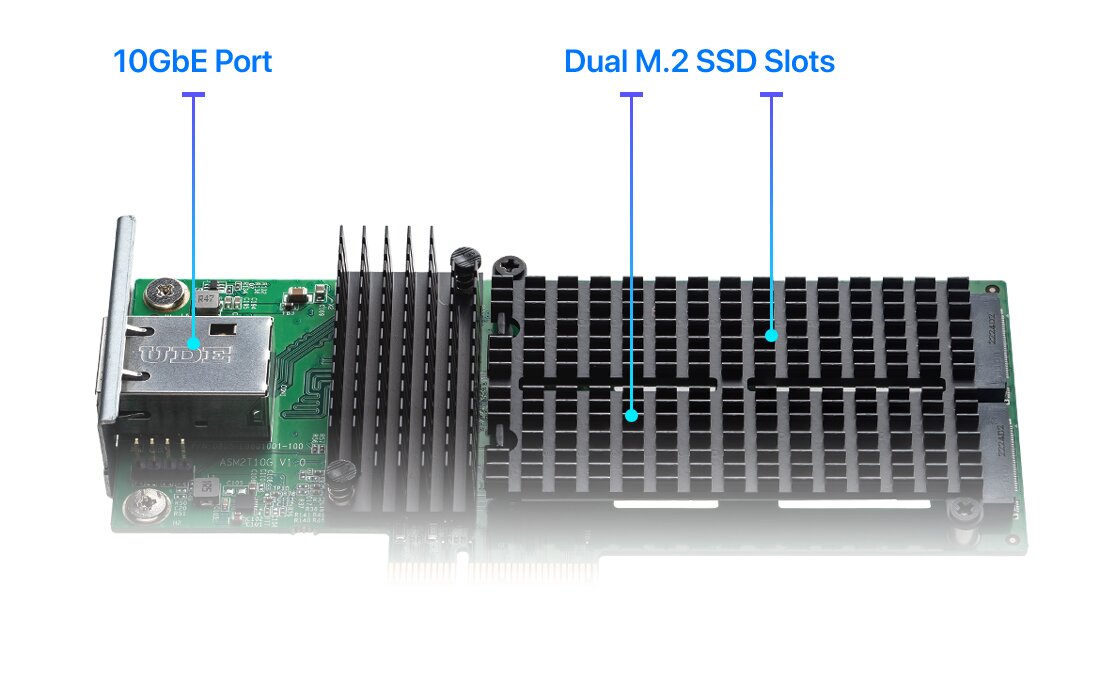 No official price recommended
Asustor offers a two-year warranty on the network card. The manufacturer itself does not name a price. The AS-T10G3 is not yet listed in German retail.