More than 30 years ago, the fatwa – a death sentence – was imposed on the writer Salman Rushdie. He went underground, but he never wanted to remain silent. Now his new novel is coming.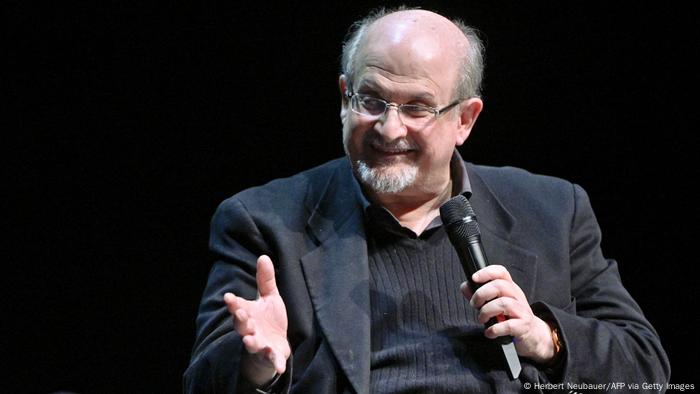 Salman Rushdie at an event in Vienna 2019
Bradford in Northern UK. It's January 14, 1989, a quiet Saturday morning. Suddenly the city awakens: Hundreds of angry people run through the streets and gather in front of the town hall. They protest against a book and end up burning some copies of it. It is "The Satanic Verses" by the Indo-British author Salman Rushdie. There are outraged speeches in which the novel is denounced as blasphemy and an unbearable insult to Islam.
Worldwide outrage up to and including the death sentence
But when ashes and charred shreds of the banned book pages waft across the square, even the most militant leaders of the protest have no idea of ​​the worldwide fire they have just kindled: book burnings in many countries, attacks on book shops, deaths in demonstrations, bomb threats against Rushdie's publishing house and against the airline British Airways, stone-throwing against British embassy buildings.
Around the world police, parliaments and governments are in turmoil.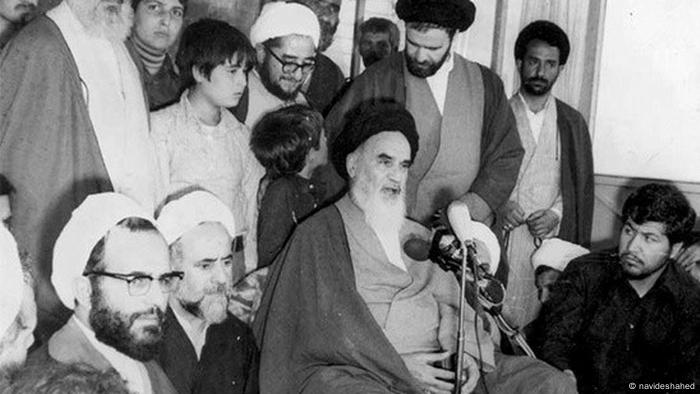 Ayatollah Ruhollah Khomeini surrounded by his followers
Finally, the supreme guardian of the faith of Islam, Ayatollah Ruhollah Khomeini from Iran, comes forward and imposes a death sentence – the so-called fatwa – on Rushdie and everyone involved in the publication of the book: "I call on all upright Muslims to Execute people immediately, wherever they find them, so that no one will dare to violate the sanctity of Islam," Khomeini told Iranian radio on February 14, 1989. "Any Muslim who dies is considered a martyr and goes straight to paradise."
The "Satanic Verses" were only intended to be satire
Salman Rushdie was born on June 19, 1947 in Bombay, now Mumbai, India, grew up in India and England and was raised a Muslim. He gave up his faith as a young adult. In his adopted country of England, he publishes several half-realistic, half-fantasy novels and celebrates his first successes.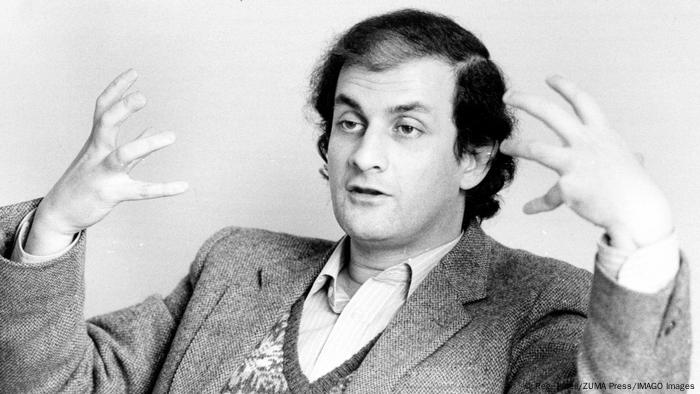 Salman Rushdie 1986
In 1988 the "Satanic Verses" were published. A satirical fairy tale about good and evil, dreams and reality, homeland, migration and identity, themes that accompany Rushdie as a migrant in Europe.
Devils and whores
What outrages the Islamic world are the allegories that Rushdie uses in his book, for example the Prophet Muhammad is given his old Christian nickname Mahound – devil – on whose birthday the crisis in his life begins: "A voice whispers in his ear: What kind of idea are you? Man or mouse?"
Furthermore, twelve whores become the twelve wives of the Prophet. Verses inspired by Satan end up undermining the divine revelation of the Qur'an – intolerable for the Muslim world. Shortly after the book was published, protests hailed, culminating in the fatwa. There's also a million-dollar bounty on Rushdie's head, which will only increase over the years.
Global fame at a high price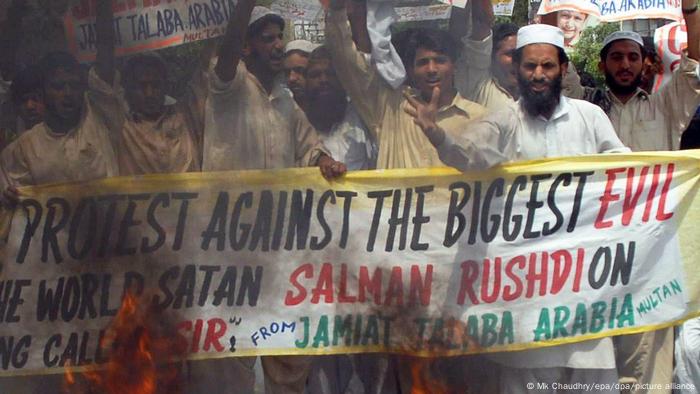 Anti-Rushdie protests in Pakistan
Rushdie has to go into hiding with the help of the British secret service and changes his hiding place 56 times within a year. Meanwhile, he tries to live as normal a life as possible and keep writing. In a secretly recorded radio interview, he tries to calm things down: "I deeply regret that the publication has caused pain to Islamic believers. (…) We must not lose sight of the sensitivity of others."
For many years, Rushdie stayed underground. The fatwa will not be withdrawn. Rushdie always speaks up from his hiding places and in the 2000s he is also the chairman of the US branch of the international writers' association PEN.
An overview of Salman Rushdie's work


"Quixotte" (2019)

Salman Rushdie's "Quixotte" modernizes Cervantes' classic and sets an aging traveler's quest in the United States today. He plays with facts and fiction, tells of everyday racism and the opioid crisis – and at the same time drifts off into the surreal. The novel was nominated for the prestigious Booker Prize 2019.

An overview of Salman Rushdie's work


"Midnight Children" (1981)

Rushdie's first novel "Grimus" (1975) received little attention. But it was the second that made the British-Indian author an international literary star: "Midnight's Children" is an allegory of India's independence. The book won the Booker Prize and was made into a film by Indian-Canadian director Deepa Mehta a good 20 years after it was first published.

An overview of Salman Rushdie's work


"The Satanic Verses" (1988)

"The Satanic Verse" fundamentally changed the writer's life. Radical Muslims saw the novel as blasphemy. In 1989, the Iranian head of state Ayatollah Khomeini sentenced the author to death. Rushdie then lived underground for many years. The so-called fatwa has not been officially rescinded to this day.

An overview of Salman Rushdie's work


"The Ground Beneath Her Feet" (1999)

Postcolonial culture and magical realism are Rushdie's trademarks. Other ingredients of his works: countless references from world events, literature and pop. From this he formed such diverse works as the family saga "Des Mauren's last sigh" (1995) or "The ground beneath her feet", an alternative history of rock music. Rock band U2 later used the title in a song.

An overview of Salman Rushdie's work


"Luka and the Fire of Life" (2010)

Rushdie has also written two children's books. The fairy tale "Harun and the Sea of ​​Stories" (1990) revolves around themes such as censorship and freedom of expression. "Luka and the Fire of Life" is a fantasy novel in which a boy has to save the life of his father – a storyteller.

An overview of Salman Rushdie's work


"Joseph Anton" (2012)

Rushdie spent nine years underground. There he adopted the pseudonym Joseph Anton – in honor of his favorite writers Joseph Conrad and Anton Chekhov. During this time he divorced his second wife and entered into two other marriages, both of which broke up after a few years. Rushdie tells about this phase of his life in his autobiography "Joseph Anton".

An overview of Salman Rushdie's work


"Two Years, Eight Months and Twenty-Eight Nights" (2015)

"Two years, eight months and twenty-eight nights" – the number of days in the title of this book refers to Scheherazade's tales of "One Thousand and One Nights". Rushdie's novel also offers at least as many stories. In the year the book was published, the Frankfurt Book Fair invited him to be the keynote speaker. Iran called for a boycott of the event because of his participation.
In 2007, Queen Elizabeth II knighted him, which again led to worldwide protests in the Muslim world.
Several novels are published and the author has repeatedly been awarded prestigious literary prizes. His best book is his autobiography "Joseph Anton", in which he addresses his years in the underground. Eventually he moves to the USA. Although the fatwa has still not been withdrawn, he now moves more freely and refuses personal protection. He attends events and makes public appearances.
August 2022: The assassination
But in August 2022 it is evident that the hatred of Islamist extremists for years has apparently not abated.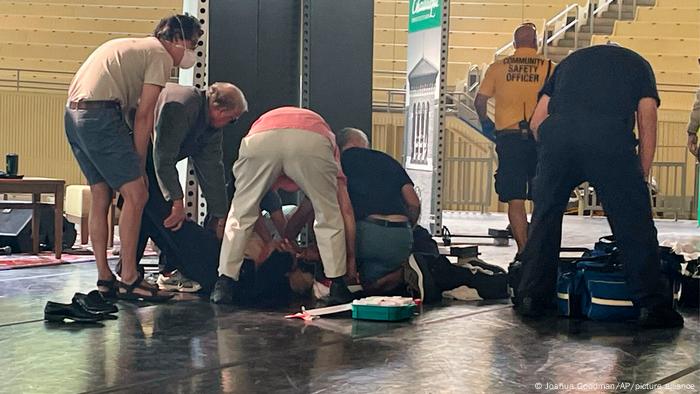 The injured Rushdie is treated after the attack
A then 24-year-old assassin attacks Rushdie a literary event with a knife and severely injures him. The writer, who celebrated his 75th birthday two months earlier, is still struggling with the consequences: He is blind in one eye and can no longer move one hand.
Nevertheless, his new book "Victory City". Rushdie tells the story of the Indian orphan girl Pampa Kampana. She receives supernatural powers from a goddess and founds the city of Bisnaga, whose name translates to "City of Victory". Rushdie will not go on book tours or promotional events. However, he makes frequent use of the short message service Twitter, where he is currently primarily posting reviews of his new book.
Salman Rushdie's new novel will probably not be published in Germany until April 2023.