Saudi Arabia presents itself as modern and cosmopolitan. But behind the facade, repression is growing and the number of death sentences is increasing dramatically. Major events in the country could fuel international criticism.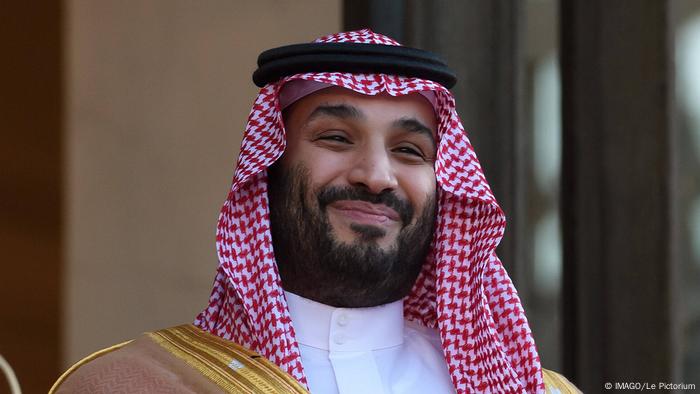 Pretender to the throne and already the true ruler: Crown Prince Mohammed bin Salman
Since Crown Prince Mohammed bin Salman, or MBS for short, became Saudi Arabia's de facto ruler, the state has experienced two opposing developments. With a far-reaching modernization process called "Saudi Vision 2030", the government wants to make the economy independent of oil, open the country to tourism and improve women's rights. At the same time, it uses the Anti-Terror Law to crack down on civil society, especially human rights activists and religious scholars who do not line up with the government.
The number of executions is also increasing: it has almost doubled since 2015. This shows a report by Reprieve, an international organization against the death penalty, and the human rights initiative European Saudi Organization for Human Rights (ESOHR). While there were an average of 70 executions between 2010 and 2014, between 2015 and 2022 there was an average of 129 executions per year. "The average number of executions has increased by 82 percent," according to the report, "despite the country projecting a modern image to the outside world."
MBS: Government by Repression
"The concept of modernization pursued by MBS is very selective and dependent on political whims," ​​ESOHR director Ali Adubisi told DW. "The executions are a mainstay of his repressive behavior. He uses them to intimidate his people in order to guarantee as much silence as possible."
This is confirmed by Julia Legner from ALQST, a Saudi human rights organization in London. "If the government was serious about the reforms, then they would allow the Saudi people to be at the center of them," she told DW. "However, in a country without a free civil society, government reforms are a political tool to silence all criticism from inside and outside."
Vision or illusion? Saudi Arabia advertises a comprehensive modernization process
Sebastian Sons, scientist at the think tank Center for Applied Research in Partnership with the Orient (CARPO) in Bonn, sees hardly any signs of a political opening – despite the economic changes and social liberalization: "Quite the opposite. Repression is an integral part of the Saudi Form of government under MBS."
Saudi Arabia repeatedly points out "that these are internal matters in which the West is not supposed to get involved," Sons told DW, and "that it those sentenced to death are terrorists and that national and international security is guaranteed".
Warning against mass executions
The murder of Saudi dissident Jamal Khashoggi in the Saudi consulate in Istanbul in 2018 caused outrage around the world and temporarily isolated the country. But most trials of activists or critics don't get that kind of international attention.
Such trials usually take place in the Saudi Specialized Criminal Court (SCC), a court with jurisdiction over terrorism and threats to state security cases. In 2022, for example, the judges at the SCC sentenced the two women Salma al-Shihab and Nura al-Kahtani to 34 and 45 years in prison, respectively, because they shared Twitter posts by women's rights activists.
Rave in Riyadh – departure for Women
"The Saudi definition of terrorism leaves the judiciary with the discretion to hand down harsh sentences, including the death penalty and exceptionally long prison sentences, even for criticism of the government," Ramzi Kaiss of the human rights organization MENA in Geneva told DW. The anti-terrorism law is very vague. For example, an act of terrorism could be "any act that disrupts public order, undermines national security or state stability, or threatens national unity. But none of these terms are defined."
ESOHR director Ali Adubisi is extremely concerned: "There are alarming indications that more than 60 men are currently threatened with the death penalty, including minors. It is very likely that Saudi Arabia will soon carry out individual or mass executions."
The background to his concerns is the mass executions in March 2022. Although a 2020 royal directive stipulated that no executions should be carried out on the basis of discretionary decisions invoking the Anti-Terrorism Act, 81 prisoners serving under the Anti-Terrorism Act were killed law.
Sports events as a lever for human rights
CARPO employee Sebastian Sons is convinced that the royal palace is closely monitoring international reactions to Saudi human rights violations. He can "imagine that this debate will also gain momentum within Saudi Arabia, for example if major events take place in Saudi Arabia, which then stir up international criticism again." These could be international sports events that Saudi Arabia has successfully applied for as part of its global sports offensive.
Sports washing in Saudi Arabia


Formula 1

The premier class of motorsport has been driving in Saudi Arabia since 2021. The state oil company Aramco is a potent sponsor of the racing series. He has also joined Team Aston Martin as a main sponsor.

Sportswashing in Saudi Arabia


Spanish Supercup

In 2019, 2021 and this year, fans of Spain's top teams had to travel to Saudi Arabia to cheer on their stars at the Supercopa. The contract with the Saudis runs until 2029 and brings La Liga 40 million euros a year.

Sportswashing in Saudi Arabia


Italian Supercup

In 2018 and 2019, the Supercoppa Italiana also took place in Saudi Arabia. The Italian clubs had also previously played in Doha and Shanghai.

Sportswashing in Saudi Arabia


South America Summit

For years, the Brazilian Selecao has been selling friendlies abroad for a lot of money. In 2018 and 2019, Saudi Arabia secured Brazil's prestige duel against Argentina.

Sports washing in Saudi Arabia


Dakar Rally

After ten years in South America, the traditional desert rally in Moved to the Arabian Peninsula in 2020. She is financially stable again and drives in front of spectators who are enthusiastic about motorsport. The contract runs for five years.

Sportswashing in Saudi Arabia


Golf

In golf, Saudi Arabia wants to compete with the PGA Tour and poach the best players with millions of dollars for their own tournament series. The Saudi Golf Championship has been part of the European Tour since 2019. A potent sponsor is the Saudi state fund PIF.

Sportswashing in Saudi -Arabia


Wrestling

Wrestling events have been held in Saudi Arabia since 2014. The venue has repeatedly drawn criticism from many fans. 2019 also saw the first women's fight. Women were already allowed in the audience, albeit only when accompanied by men.

Sportswashing in Saudi Arabia


Chess

In 2017 the World Blitz Chess Championship was held in Riyadh. However, the ban on Israelis and the requirement that participants wear a headscarf and a covering dress outside the event hall caused a scandal.

Sports washing in Saudi Arabia


Newcastle United

And not only at home does Saudi Arabia allow the sport to be tasted. In October 2021, the Saudi state fund PIF invested around 350 million euros in Premiere League club Newcastle United and secured an 80 percent majority stake there.
The Saudi Tourism Authority recently announced that Saudi Arabia has become the official sponsor of the Women's World Cup in Australia and New Zealand this summer 2023 will belong. The host football associations of Australia and New Zealand have protested sharply and lodged a complaint with world football's governing body FIFA – citing the fact that Saudi Arabia banned women from playing football and even entering stadiums until 2017.
Saudi -Arabia will also host the 2027 Asian Football Championship and the 2029 Asian Winter Games and is bidding – along with Greece and Egypt – to host the 2030 Men's Football World Cup.
Crown Prince Mohammed bin Salman has did not respond to DW's request for a statement.
This article was adapted from English.