In 2018, Elon Musk announced that he wanted to take Tesla private. A little later he canceled the project. Now a lawsuit ends with investors who felt cheated.
The CEO of US car manufacturer Tesla, Elon Musk, during the trial in San Francisco (archive image)
In the trial against Elon Musk for misleading tweets about the electric car manufacturer Tesla, the company boss has been acquitted of the allegation of fraud. The nine jurors concluded that the plaintiffs failed to establish that Musk was responsible for their stock market losses.
The 51-year-old, following the jury's decision in San Francisco, explained that "wisdom of the people" prevailed. The process was about Musk's Twitter statements in 2018, which had triggered strong price fluctuations on the stock exchange.
Roller coaster ride on the stock exchange
The multi-billionaire announced on Twitter in August 2018 that he wanted to take Tesla private for a price of $420 (currently €389) per share. Funding for this is "secured". The announcement caused Tesla shares to fluctuate, but Musk later backed down. It became clear that the financing was by no means secure.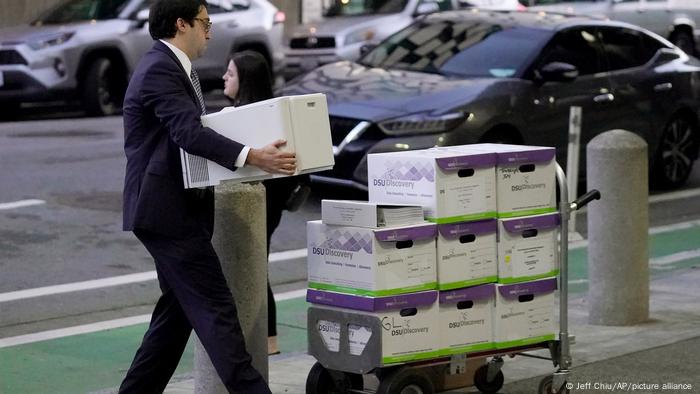 The parties involved in the proceedings had to go through a lot of files ( archive image)
Investors then sued Musk for billions in damages. They accused the second richest person in the world of lying and "artificially manipulating" the price of Tesla shares with the aim of harming all investors who had bet on a falling share price. One of the plaintiffs' attorneys said during the trial, referring to Musk, "Because of his lies, ordinary people have lost billions upon millions of dollars."
The Tesla boss had always rejected the allegations of fraud. In his personal testimony in court, he argued that he had not written that the secured funding was "a fact". He only expressed his personal thoughts. And he was convinced that the financing was secured at that moment.
The tweets about Tesla also got Musk into trouble with the US Securities and Exchange Commission (SEC). As part of an agreement, he had to step down as chairman of Tesla's board of directors, pay a $20 million fine, and have potentially price-sensitive tweets about Tesla approved by a lawyer.
The trial came for Musk in the middle stormy times. Critics accuse the pugnacious entrepreneur of concentrating too much on the short message service Twitter, which he bought for 44 billion dollars at the end of October after a long takeover dispute, and of neglecting Tesla. However, the numbers at the electric car manufacturer seem to speak more for Musk: The group reported at the end of January that it had made record profits in 2022.
jj/kle (dpa, afp)