Photos show the forthcoming socket LGA-7529 for Intel's Xeon processors of the Granite Rapids generation. This offers 61 percent more pins than its predecessor LGA-4677 for the current generation Sapphire Rapids. The direct comparison shows what that means for the size.
Estimated almost 70 percent larger package
Various photos of the new Xeon platform were published on Twitter, among others. A picture shows the new base compared to its predecessor. According to @SkyJuice60 estimates, the Granite Rapids CPU package for the LGA-7529 measures approximately 105mm in length and 70.5mm in width, which would be around 70 percent (66.5%) larger than the 78mm× 57 mm package by Sapphire Rapids (without HBM).
Recommended external content
Twitter
At this point there is external content from Twitter that complements the article and from the editors is recommended. It can be loaded and hidden again with one click.
Load Twitter embeds I consent to Twitter embeds being loaded. Personal data can be transmitted to Twitter. More on this in the data protection declaration.
Granite Rapids Xeon 9000 is huge!
Here's a side-by-side of its socket next to Sapphire Rapids, which it absolutely dwarfs.
LGA 7529 has the same 37 Mil hex array as LGA 4677, just with 61% more pins.
We calculated the package dimension to be 105 mm x 70.5 mm, which is 1.7x area! pic.twitter.com/dov5xsBFHG

— SkyJuice (@SkyJuice60) February 2, 2023
Load Twitter Embeds Privacy Policy
As usual, the name of the socket stands for the number of contacts or pins. From 4677 it goes up to 7529, which means an increase of 61 percent. Compared to AMD's current Socket SP5 for Epyc CPUs of the Genoa family, 23.5 percent more pins are offered. The estimated CPU package area of ​​Granite Rapids would be 36 percent larger than Genoa.
New platform could appear in 2024
However, Granite Rapids is not the immediate successor to Sapphire Rapids, because Emerald Rapids in the LGA-4677 socket will take its place in between. The switch to the so-called Birch Stream platform with the LGA-7529, which serves as a base for both Granite Rapids and its successor Sierra Forest, is expected to take place in 2024.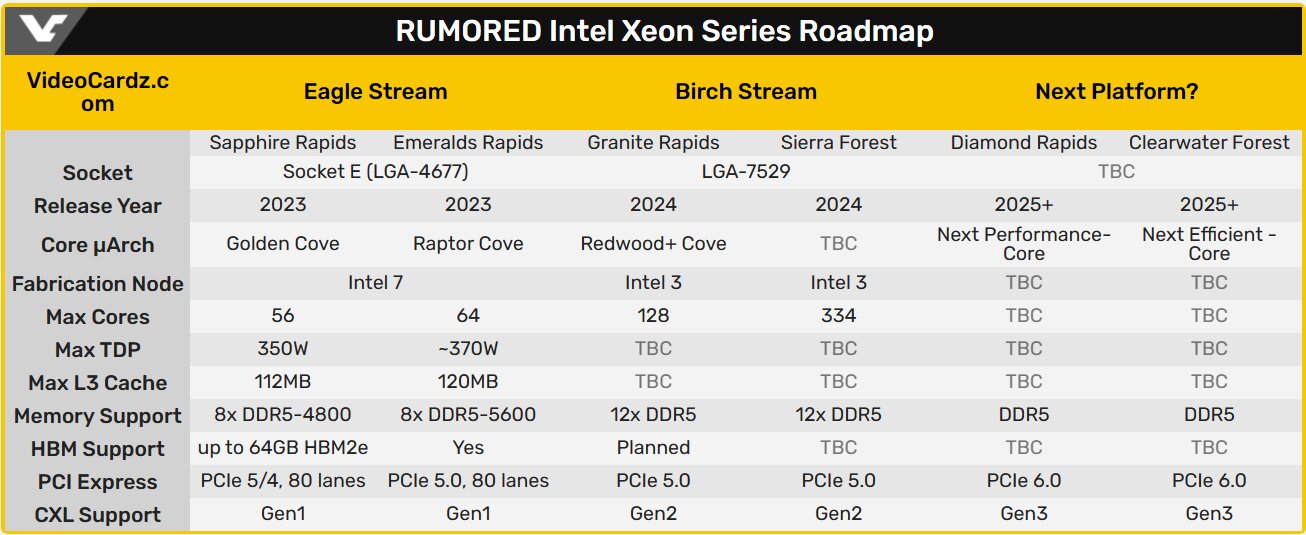 With the new socket, Intel has increased the number of DDR5 memory channels to twelve instead of the previous eight, catching up with AMD Epyc in this regard. The biggest jump will be in the number of CPU cores, because Emerald Rapids will probably only have 64 cores up to 128 cores. However, this data is more conjecture than set in stone. VideoCardz has illustrated the key data from the rumor mill in a table.
However, mistakes cannot be ruled out: For example, Sapphire Rapids is said to have a maximum of 56 cores, while Intel recently presented its first 60 cores, as the editorial report on the presentation of Sapphire Rapids shows:
Intel Sapphire Rapids: Elite units as workload specialists
Granite Rapids is already running in the lab
In January, Intel demonstrated working but early samples of Granite Rapids in use in its own test lab.
According to the manufacturer, both Emerald Rapids and Sierra Forest are ahead of schedule. However, as has been the case with Xeon timetables in recent years, these can very quickly be worthless. After countless announcements, Intel finally has to deliver on time again.