Gnoppix, first released in June 2003, was based for many years on the well-known German Linux distribution Knoppix by German Linux developer Klaus Knopper, but today uses Kali Linux, which is designed for digital forensics Foundation. Gnoppix 23.2 is based on Gnome 43.2 with ChatGPT and Linux 6.0.
Gnoppix sets on a new foundation
Gnoppix Linux, which originally took up the concept of Knoppix and is also available as a live system, has now grown up and is based on Kali Linux 2022.3, which is designed for penetration tests and which the editors had already presented in detail for publication in August.
Gnoppix 23.2 inherits numerous penetration testing, reverse engineering and forensics applications from Kali Linux, but combines them with a newer kernel and an up-to-date desktop in the form of Gnome 43.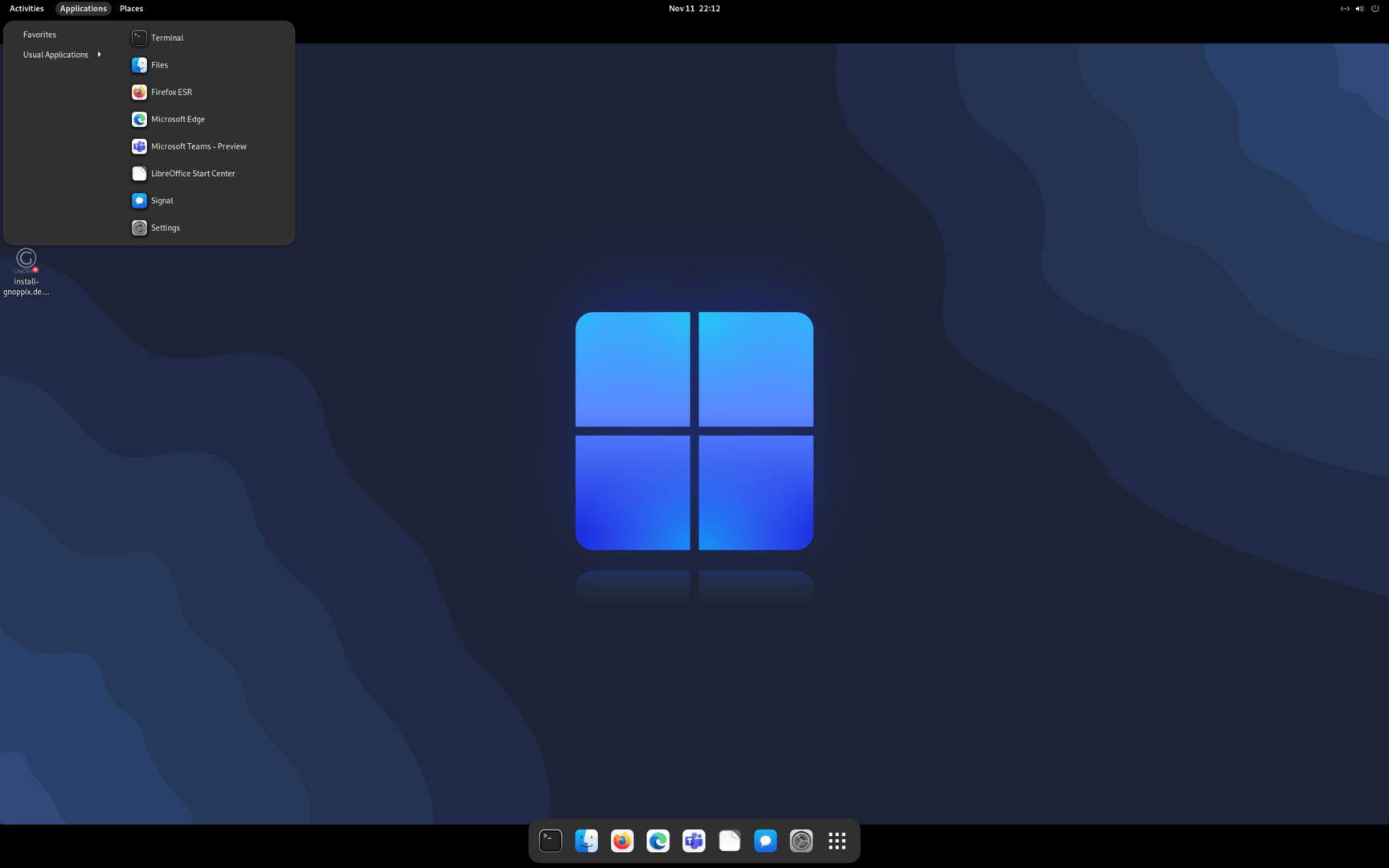 Visually, the distribution is based a bit on Windows 11 with regard to its wallpaper and the central taskbar and, based on the current Kali Linux, has the following changes and updates:
Windows apps are on board
In addition to the visual similarity to Windows 11, Gnoppix 23.2 also comes with several Windows apps "out of the box". In addition to the Chromium browser Microsoft Edge, the groupware Microsoft Teams can also be found as a pre-installed application in the distribution. Steam is available for players after the initial installation.
New substructure and ChatGPT on the desktop
Thanks to Linux 6.x and Gnome 43.x as well as the graphics stack Mesa 3D in version 22.3.3, which is essential for gaming under Linux, and current application programs such as the free browser Firefox 102.6 ESR, it is much more modern than in Kali, which was designed for security tests Linux. However, the two Linux distributions share the same ancestry with Debian. Debian Testing ("Bookworm") serves as the starting point for the free operating systems.
As one of the first distributions ever, Gnoppix 23.2 adopts the ChatGPT extension for the desktop. The add-on, which integrates the chatbot ChatGPT, which is based on OpenAI artificial intelligence, into the free Linux desktop Gnome, uses the free HTML rendering engine WebKit in version 2.x and the GUI toolkit GTK 4 .
Gnome 44 is already in preparation
With the latest release, the "Gnoppix" project is gaining momentum and is already taking a first look at the future. Preparations are already underway for the release of the new desktop Gnome 44, which is expected to start the public beta phase on February 6, 2023 and be released on March 23.
Further information can be found in the official release notes for Gnoppix 23.2.
Gnoppix 23.2 is available for download
The 4.5 GB system image of Gnoppix 23.2 (ISO) optimized for AMD64 can be downloaded from SourceForge and used with a corresponding tool such as Rufus or Ventoy can be written to a storage medium.
Impressions of the older Gnoppix 22.12 and its feature set can be found on the YouTube channel "9to5Linux".
Recommended external content
YouTube
At this point there is external content from YouTube that complements the article and is recommended by the editors. It can be loaded and hidden again with one click.
Load YouTube embeds I consent to YouTube embeds being loaded. In doing so, personal data can be transmitted to YouTube. More on this in the data protection declaration.
Load YouTube Embeds Privacy Policy