The indie adventure Deliver Us Mars is the sequel to Deliver Us The Moon, released in October 2019 by developer KeokeN Interactive and publisher Frontier Foundry. First ratings for the new sci-fi game with Ray tracing and DLSS 3 (test) including frame generation are mixed.
Mars adventure with a lush RTX feature set
The developers describe Deliver Us Mars as an atmospheric space adventure that takes players around 10 years after the events of Deliver Us The Moon in the role of an astronaut on the red dust planet. This is entrusted with the task of recovering lost colony ships that have mysteriously gone missing. For KeokeN Interactive, the appeal of puzzle adventure lies primarily in an engaging narrative and exciting gameplay.
< p class="p text-width">For Nvidia, Deliver Us Mars is another flagship title for the RTX feature set. The game, which is based on the Unreal Engine 4, offers both hardware ray tracing for shadows and reflections as well as the DLSS 3 introduced with Ada Lovelace, i.e. the combination of DLSS Super Resolution (formerly DLSS 2) and frame generation. Accordingly, Nvidia accompanies the release with a few selected benchmarks, which are intended to showcase the particularly high frame rates that can be achieved with GeForce graphics cards from the RTX 4000 series.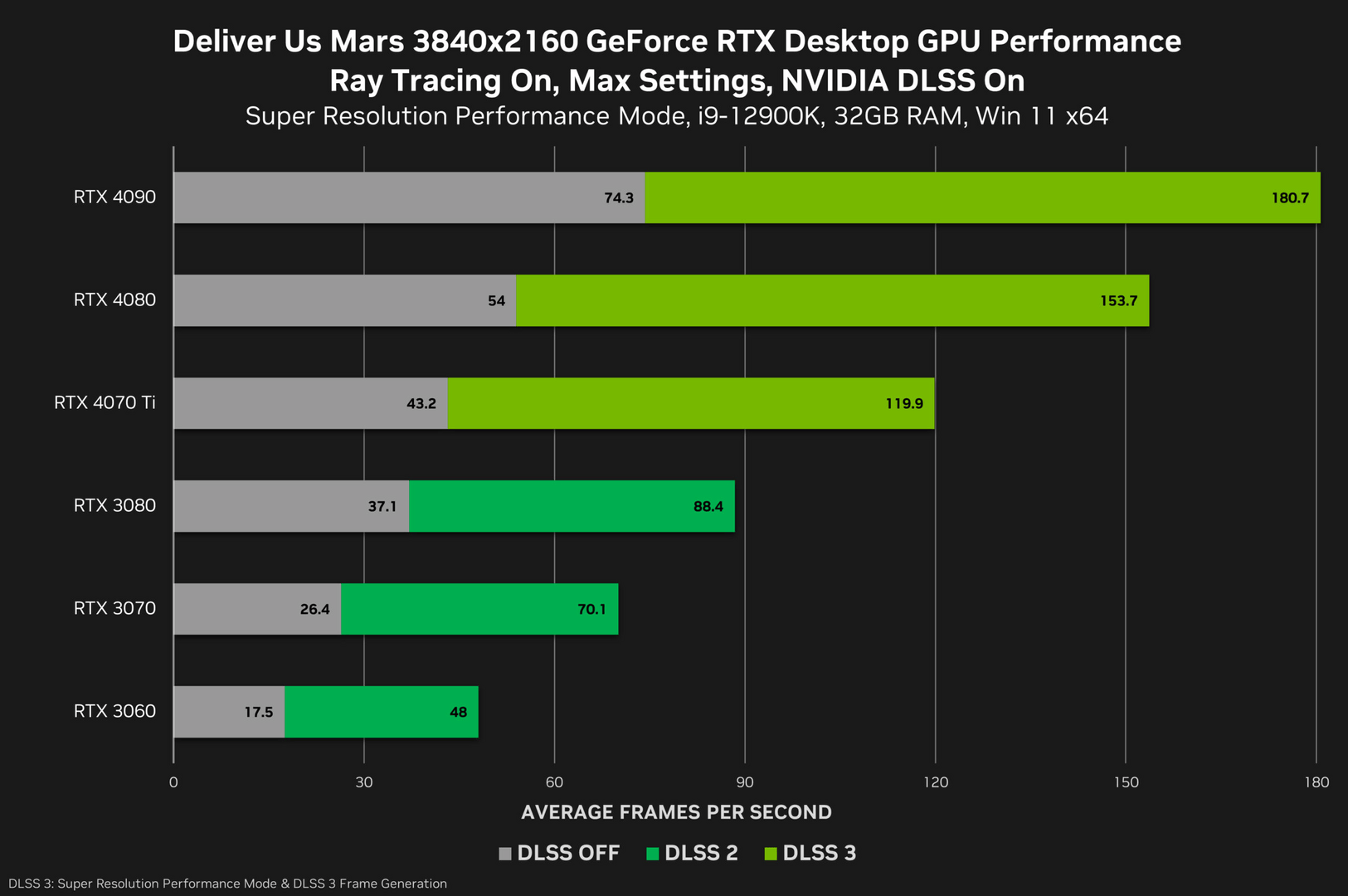 First ratings certify Deliver Us Mars a respectable graphic, especially for an indie production, which does not set any standards, but overall is coherent. However, technical problems and errors are inevitable; among other things, there is talk of isolated graphic errors and crashes. The character models and their animations, which are sometimes supposed to appear "ridiculous", are not well received at all, although the developers have worked with motion capture.
Reviews are mixed at the start
In terms of content, players first of all praise the excellent dubbing – also in German – as well as the successful musical accompaniment, which further supports the already atmospheric atmosphere. In addition, the plot is actually exciting and emotionally gripping, but also strictly linear and often not well staged, as early reviews on Steam complain. The developers should have produced a short film instead of a video game, some players even joke: the gameplay is too often limited to just walking around and trivial and repetitive tasks.