Voter turnout in Tunisia's parliamentary elections was once again extremely low. The population seems discouraged, and the authoritarian President Kais Saied is increasingly unpopular. Where is the country headed?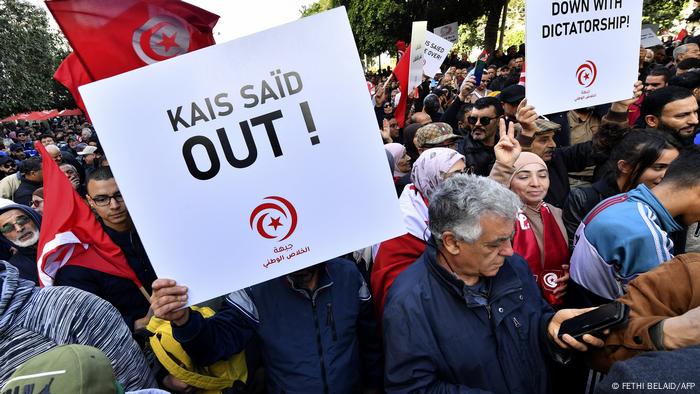 Protest rally against President Kais Saied in the capital Tunis, January 2023
Tunisia has taken another step away from democracy and towards a more authoritarian form of rule. A "ghost election" – this is the term some Tunisians use to describe the second round of the parliamentary elections last Sunday – an election in which hardly anyone took part: just a good eleven percent of the approximately eight million eligible voters decided to vote, similarly as in the first round in December.
According to the "International Institute for Democracy and Electoral Assistance", there have probably never been so few eligible voters in a parliamentary election worldwide. Observers see the low turnout as a sign of the Tunisians' increasing disenchantment with politics.
After the revolution of 2011, which then spread to other countries in the region, the small Maghreb country initially seemed destined to be successful. Dictator Zine el-Abidine Ben Ali fell, Tunisia seemed on the way to a real democracy. Not least among many Western partners, this was perceived as a positive individual example of a successful "Arab Spring" – while in many other countries in the region soon former power elites returned or violent conflicts broke out.
But last weekend's elections are only the latest indication that the Tunisian experiment is in danger of failing.
Boycott and protest
One of the country's strongest political parties, the relatively moderate Islamist Ennahda (Renaissance), which previously represented the largest faction in Tunisia's parliament, boycotted the elections, as did other, more secular opposition parties and civil society groups. They all expressed their protest against the country's political course taken by President Kais Saied.
Saied was elected President of Tunisia in 2019, with a turnout of around 55 percent. In the summer of 2021, he summarily dissolved the Tunisian parliament. Internal struggles between parliamentarians, political standstill, corruption and the economic crisis as well as the corona pandemic required a restart – this is how Saied justified his step at the time.
After that, he continued on his authoritarian course. He took control of the country's judiciary, electoral and anti-corruption authorities, and had political opponents prosecuted and arrested.
Polling station in Tunis (January 29): Only eleven percent of those entitled to vote took part
But even with these steps, he failed to keep his promise to lead the country out of the permanent crisis. Since then, the president has lost massive popularity. After initially quite perceptible support from parts of the population, approval for his policies has repeatedly fallen sharply, for example with a very low voter turnout in a constitutional referendum in the summer of last year and in the first round of the parliamentary elections in December. Again and again there are larger rallies against the President's policies.
"Prognosis very bleak"
"In view of the low turnout, we consider the political process initiated by Saied to be illegitimate," Ennahda spokesman Imed Khemiri told DW. "This process has exacerbated an already complex situation. The majority of Tunisians firmly reject Said's path."
Last but not least, it is feared that Saied will continue to gradually dismantle or at least severely restrict democracy and pluralism, despite the obvious lack of support. "We can say with great certainty that Tunisia's short-term prognosis is very bleak – economically, politically and socially," said a foreign observer, Monica Marks, a Tunisia expert and professor at New York, in an interview with DW University in Abu Dhabi.
Nevertheless, Saied is likely to remain in power, at least in the short term, she expects. And the Tunisian economy, which has been in trouble for some time anyway, will continue to struggle.
Ines Jaibi, a Tunisian lawyer and democracy activist, is less pessimistic. She is convinced that events like the boycotted parliamentary elections would bring Tunisian opposition groups closer together. As an example, she cites an emerging initiative that seeks to forge closer ties between the highly influential Tunisian Confederation of Trade Unions (UGTT), the Tunisian Human Rights League, the country's Bar Association and several political parties.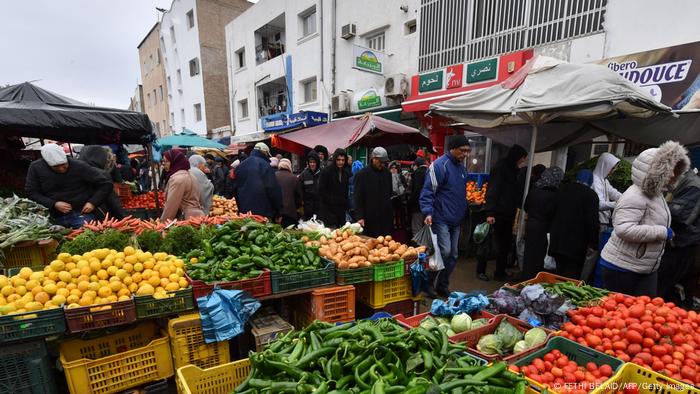 Market in Tunis: Many goods, little purchasing power
There are numerous differences of opinion within the opposition , she admits. "But given the deteriorating economic situation, there are also new dynamics. We now have one goal and that is to end Saied's authoritarian rule. The opposition is not dead. On the contrary, it is growing stronger."
Hope&nbsp ;on common candidates
Activists like Jaibi are finding hope in the president's waning popularity. "Said promised serious reforms, but we didn't see any of that," she says. "People are tired of these promises. That's why they boycotted the last two elections." According to Jaibi, most Tunisians no longer believed that the country under Saied could find an answer to their problems, especially the economic problems remained unresolved.
That's why she's counting on the Tunisians to give more support to the opposition in the future. At the same time, she hopes that the opposition parties will agree on a common candidate for the upcoming presidential election planned for 2024. "That would be an important step."
Economic fault lines are growing
The Tunisian political scientist Mohamed-Dhia Hammami from Syracuse University in New York takes a similar view. "At the moment, Tunisia's political landscape is highly fragmented," Hammami said. He sees increasing power struggles among Saied's supporters. "This will make any kind of stabilization almost impossible, no matter whether it takes place democratically or autocratically."
However the country's politics develop, it is likely to play a decisive role the country's flagging economy – Hammami and many other analysts agree on this.
Their decay continues to affect people. Recently, even staple foods such as milk and butter have become scarce, and the prices for staple foods such as cooking oil have doubled.
But many citizens are also concerned with the dismantling of democratic rights: "Tunisia is in a difficult situation because democracy has been terminated here since July 2021," complains Murad al-Bakhti, 35, owner of a digital marketing company. "Furthermore, the President and his government have not yet provided a clear vision for overcoming the economic crisis."
Uprising or exhaustion?
Meanwhile, the country's government continues to seek a rescue package from the International Monetary Fund (IMF). A corresponding agreement was announced in October last year, but has still not been concluded. But even if the bailout goes through, the conditions demanded by the IMF – such as limiting government spending and cutting subsidies – could hit the country's poorest in particular.
"Despite ample evidence, Saied does not appear to be heeding the warning signs of an impending social explosion ", the Tunisian columnist Haythem Guesmi interpreted last weekend's elections in a commentary for the website of the news channel Al Jazeera. He predicts: "This explosion will overthrow his dictatorship. Another Tunisian uprising is currently forming."
Not everyone sees it that way. The Tunisian opposition is not united enough to force Saied out of power, says Tunisia expert Monica Marks from New York University Abu Dhabi. She expects more disillusionment among many citizens: "Many Tunisians are just exhausted," she says. "They don't see any inspiring political alternatives." For them, the country only feels disoriented, gloomy and exhausting.
Adapted from English by Kersten Knipp.
Tunisia: Hunger because of expensive food