The federal government is financing a follow-up order from the Ukrainian army to the company Quantum-Systems from Munich. One of their investors became famous with Paypal and Facebook.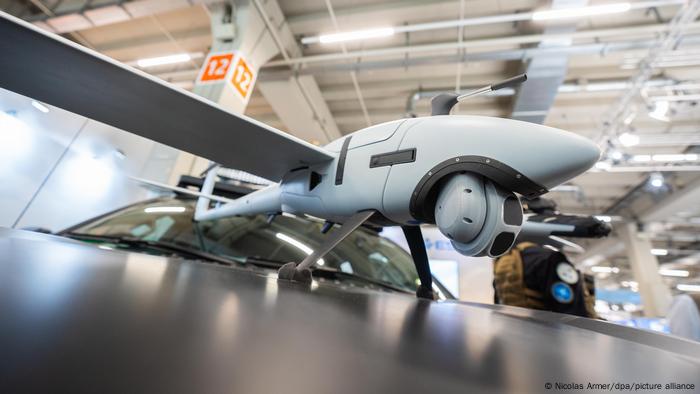 Vector reconnaissance drone – here at a trade fair in 2022
Battle tanks and reconnaissance drones: Ukraine will soon get both from Germany. This became known on the same day last week. And so it happened that the news from Berlin about the decision finally made there to supply the Ukrainian army with Leopard 2 main battle tanks eclipsed the news from Munich. It said that the young company Quantum-Systems had received a second, much larger order from the Ukrainian Ministry of Defense for its Vector drones and that the German government would finance this delivery.
A Vector drone costs 180,000 euros
The Vector reconnaissance drone clearly proved its worth in the Ukraine war. Because if Kyiv ordered 33 of them at the beginning of August last year, now, five months later, 105 more copies have been ordered. But the actual test lies further back. Back in the spring, the co-founder and CEO of Quantum-Systems, Florian Seibel, told the German media that a Ukrainian billionaire had contacted him who wanted to buy drones for his country's army, and that several other oligarchs had followed his example .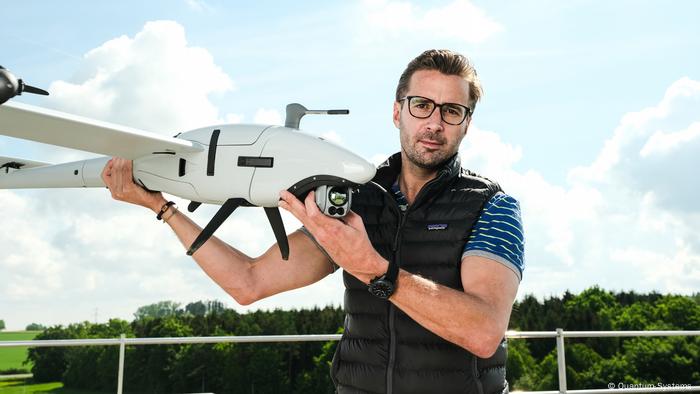 Founder and boss of the Munich company Quantum-Systems: Florian Seibel with the Vector drone
The Vector drones were therefore already in use in Ukraine at a time when many politicians in Germany still had serious doubts about the expediency of arms deliveries to Ukraine. However, drones are not weapons per se, which incidentally explains the quick export license from the German Ministry of Economics at the time. This unmanned electrical vertical takeoff flight system (UAS) in the form of a propeller aircraft with a length of 1.63 meters and a wingspan of 2.8 meters is used for aerial reconnaissance. It has a flight time of 120 minutes and can transmit video and data from a distance of up to 30 kilometers, which is the range of many artillery pieces.
Each copy costs 180,000 euros. The federal government will thus pay almost 20 million euros for the current follow-up order from the Ukrainian Ministry of Defense. When asked why the Vector is so expensive, Florian Seibel replies in an interview with DW that it is actually in the lower price segment, because military reconnaissance drones are significantly more expensive among Israeli and US competitors: "There's just a lot Military technology built in: special antennas, night vision devices, infrared cameras, tap-proof data links. And the software has been developing for decades, for example in terms of control and navigation."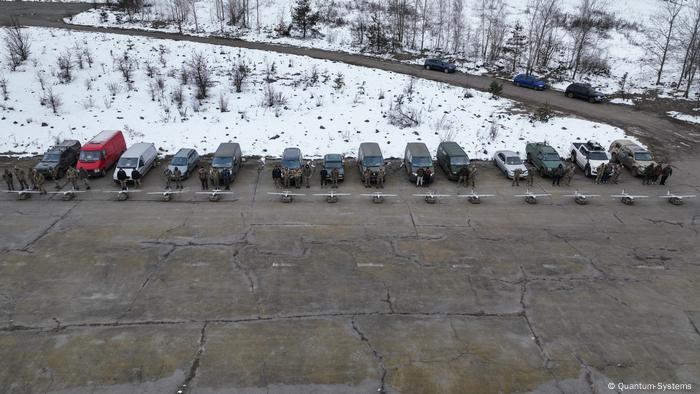 Handover of a delivery of the German Vector reconnaissance drones to the Ukrainian army at the end of 2022
Start-up founder after 16 years with the Bundeswehr
Originally, however, Florian Seibel had no intention of supplying the military and initially focused exclusively on the development, construction and production of small UAS for the commercial, civilian sector. He had previously been in the military for 16 years – first as a helicopter pilot, then at the University of the Federal Armed Forces in Munich, where he was doing research for his doctoral thesis at the Faculty of Aerospace Technology. During his time at university, he met three other future company founders, patented a drone prototype with one of them, gave up his doctoral thesis and launched the start-up Quantum Systems in January 2015.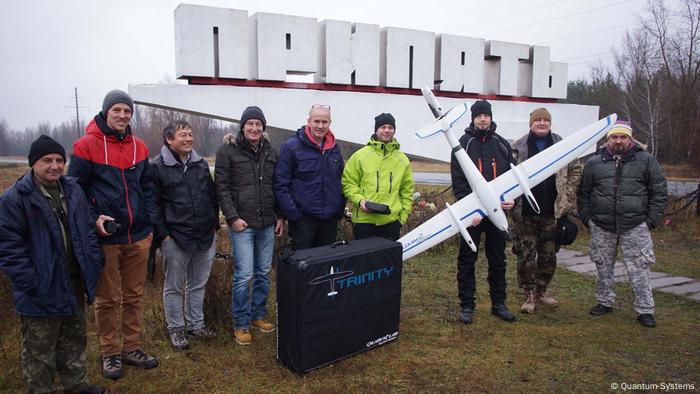 Participants in the project to map contaminated sites around the Chernobyl NPP using the Trinity drone
In 2017, the Trinity drone went into series production, which was mainly used for land surveying and mapping for agricultural and construction projects – in Germany, Norway, Indonesia, New Zealand, Ghana and the USA. At that time there were also individual assignments in the Ukraine – first in the agricultural sector and then as part of a project in Chernobyl. There, with the help of multispectral recordings, places in the forest were localized where radioactive waste had been buried after the nuclear power plant accident.
The development of the Vector dual-use drone, which is designed for use by the military as well as the police, fire brigade and border guards, began at Quantum-Systems in 2018. "Of course, I could not have guessed that the Russians in the whole Ukraine will invade, although they had already done so in Crimea in 2014. But I just had the feeling that we in Europe are neglecting our security and should be more concerned with this issue," Florian Seibel told DW.
Great demand for German reconnaissance drone
According to him, a special feature of the project was that "often there are military developments at the beginning, which then find their way into the civilian world. In this case, we went the opposite way and made our commercial technology available to the military you can, for example, learn how to use our system almost playfully within a few hours."
Vector went into series production in 2020. The deployment in Ukraine in spring 2022 meant that the Munich start-up company was using its drones for the first time for military purposes and in a war zone at the same time. "We in the West must do everything possible to ensure that this war ends as soon as possible, but we can only force Russia to the negotiating table when the Russians see that they will lose the war. As long as they assume that they can win, they will keep going," the head of Quantum-Systems is convinced.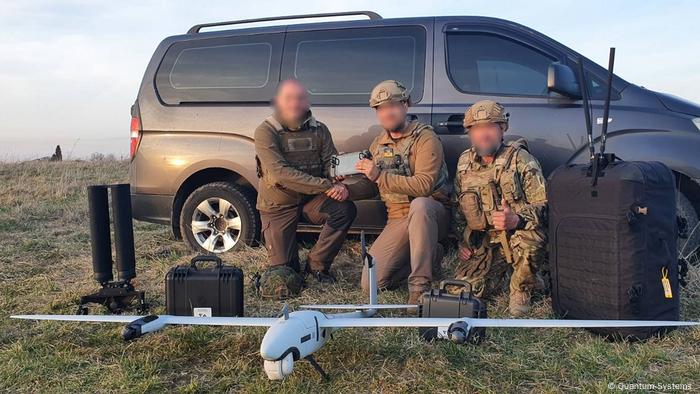 Ukrainian soldiers at the front with the reconnaissance drone Vector
Deliveries to Ukraine have sparked interest in this reconnaissance drone among other military personnel as well. There are now orders from the Bundeswehr, the US and the Dutch army. It is quite possible that some people in Germany see Florian Seibel as a "war profiteer".
"Yes, we are an economic winner of this war because we make money by providing a technology that is needed now," concedes Florian Seibel and draws a parallel to the German company BioNtech, which together with developed and marketed the most successful innovative vaccine against corona with the US pharmaceutical giant Pfizer. BioNtech helped rid the world of a great calamity, and it is only fair that the company's founders and the investors who have funded their work at their own risk for years have been rewarded for it.
Entering from star investor Peter Thiel at Quantum-Systems
His company, Florian Seibel continues, also bears a great responsibility to those investors who have entrusted tens of millions of euros to this young company. Among them is Bayern Kapital, the investment company of the federal state of Bavaria, in which the aerospace industry is specifically promoted, especially in the Munich area, where Quantum-Systems is also located.
In October 2022, the German-American tech investor Peter Thiel decided to also invest in the company. Florian Seibel: "For us it was something of an accolade. Peter Thiel is certainly one of the most successful, if not the most successful tech investor in the world, who was able to form a financial basis with Paypal, thanks to which he then continued to invest, for example on Facebook, where he was very early on."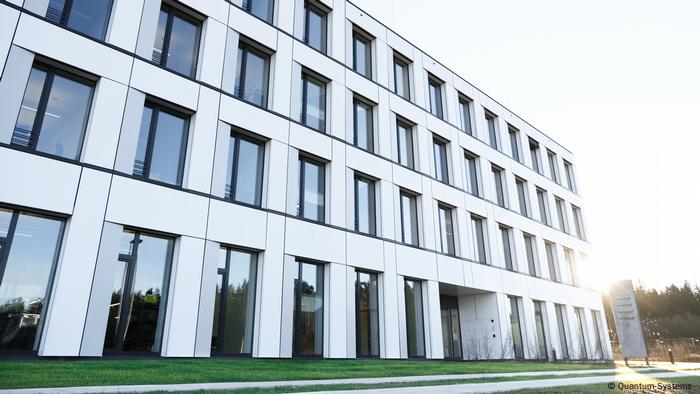 Headquarters of the German drone manufacturer Quantum-Systems in Gilching near Munich
Of course, Florian Seibel continues, we know that Peter Thiel is a controversial political figure (because of his support for Donald Trump and for right-wing US Republicans). "But it's not my job to discuss politics with him," emphasizes the boss of Quantum Systems. In this case, it is crucial that "Peter Thiel invested in a German drone company as a businessman because he fundamentally believes it is capable of something big".
As far as deliveries of drones to the Ukrainian army are concerned, the representatives of Quantum-Systems, who have already traveled to Ukraine several times, are currently working on organizing their repair on site in order to avoid transport to Germany. This work was intensified after the new order from Kyiv, but Florian Seibel did not want to reveal details to DW for understandable reasons.
Award-winning bird's-eye views of the world from above


Play of Colors

Jerome Courtial, 39, has just waited for the tractor to start harvesting for this photo of a lavender field in Provence. But then it got difficult: "The wind was really strong. I have to thank my girlfriend for her patience, because we had to wait quite a long time until everything was fine." The two were rewarded with first place in the "Nature" category.

Award-winning bird's eye views: This is what the world looks like from above


Snake Street

< p>If Dracula were still up to mischief today, then this would probably be the picture he would see on his nocturnal flights below, because this road leads right through the Romanian Transylvania. Calin Stan, a professional photographer, shot it during a home street photography project, earning second place in the "Nature" category.

Award-winning Bird's Eye Views: This is what the world looks like from above


Icy Beauty

Frenchman Florian Ledoux, 27, is so fascinated by the Arctic that he recently moved to Iceland specifically for it. He took this photo over East Greenland. "It was minus 20 degrees and I didn't know if the drone would still work at three kilometers altitude." The risk was rewarded – with third place in the "Nature" category.

Award-winning bird's-eye views: This is what the world looks like from above


Concrete mushrooms on sandy soil

Where this asphalt jungle of high-rise buildings in Dubai now stands, there was desert just ten years ago. That is what particularly fascinated the Lebanese photographer Bachir Moukarzel about this photo. Apparently, so did the jury: they placed it first in the "Urban" category. Moukarzel would like to fly over other regions of the world with his drone as soon as possible – preferably the cool Iceland.

Award-winning bird's-eye views of the world from above


High above Moscow

When the physicist Alexey Goncharov is on his way to university, he often has his drone with him. Then he succeeds in gaining such interesting insights into the working world in Moscow as this one here at the Mercury Tower. "The industrial climbers seemed to be washing the city itself, not just the building's windows." It won second prize in the "Urban" category.

Award-winning bird's-eye views: This is what the world looks like from above


Game, Photo and Victory

Martin Sanchez was doing weird contortions on this empty New Jersey tennis court. "Then two players showed up from the next pitch who had no idea what I was doing. They must have wondered if I needed help. When I showed them my photos afterwards, they said: 'Oh! Now we understand!'" It was the winning photo in the "People" category.

Award-winning bird's eye views: This is what the world looks like from above


"Next level" or: instead of an ad

Photographer Thibault Beguet and his girlfriend Manon wanted to inform their family and friends in the most original way possible that they are going to be parents. "Then I had the idea for this picture: Manon and I with an old stroller, in a video game style." They recorded it on a beach in Normandy. It got first place in the "Creativity" category.