Thousands of foreigners were studying in Ukraine before the Russian attack. Now 170 refugee medical students from ten countries are continuing their education in Nis in southern Serbia.
Professor Milan Trenkic (center) talks to students at the University Hospital in Nis
At the end of February 2022, Shinga Chikura was close to despair. "I thought that was it for my studies," the 26-year-old told DW. After graduating from high school, he had been looking for a place to study in his home country of Great Britain for a long time without success. Then he started researching in other European countries. Six years ago he finally began studying medicine in English – in Kyiv, the capital of Ukraine. He found learning easy, quickly adapted to the country and people, and had no intention of leaving Ukraine before graduating – until Russia attacked Shinga's host country on February 24.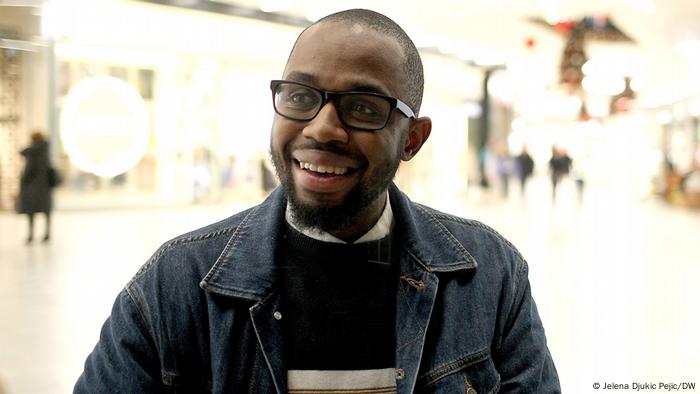 Shinga Chikura from England has been studying medicine in Nis for almost ten months
With no planes taking off from Ukraine since the beginning of the war, Shinga fled back to England overland in the middle of her sixth year at university. When he finally got home after days of waiting at various border crossings, he immediately started applying for a university place there, in France and in Germany. "But all the universities in question told me that I could study there – but only from the beginning, from the first year," reports the medical student. "I thought I wasted all my time in Ukraine."
Then Shinga heard that there was an opportunity to continue his studies in the southern Serbian city of Nis. "At first I thought: Serbia? That's too close to Ukraine for me, there could also be war there. But then I looked at the details and talked to a few people who were already studying in Nis. Everyone said that there really great – and also very peaceful."
A few days later, Shinga was enrolled in Nis. He has now been living in Serbia for almost ten months. What he is most pleased about is that the university there recognized most of his performance records and that he was able to start in his fifth year of study. "I lost almost a year," says the medical student happily.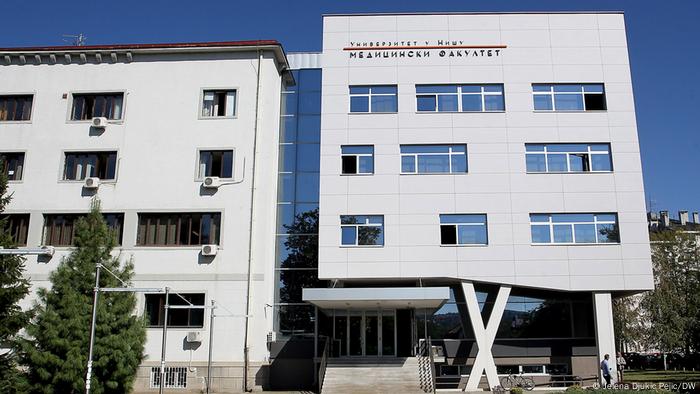 The building of the medical faculty University of Nis
Foreigners have been able to study medicine in English here for four years – but since the beginning of the war in Ukraine the number of applications has multiplied. The new students come from many countries.
The fear remains
Shireen Rahmani from Saudi Arabia told DW that she wanted to leave Ukraine and come to Serbia before the war. "I really liked the website of the University of Nis, especially the many relevant publications by the professors," says the 22-year-old, who is also in her fifth year. "The long, cold Ukrainian winter really bothered me," she adds.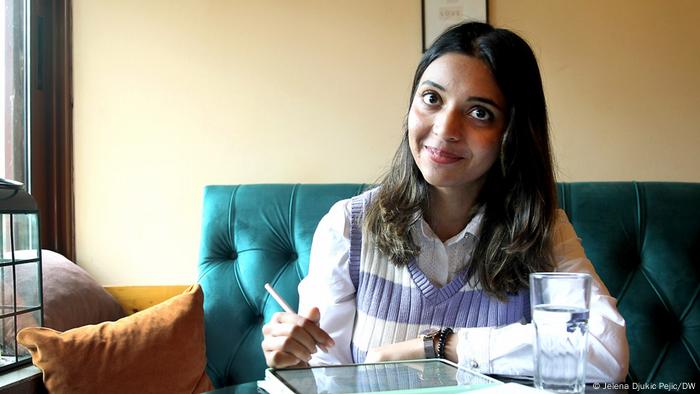 Shireen Rahmani from Saudi Arabia wanted to study in Nis before the start of the war in Ukraine
But it was the horror that broke out with the Russian attack that led to the decision to actually move to Nis. "It was terrible," Shireen told DW, "and I'm still suffering from the effects of the fear to this day." Every time she hears fireworks, she has to say to herself: These are just fireworks. She also suffers from the tense situation between Serbia and neighboring Kosovo: "There's always the thought somewhere in my head that something could happen."
In view of this, the support of the University of Nis staff for the newcomers from Ukraine was all the more important. "They helped me a lot," reports Shireen, "not only with university, but also with finding an apartment and getting used to life in Serbia. That was very good for me."
A German in Nis
Among the students in Nis there are also some who came directly to study in Serbia. For example Anika Jobair from Germany. "I was overjoyed when I got one of the 25 places here," she recalls, and tells how she was afraid of passing the entrance exam in English.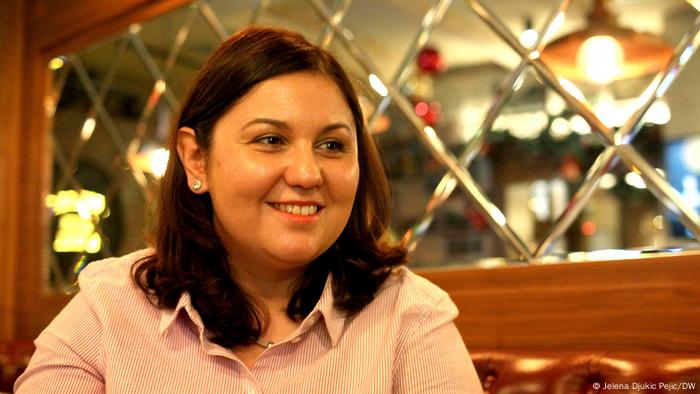 Anika Jobair from Germany is graduating from the Medical Faculty in Nis
Anika is 37 years old old and in the third year of study. "Actually, I've always wanted to study," she tells DW, "but in Germany the tuition fees are low – but the cost of living is very high." That's why Anika worked for years as a medical-technical assistant in maxillofacial surgery, oncology and paediatrics after graduating from high school.
Why did she choose Nis when choosing her place of study? "I did some research and found that here in Serbia, the rules set out in the EU's Bologna Process are studied, just like in Germany. And secondly, there is an agreement on the mutual recognition of diplomas," explains Anika.
In practice, what she likes most is that learning takes place in small groups at the University of Nis. "As a result, the relationship between the professors and us students is very close. They have enough time for us to explain things to us if something is not clear to us." And last but not least, many doctors from Serbia would work in Germany, who are highly valued there.
Demanding students
A medical study year at the University of Nis costs 5,500 euros for foreigners. 268 students from Great Britain, Germany, France, Portugal, Norway, Finland, Ireland, India, Saudi Arabia and Nigeria are currently enrolled there. 170 of them had previously studied in Ukraine. Doctor Milan Trenkic, professor of gynecology and obstetrics, is particularly fond of them.
"I don't know if they brought this from Ukraine, but they really ask a lot of themselves – and of us too, above all our full attention," says Trenkic. "If they don't understand something in the language, they immediately look it up on their tablets. Luckily, medical terms are in Latin all over the world."