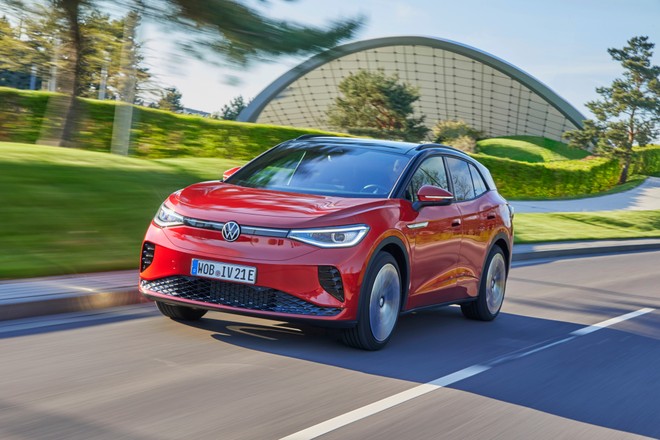 ACEA has taken a picture of the auto market of the European Union as regards 2022. According to the report of the association of European car manufacturers, last year registrations of electric models grew, despite?the general decline in the car market.?We are talking about 1,123,778 registrations< /strong> in 2022 against 877,985 units? of 2021 (volume increase of 28%). For this reason, the overall market share in the European Union of BEV cars ? rose to 12.1% in 2022 against 9.1% in 2021.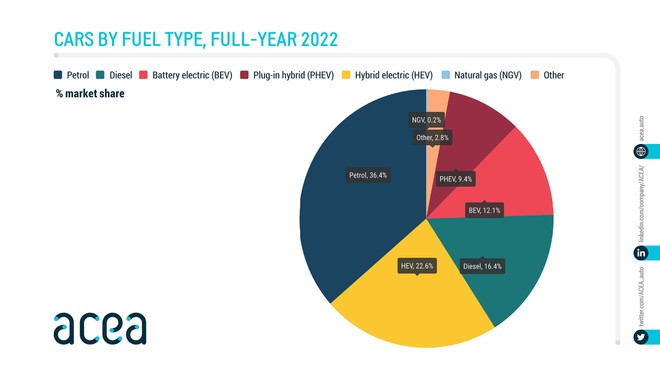 Year what? was also positive for HEV hybridswhich achieved an overall market share of 22.6%, against 19.8% in 2021. Overall, 2,089,653 hybrid cars were registered in the European Union against 1,924,732 in 2021 (+8.6% ). The market share of Plug-in vehicles also increased slightly, going from 8.9% in 2021 to 9.4% in 2022. There were 874,182 registrations against 864,103 in 2021 (+ 1.2%).
PETROL AND DIESEL DOWN
However, traditional petrol and diesel engines continue to lose ground. However, adding them up, they represent even more? of half of car sales in the EU in 2022. Going specifically, as far as petrol cars are concerned, we have gone from a share of 39.9% in 2021 to 36.4% in 2022. Are we talking about?3,371,153 registrations in the European Union in 2022, against the? 3,867,378 units? of 2021 (-12.1%).
As for diesel, the 2022 market share? was equal to 16.4% against 19.6% in 2021. In terms of volumes, in the European Union there were?1,522,686 registrations against?1,897,206 in 2021.
ELECTRIC ENERGY DOWN IN ITALY
While the European Union as a whole shows positive signs on the growth of the electric car market, Italy, on the other hand, is losing ground. In 2022, in fact, ?49,179 BEV cars were registered, against?67,284 in 2021. This is a decrease of 26.9% in terms of volumes. Plug-ins also show a drop of 6.1% in our country (65,580 against 69,834).
Hybrids, on the other hand, are doing well with?449,993 registrations against?422,845 in 2021 (+6.4 %). In Italy, petrol cars are also down with? 365,461 registrations in 2022 against? 437,068 units? of 2021 (-16.4%). Negative sign?also for the diesels with?257.965 registrations against the 323.037 units? of the previous year (-20.1%).
The Samsung pi? balanced? Samsung Galaxy A52 5G, buy it at the best price from Amazon Marketplace for 399 euros.