Newly emerged images of a four-slot high slot cover with unusually oriented connectors are fueling new rumors about a potential GeForce RTX 4090 Ti or a new Nvidia Titan based on the AD102 graphics chip. Again, there is talk of a power consumption of up to 800 watts.
Speculations about a supposed superlative Ada Lovelace graphics card are not new: rumors about a new graphics accelerator of the Titan class were already circulating in April 2022, which was last used at the end of 2018 by the Titan RTX (test) based on the Turing architecture. In this context, higher and higher TDP classifications of up to 900 watts were mentioned over the course of the year. The GeForce RTX 4090 (test), which was finally released in October, proved to be much more economical, but does not rely on the full expansion of the AD102 graphics chip. The rumors and ultimately the wishful thinking about an even more powerful gaming graphics card with Ada Lovelace architecture continued under the name GeForce RTX 4090 Ti.
A graphics card with a vertical PCB
Images now circulated by Twitter user @Zed__Wang aka MEGAsizeGPU are fueling speculation again. You can see the four-slot high slot bezel of a presumed new Nvidia top model, mounted on an equally large heat sink in one of the pictures. Three aspects are now attracting attention:
The Founders Edition of the GeForce RTX 4090 is only three slots high with a TDP of 450 watts and the heat sink can do that easily dissipate power loss. The use of a four-slot high cooler therefore indicates a significantly higher power consumption.
The heat sink shown has a golden coloration, which is known in this form from Nvidia's professional compute solutions, but has also adorned Titan graphics cards in the past.
Three DisplayPort connections and an HDMI socket indicate that it is actually a desktop graphics card. Their arrangement is interesting: The stacked sockets indicate a vertically oriented PCB, which has already been discussed in the past for an Ada Lovelace top model and supported by recordings, as VideoCardz notes. A conceivable advantage of the unusual design would be an optimized air flow.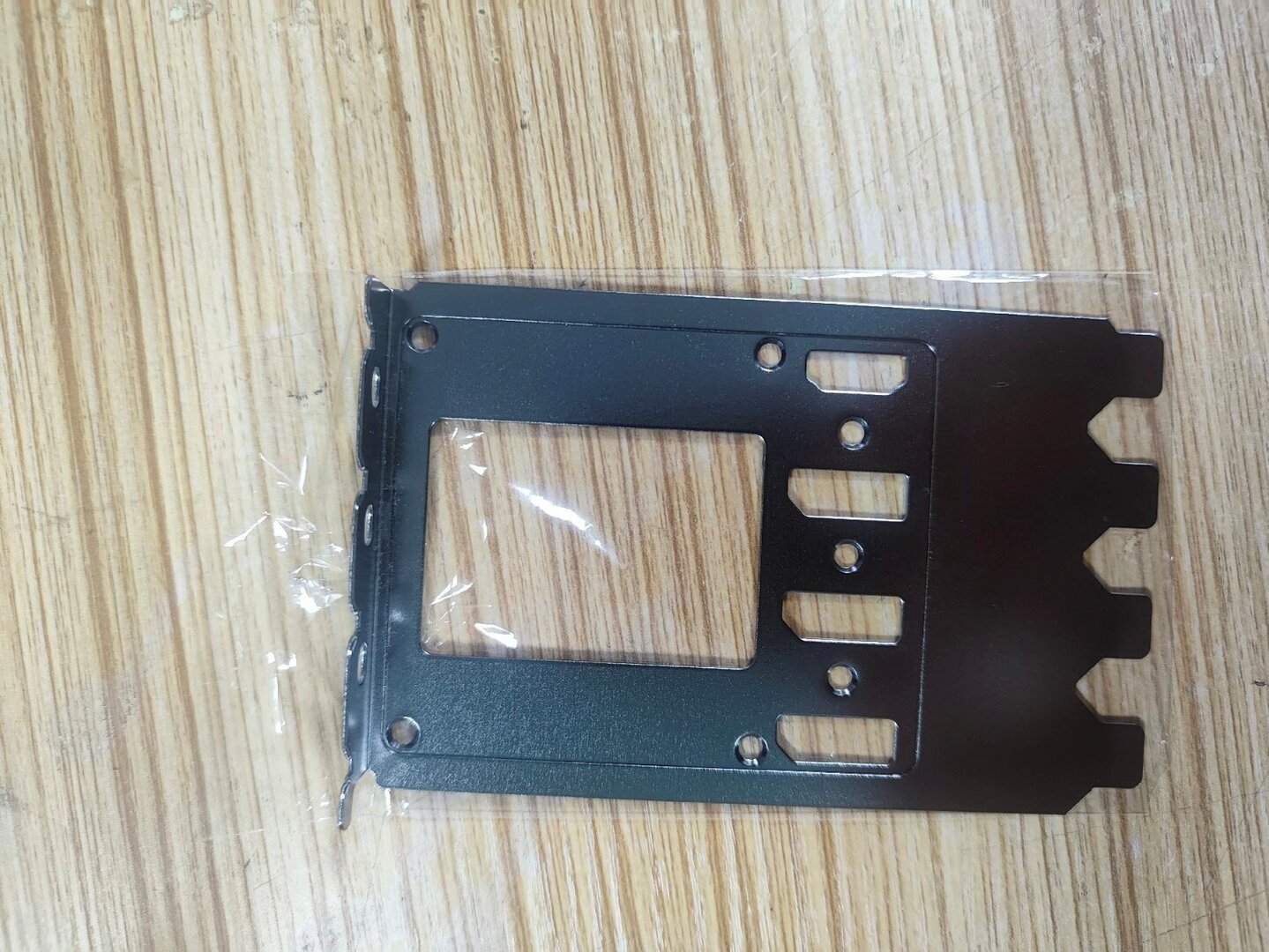 The assumption that Nvidia would use an AD102-450 for such a graphics card is still current. Previous rumors certify the rumored graphics chip a total of 142 streaming multiprocessors and thus also 142 raytracing cores and 18,176 FP32 execution units, although it is still just not the AD102 full expansion.
A hybrid of GeForce RTX 4090 and Nvidia L40?
Meanwhile, GPUs with those specifications are already in use with the Nvidia RTX 6000 professional graphics card and the Nvidia L40 and L40G server graphics cards. The latter offers up to 90 TFLOPS FP32 computing power and provides the hardware for the RTX 4080 SuperPods, which provide GeForce Now Ultimate with the performance of the eponymous desktop graphics card. However, a GeForce RTX 4090 Ti or Titan Ada would differ fundamentally from those products in two respects.
While the professional solutions have a maximum TDP specification of 300 watts, the GeForce RTX 4090 Ti is traded with a maximum power limit of 800 watts. With the GeForce RTX 4090 with AD102-300, this is 600 watts, but is usually not exhausted even with overclocking, while the TDP is "only" 450 watts – the GeForce RTX 4090 Ti should behave similarly. In addition, the difference can be attributed to higher clock rates and different memory compared to the professional solutions.
Speaking of memory: Instead of GDDR6 (ECC), the GeForce RTX 4090 Ti should use GDDR6X type graphics memory, which is also offered by the GeForce RTX 4000 graphics cards presented to date. For the first time, however, components with a throughput of 24 GB/s are used. Manufacturer Micron does list the corresponding memory chips, but they have not been used in the RTX 4000 so far. With a 384-bit interface, the bandwidth would increase to 1,152 GB/s.
It is also worth noting that the GeForce RTX 4090 Ti is rumored to have 48 GB of GDDR6X graphics memory, which in turn is another explanation for the noticeably higher power limit in relation to the GeForce RTX 4090 with 24 GB of GDDR6X. The editors have compiled the alleged specifications of the rumored Ada Lovelace top model in the following table on the basis of information obtained in the past, the data sheet of the Nvidia L40 and projections based on GeForce graphics cards that have already been released.
Such a GeForce RTX 4090 Ti or Titan Ada would offer a raw performance increase of around 10-15 percent compared to a GeForce RTX 4090 – depending on how much the faster memory comes into play. It should be noted, however, that a GeForce RTX 4090 already has a 70 percent increase in raw performance compared to the GeForce RTX 4080 (test) on paper, but even in the editors' UHD performance rating it can only set itself apart by around 35 percent – half of the raw power falls by the wayside. With a GeForce RTX 4090 Ti it would probably be no different compared to the GeForce RTX 4090.
Information should be treated with caution
And there follows another note that is obligatory for such reports: Ultimately, the rumors about the GeForce RTX 4090 Ti or Titan Ada are by no means reliable information that should be treated with particular caution. A graphics card that will be released in the future can certainly be seen in the images at hand – but it is also possible that they are prototypes based on an old concept that Nvidia has since rejected.
It is also doubtful that Nvidia will follow a top gaming model that has only been on the market for a few months with a more powerful variant, although the performance leap of the GeForce RTX 4090 was already huge and the graphics card is unrivaled anyway. After all, there was a year and a half between the market launch of the GeForce RTX 3090 (test) and the GeForce RTX 3090 Ti (test).
Overview of rumors about future ones Nvidia graphics cards
RTX 4070, 4060 Ti & 4090 Ti: Rumors speak of two more AD104 graphics cards
Nvidia graphics cards rumors: GeForce RTX 4070 Ti, 4070 and 4060 Ti become more concrete
Nvidia GeForce RTX 4070: Rumors speak of 5,888 ALUs and 250 watt TDP
Nvidia GeForce RTX 4060 Ti: rumors speak of 3070 performance for USD 500
GeForce RTX 4060: rumors circulating are unfounded