Microsoft has started rolling out the update to Windows 11 2022 ("22H2") automatically on compatible computer systems. The feature update updates the initially released Windows 11 21H2 ("22000") to Windows 11 22H2 ("22621") and is now being distributed in waves via Windows Update for Windows 11 Home and Pro.
Windows 11 2022 for all compatible systems
After a large number of the numerous update locks ("Safe-Guard Holds") should have been resolved in the meantime, Microsoft has decided to use compatible computer systems, which are still running with the initial Windows 11 21H2 based on a build number 22000.x, automatically upgrade to Windows 11 22H2 with build number 22621.x. The rollout has already started.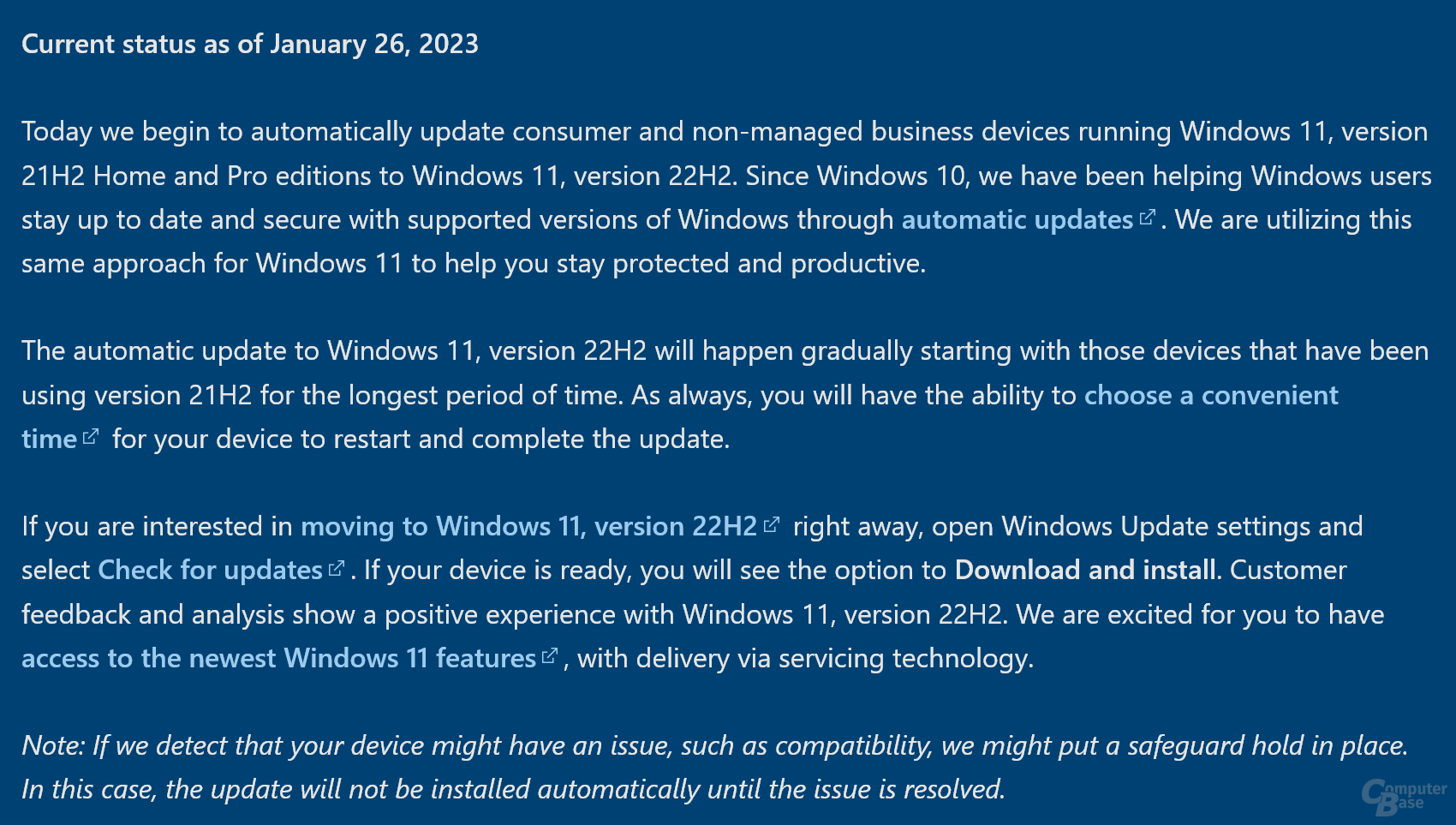 Systems that still cannot guarantee stable operation of Windows 11 2022 due to incompatible hardware or problematic programs will initially continue to be assigned a corresponding Safe-Guard Hold and will be excluded from the feature update until all problems have been resolved.
The update to Windows 11 2022 is worthwhile
After updating to Windows 11 Build 22621, the basis of the operating system formerly known as Windows 11 22H2 aka "Sun Valley 2", the "Getting Started" app introduces the new functions of the feature update.
Without an update, support ends on October 10
Incompatible systems can still be prepared for the update to Windows 11 22H2 until October 10, 2023 then support for Windows 11 21H2 Home and Pro will officially end.
Longer support for enterprise customers
Windows 11 21H2 Enterprise will still be available up to and including April 8. October 2024 related product support and updates.
Insiders are on the road to Windows 11 2023
Windows 11 insiders in the Dev Channel are already on the way to the autumn 2023 update, which will therefore be called Windows 11 2023 Update ("Sun Valley 3"), for which Microsoft is planning further innovations in the current year.
Windows 11 23H2: New folders on the desktop group apps by themes
Windows 11 23H2: Interactive content takes over the desktop
Microsoft is tracking for the release of major feature updates and minor feature dro ps ("Moments") now has an adjusted release cycle.