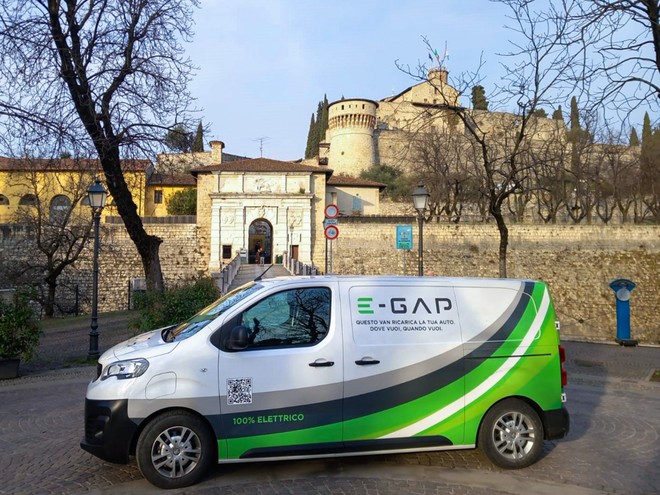 E-GAP continues with its expansion plan. Let's talk about the service that offers on-demand recharges for electric cars, already present in the market. in cities; of Milan, Rome, Bologna and Turin. Now, the company – let it be known that his services have landed also in Brescia. Therefore, through an application, in case of need, all those who are in Brescia with their electric car and need to recharge but do not have a column nearby, can request this particular service.
Once the booking has been made via the app, one of E-GAP's 100% electric vans will reach your destination. the car to start the programmed energy supply. The company reports that the service offers recharges in alternating or direct current (up to 80 kW of power) based on the type of car. At the end of the process, the system charges the total cost directly to your credit card.
The tariff plan provides for different costs depending on the energy required and the arrival times of the van from the booking on the App: from 90 minutes to 6 hours. The small recharge, with a maximum duration of 30 minutes with a maximum energy output of 10 kWh, costs 20 euros in the first case and 18 euros in the second, while the medium recharge, with a maximum duration of 45 minutes with a maximum energy output of 20kWh, instead costs 25 euros in the first case and 23 euros in the second. The third and final tariff, the large, with a maximum duration of 60 minutes with a maximum energy supply of 30kWh, costs 30 euros for the arrival of the van within 90 minutes and 28 euros within 6 hours.

p>
E-GAP's growth plan foresees the next landing also in the city; of Verona. But the plans of the company – include an expansion also outside the Italian borders. In fact, the services are already available. active in Paris, Madrid and Munich. And for the future, the company – plans to arrive in other important cities as well; of the Old Continent. Luca Fontanelli, Europe General Manager and Italy CEO, commented:
After Milan, Rome, Bologna and Turin, Brescia is the next step. the fifth city; where we bring our top-up service. With this new opening, we aim to achieve multiple objectives: further increase the presence of E-GAP in the North, the area where electricity is currently the most popular. more present in Italy, provide our service in a city context with a strong propensity for technological innovation linked to the ecological transaction and strengthen the image and brand of the company; in a new city; where we weren't yet present, guaranteeing future customers a mode; of innovative, convenient and rapid electric recharging.
The 5G smartphone for everyone? Motorola Moto G 5G Plus, on offer today from Bpm power for 300 euros or from Amazon for 359 euros.