Thousands of women in Afghanistan have been banned from working since the Taliban took power. And those who are still allowed to work fear losing their income every day.
Women in burqas carry children on a snowy street in Kabul
The situation for the people in Afghanistan is "more than catastrophic," said German Foreign Minister Annalena Baerbock at the beginning of the EU foreign ministers' meeting in Brussels earlier this week. It is "brutal to see" that the Taliban are cutting off aid to millions of people with their current decision. She is referring to a decision made by the radical Islamic Taliban in December: According to this, all aid organizations in the country must prohibit their female employees from continuing to come to work. The order applies to both domestic and foreign non-governmental organizations.
According to the reasoning, some employees did not comply with the interpretation of the Islamic dress code for women. Anyone who continues to employ women will lose their licence. With a view to this ban on women working, Baerbock said that German relief supplies would no longer arrive either. The German Foreign Minister called on the leadership in Kabul to give women and girls access to jobs, schools and universities.
A UN report shows how much – or rather how little – the Taliban think of such demands and the rule of law: According to it, they have removed more than 250 judges and hundreds of other lawyers from their posts since taking power a year and a half ago. On 20 January in Geneva, the responsible special rapporteurs of the United Nations spoke of a "collapse of the rule of law" in Afghanistan. Justice is now in the hands of Taliban with basic religious education.
Insecurity in women-owned small businesses
"I worry day and night that our company will also be closed," entrepreneur Latifah Akbari told DW. Akbari has a small food production company called "Hariva" in Herat province.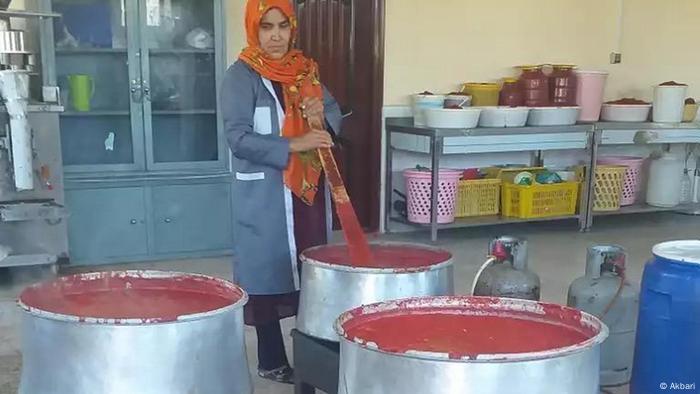 In the ​​Food production company "Hariva" employs 48 women
The range of products includes aubergine paste, jam, pickles and dried vegetables. "Currently there are 48 women working in the company; they earn their living here full-time or part-time," says Akbari.
One of the women on "Hariva" is Fariba. She works part-time and is happy to have a source of income. She worked as a hairdresser until the Taliban took power, after which she became unemployed. "I was lucky to find something to earn money here, even if it's not much. I work in the production of jam and tomato paste and I support my family with my income." In Herat Province, 300 to 350 women work in small businesses in various sectors. Behnaz Salghoqi from the Chamber of Commerce and Industry for Women in the province of Herat told DW: "After the universities were closed to women, many female students tried to find work in companies run by women in Herat."
Outrage after Afghan women were expelled from university
In these small companies, women are among themselves, often without contact with strange men. The Chamber of Commerce and Industry for Women remains active. The Herat Chamber was established in 2014 to support women entrepreneurs at national and international level. Such companies should strengthen the local economy and make the country less dependent on foreign aid in the long term. However, since the Taliban took power, the economy has been devastated. Entrepreneurs like Akbari fear losing their business every day. "What should we do if they forbid us to work too?" More than half of Afghanistan's 38 million people have no secure food supply, three million children are at risk of malnutrition.
The cold wave increases the misery
The country has been suffering from extreme cold since mid-January. In some places, such as in the central Ghor region, minus 33 degrees were measured. Heavy snowfall is blocking roads in several provinces in the center and north of the country, images circulating online showed.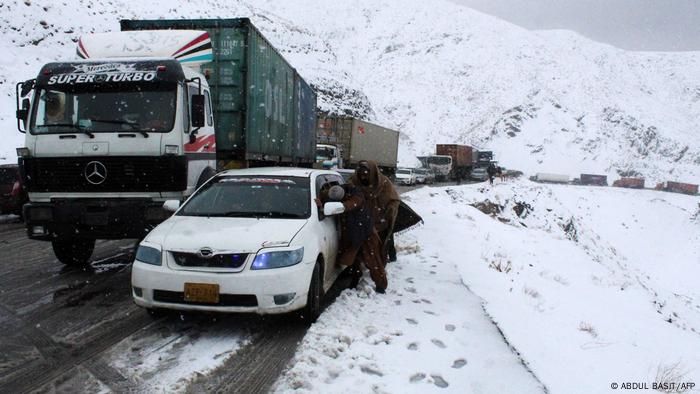 Afghanistan has been suffering from extreme cold since mid-January
At least 70 people have died, the Ministry of Disaster Management in Kabul said last week. In addition, 70,000 head of cattle perished, an important source of food and income for many Afghans. "This winter is by far the coldest in recent years," Afghan Weather Bureau chief Mohammed Nasim Muradi told AFP. "We expect the cold spell to last at least another week."
Aid organizations like Caritas want to help people. The head of the organization, Oliver Müller, tells the newspapers of the publishing group Bistumspresse: "Our task is to help people in need. But we cannot continue working under these conditions in Afghanistan." Since the ban on female employees, many aid organizations have had their projects completely or partially discontinued in Afghanistan.
Due to the occupational ban, Caritas can no longer reach women in need directly, because in Afghanistan it is not allowed for a strange man to speak to a woman. "The professional ban hits the nerve of humanitarian aid," said Müller. At the moment, his organization can only give food to the local councils, which are occupied by men. "That is unacceptable. We could not ensure that the aid really gets there." Politicians must increase the pressure on the Taliban.
Collaboration: Shoaib Tanha