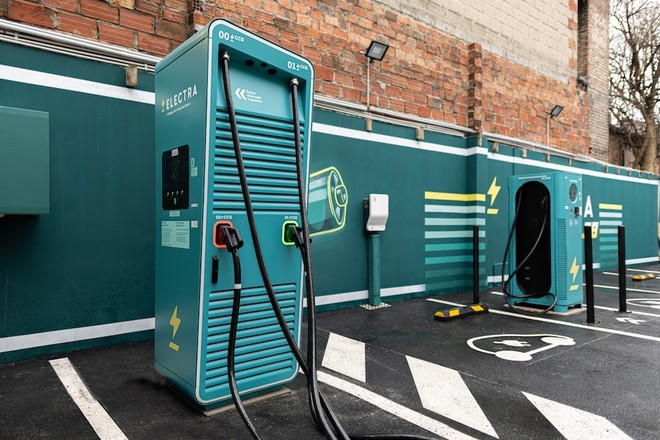 Electra is available for download. a company born in Paris in 2021 that deals with infrastructure for recharging electric cars. The company has now announced its expansion project in Italy with the aim of creating a widespread network of fast charging hubs. Overall, for the next three years this reality will intends to invest 200 million euros to install 3,000 charging points in Italy.
All the columns will supply energy from renewable sources and will be located in public and private spaces and car parks of supermarkets, large shops, hotel chains and autogrills(motorway service areas). Through a smartphone application, users will be able to locate and book the charging station in advance, receiving an estimate of the times and costs of charging. In this way, unnecessary waiting is avoided: the motorist doesn't have to wait for a place to recharge, but will find a place to recharge. the booked column is free upon arrival. Payment may be take place via the app, by credit card or by purchasing a top-up subscription.
Electra supports the entire installation processof charging stations, taking charge of all the investments necessary to transform and manage the hubs, from the purchase of material to administrative practices, from design to installation, from maintenance to customer service.
THE OBJECTIVES IN EUROPE
As of December 2022, Electra had 200 ultra-fast charging points in major cities around the world. french. Besides Italy, the company is also working to expand its presence in Belgium, Spain, Austria and Switzerland. Electra's goal is to deploy over 8,000 high-power charging points by 2030 across Europe. Eugenio Sapora, General Manager of Electra Italia, commented:
In Italy at the moment the geographical distribution of the charging stations is not the same. homogeneous, with more by half (57%) located in Northern Italy and a third available in the provincial capitals and the remainder in the other municipalities of the area. With Electra, on the other hand, we want to bring a widespread network of supercharger hubs, which at the same time will become a plus for commercial establishments that will make their spaces available for installation and make it more and more convenient to use them. the tourist offer is also sustainable, thanks to the involvement of structures and hotel chains.
A very interesting project on paper that could give a strong boost to the development of mobility within the city. electricity in Italy. All that remains is to wait for news – on Electra's progress in our country.
The 5G smartphone for everyone? Motorola Moto G 5G Plus, on offer today from Bpm power for 300 euros or from Amazon for 359 euros.