Last autumn, Deutsche Telekom presented two of its own mid-range Android smartphones, the T Phone and T Phone Pro, and announced that they would be available in early 2023. The 6.5 and 6.8-inch models with 5G support have now arrived in the provider's online store at prices of 219 euros and 269 euros.
The network operator announced the devices last year at prices from 199 euros and from 249 euros, but also spoke of varying prices depending on the country. The market launch in Croatia, Montenegro, North Macedonia, Austria, Poland, Romania, Slovakia, the Czech Republic and Hungary had already taken place in 2022. Germany is now following at slightly higher prices.
Own brand from T-Mobile US form the basis
The smartphones are based on products from the T-Mobile US own brand REVVL, which according to the manufacturer were developed together with Google. However, T Phone and T Phone Pro are still on the market with Android 12 instead of Android 13, so that the partnership with Google has not resulted in any advantage in terms of topicality.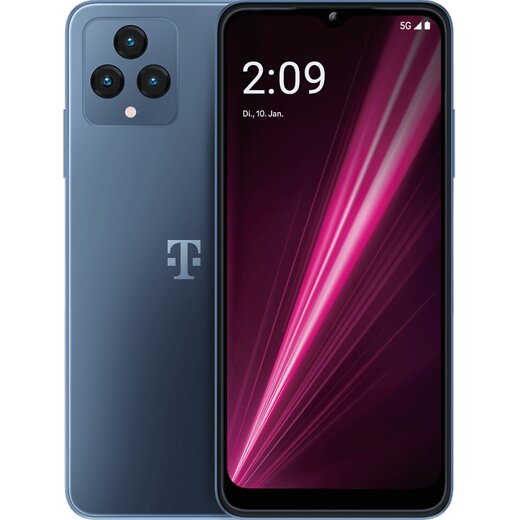 Smartphones with 6.5 and 6.8 inches
The T Phone and T Phone Pro primarily differ in size, but also in other features. The cheaper version has 6.5 inches with an IPS display with HD Plus resolution, the slightly more expensive version offers the same resolution on a larger 6.8 inches. The larger dimensions also result in differences such as the batteries with 4,500 mAh on the one hand and 5,000 mAh on the other. In addition, there are differences such as a triple camera on the T Phone and a quad camera on the T Phone Pro, with the primary camera each using a 50 MP sensor. The selfie cameras differ with 5 MP and 16 MP in favor of the T Phone Pro.
MediaTek Dimensity 700
In both cases, the processor is the MediaTek Dimensity 700, a 7 nm SoC from TSMC production with a total of eight CPU cores, two of which are Cortex A76 and six Cortex-A55. Deutsche Telekom combines the chip with 4 GB of RAM and 64 GB of storage on the T Phone and 6 GB of RAM and 128 GB of storage on the T Phone Pro.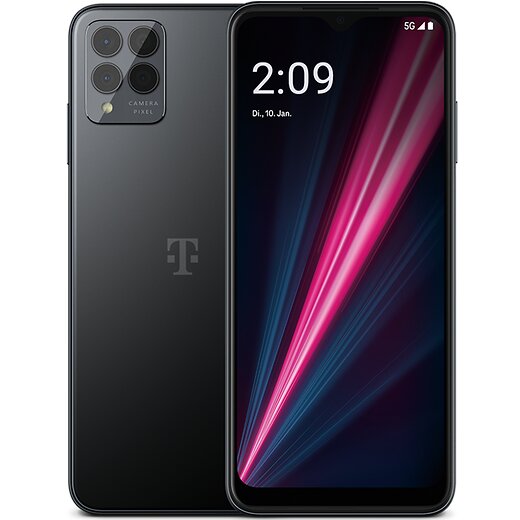 Wireless charging for the T Phone Pro
Another feature is an IP52 certification, which should at least be able to ward off water splashes and dust. Wireless charging with a maximum of 15 watts is exclusive to the T Phone Pro. An NFC chip is again installed in both devices to enable payment with Google Pay, for example.