The latest updates for your iPhone and iPad are ready. In iOS 16.3 and iPadOS 16.3, Apple adds new features and fixes bugs. Read here how to download the update and all the other information you need to know.

Editors iCulture.nl – 23 January 2023, 19:13 whatsappfacebooktwittertelegramlinkedinmailprint
We're kicking off the year with a fresh new update for your iPhone and iPad. Apple has been testing iOS 16.3 and iPadOS 16.3 for the past month, but now this update is ready for everyone. The update is smaller than the previous versions of iOS 16, but still offers a number of useful and important improvements. Perhaps even more important are the various bug fixes. Here's what you need to know about iOS 16.3.
The latest iOS update is currently rolling out. It may therefore take a while before the update is visible to you. Usually, Apple rolls out the updates from19:00 Dutch time. It makes no sense to report in the comments that you don't see the update yet. See also our article on iOS installation problems.
iOS 16.3 and iPadOS 16.3 available
When it comes to privacy and security, Apple has added two improvements. For example, you can add a security key to your Apple ID, so that you always need a physical key to log in to a device with your Apple ID for the first time. This is an extra measure against hackers and is more secure than the standard verification codes. The second privacy addition is the advanced data protection in iCloud. This ensures that many more parts of iCloud (including your backup) are encrypted with end-to-end encryption.
See also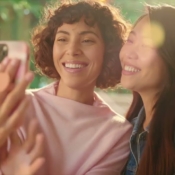 Advanced Data Protection for iCloud coming soon worldwide (and this is how it works)
Advanced Data Protection for iCloud is a new feature that encrypts more data on iCloud. We recommend enabling it so that you are better protected. From iOS 16.3 it will be available worldwide – and here's how it works!
But iOS 16.3 offers more. For example, the update adds support for the HomePod 2023, there is a new Unity wallpaper and the SOS emergency notification function has been improved. Bug fixes are also there. For example, fixed an issue where horizontal lines were visible on the iPhone 14 Pro Max when starting up the screen. Also fixed an issue that caused Siri to misunderstand some questions in CarPlay. Apple has presumably fixed even more minor issues behind the scenes.
For an overview of what features are new in iOS 16.3, read our separate article.
See also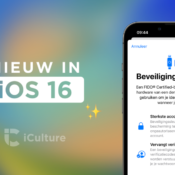 What's new in iOS 16.3 and the other updates ? These are the improvements
iOS 16.3 for the iPhone will be released next week. But what are the new features of iOS 16.3? And what new features will the other updates bring, such as iPadOS 16.3 and watchOS 9.3?
iOS 16.3 and iPadOS 16.3 release notes
These are the official release notes that Apple has released:
This update includes a new Unity wallpaper celebrating Black history and culture in celebration of Black History Month. In addition, this update introduces advanced data protection for iCloud and security keys for Apple ID. This update also contains other improvements, bug fixes and security updates for your iPhone.

This update contains the following improvements and bug fixes:

New Unity wallpaper honoring Black history and culture in celebration of Black History Month
Advanced Data Protection for iCloud reduces the total number of iCloud data categories, including iCloud Backup, – notes and photos, protected with end-to-end encryption expanded to 23, keeping your information protected even in the event of a data breach in the cloud
Apple ID Security Keys allow users to enhance the security of their account by requiring a physical security key for the sign-in process with two-factor authentication on new devices
Support for HomePod (2nd generation)
SOS emergency alerts now require you to press and hold the side button along with a volume button and then release to avoid accidental emergency calls
Fixed an issue in Freeform where some strokes created with the Apple Pencil or your finger might not appear on shared boards
Fixed an issue where the background on the lock screen would be black

li>

Fixed an issue where the iPhone 14 Pro Max temporarily displayed horizontal lines after waking from sleep
Fixed an issue where the Home widget on the lock screen did not accurately reflect the status of the Home app
Fixed an issue where Siri might not respond correctly to music requests
Fixed issues where Siri requests in CarPlay might not be understood correctly

Some features are possible not available in all regions or on all Apple devices. Information about the security aspects of Apple software updates can be found on this page:
https://support.apple.com/kb/HT201222
iOS 16.3 and iPadOS 16.3 download
To download iOS 16.3 and iPadOS 16.3, do the following:
On your iPhone or iPad, go to Settings > General > Software update. Wait until the update appears.
Tap Download and install.
Wait until your device has restarted and the installation is complete.
< p>You can also perform the update through iTunes or the Finder. To do this, connect your iPhone or iPad to your Mac or PC with a cable and open iTunes or the Finder in macOS Catalina and newer. Click on your connected device and choose Check for update. The update will then be downloaded and then installed on your device.
See also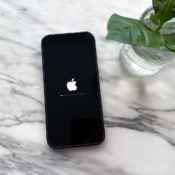 Update iPhone: Here's how to install the latest iOS version
How can you update the software on your iPhone to the latest version of iOS? In this tip we explain how updating the iPhone works, with or without a computer.
Don't want to receive betas anymore? Don't forget to unsubscribe from the beta program if you no longer want to run a beta.
Why don't I see the update (yet)?
It can sometimes take a while before you see the update on your device. This has to do with the fact that Apple is rolling out these updates in phases. You can read about this in this article: This is why it takes longer for iOS updates to be installed automatically. If you are unable to update iOS after a while, read our article on iOS installation problems.
See also

< img src="/wp-content/uploads/1b32806d0d451bd73ebbd53c9f2d0e8a.gif" />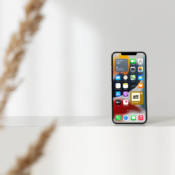 iOS update failed to install: how to fix ?
Are you running into iOS installation issues with the latest iOS update? Is the latest iOS update not showing up on your iPhone? We will help you if iOS updates cannot be downloaded and installed and if other problems occur.
Note: keep the responses on-topic, concrete and clear for others. Personal status updates on whether your download started/successful add nothing to the discussion. It may also take a little longer before the update is visible. You do not have to report this either. These comments will be deleted.