Of the once 73,000 residents in Bakhmut, Ukraine, around 8,000 remain in the city. Volunteers and the military offer to evacuate them. So why are they staying? Alexandra Induchowa was there.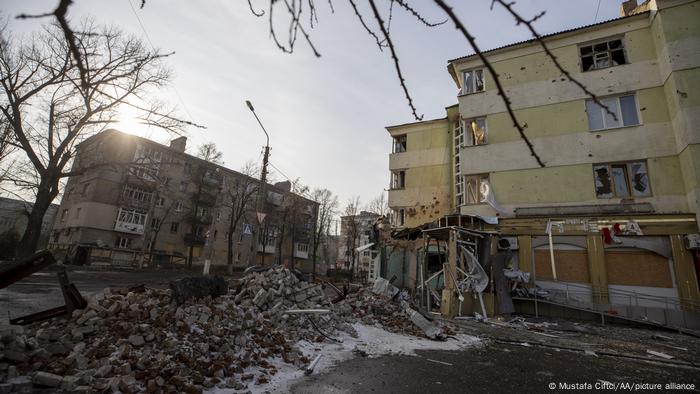 Ruins characterize the image of the embattled city of Bachmut (picture from 01/17/2023)
Every few minutes projectiles whistle through the air and explode somewhere nearby. No man is to be seen on the streets of Bakhmut. Only Yevgeny Tkachev and other volunteers from the aid organization "Proliska" are on the road to provide residents with food and hygiene items.
The western part of the embattled city in the Donbass is hardly recognizable. Many of the houses are now just piles of bricks. There are gaping holes in skyscrapers. Remnants of billboards and damaged traffic lights hang over streets and sidewalks littered with overturned and burnt-out cars. Most panes are shattered, the window openings are poorly covered. Broken doors keep slamming open and shut in the wind.
Bachmut: humanitarian aid under bullets
"Of course it's dangerous. But what should you do? People need help because the shops here no longer open and not everyone has money," says Yevgeny and gets out of the car. He stopped in a yard surrounded by several residential buildings. Many windows are broken. A man is trying to cover one of them with foil. Then explosions sound nearby. The man takes cover, but just a few seconds later he continues to work.
Volunteers tirelessly bring relief supplies to Bachmut
Some people approach the volunteers' car. Yevgeny calls out "Humanitarian help! Humanitarian help!" other residents from their homes. Like local resident Nina, everyone has their identity cards with them because they have to fill out and sign a form with personal data when they receive help.
Suddenly something flies over the roofs of the houses with a loud whistle and explodes completely near. But people don't even duck, they keep filling out the papers. One man is just surprised that it was some new noise. Nina says: "We're used to very different whistles and explosions."
No electricity, no water, no gas
< p>A battle of attrition is raging around Bakhmut between Russian attackers and Ukrainian defenders. The front line is getting closer and closer to the city. There has been no electricity, drinking water or gas here for several months. People mostly use candles to conserve power banks and batteries.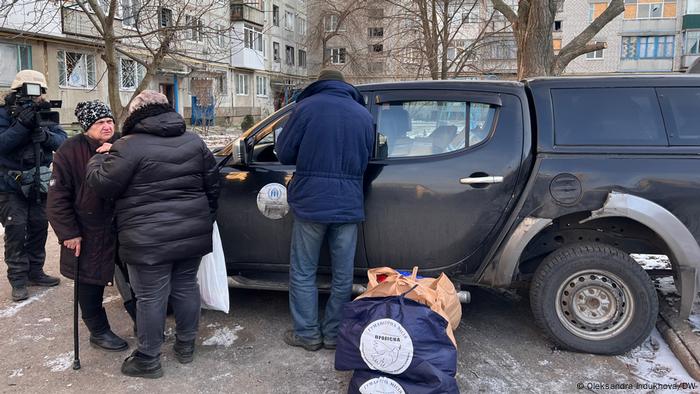 Residents of Bachmut in front of the volunteers' car Helpers
Nina says there are diesel generators that the approximately 100 residents in her neighborhood have received from the Ukrainian military and volunteers. However, they would only be switched on intermittently to charge many phones at the same time or to wash a machine once in a while. "In order to save fuel for the generators, people mostly wash their laundry by hand, like our grandparents used to do," says Nina. The nearest gas station is in the neighboring town of Chasiw Yar, around twelve kilometers away. "We drive there by car, which also needs petrol. That's another reason why we save energy."
The survivors also get drinking water either from the Ukrainian military or from helpers. Or they look for fountains themselves in the courtyards of private houses. They cook food on self-made grills on the street or on cast-iron stoves. Men chop wood in front of two houses. One of them, 35-year-old Dmytro, brings it to the apartment where a sick family member is lying. "We have stoves in the apartment and heat with firewood. You can put a pot or a frying pan on it and cook food," he says. From the courtyard you can see that pipes are sticking out of several windows, from which smoke is rising.
Life in Bakhmut – life in the basement
Whole families stay in Bachmut because of sick or elderly people who cannot or do not want to be evacuated. A man approaches with his teenage daughter. The teenager avoids contact with the journalists and hides her face. Her father says: "We cannot leave our very ill grandmother alone in Bachmut." The girl is the only child seen here. Almost all the children from Bachmut were evacuated from the summer until September of last year.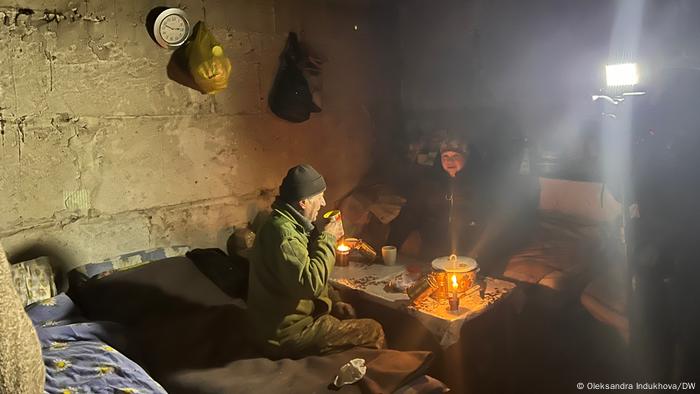 Nina and her husband want to stay in Bakhmut as long as the Ukrainian army holds the city
Already last spring, when the front of the city was approaching, many residents of Bachmut cleared out their cellars and put some self-made furniture there. There are hardly any communication links from there, says Nina and goes ahead. A dark corridor leads to the "rooms". Once there, Nina turns on her flashlight. Shelves with tea and groats line the concrete walls. The six beds are neatly made. It's warm because there's a stove in the corner that's boiling water. The women present offer tea.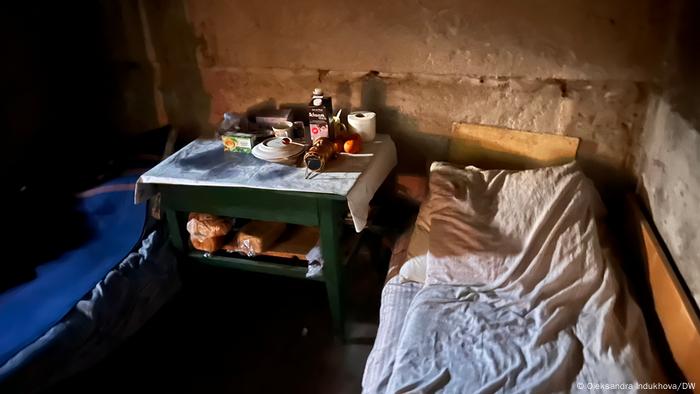 Sleeping places in the basement of a residential building in Bachmut
There is no ventilation in the basement, so people often go to the front door to get some fresh air. So at night they tried to use fewer candles, people say. During the day they mostly stayed in their apartments. But since the shelling continued at night, they mostly went to sleep in their "bunkers", as Nina calls them: "But this basement can not save us from a rocket."
"The residents of Bachmut have long known what war means"
People are aware that they live quite dangerously. At the same time, however, they emphasize that they are not prepared to "surrender or evacuate".
"The residents of Bakhmut have long known what war and shelling mean," says Mykyta, adding: "The people here are not too shocked by this war." The young man reminds that hostilities in Donbass began long before the start of the large-scale Russian invasion of Ukraine on February 24, 2022. Since 2014, "something has hit the city" again and again. Mykyta says he cannot leave his parents. They would be too attached to their home to agree to an evacuation. He can only hope that "Ukraine's armed forces will drive the enemy out of the city."
Nina hasn't given up hope either. Her daughters have fled "to Europe," but she herself wants to stay in Bachmut with her husband for the time being. "I'll stay here as long as the Ukrainian army is here," she emphasizes. But the couple agree that civilians should be evacuated if the situation continues to deteriorate. You shouldn't stand in the way of the Ukrainian military when the enemy is holed up behind apartment buildings, they say.
Adapted from Russian: Markian Ostapchuk