Apple has released macOS Ventura 13.2, the next update for the Mac. In macOS Ventura 13.2 we find some new functions, but mainly visible and invisible improvements.

Redactie iCulture.nl – 23 January 2023, 19:16 whatsappfacebooktwittertelegramlinkedinmailprint
The new Mac mini and MacBook Pro 2023 will be on the shelves from tomorrow and those models will immediately run on the latest software. The new software is macOS Ventura 13.2 and Apple has just released this version for anyone with another capable Mac as well. So it not only ensures compatibility with the new Macs, but also offers some other improvements. In this article, we'll walk you through them and tell you how to update to macOS Ventura 13.2.
macOS Ventura 13.2 available
The only new feature in macOS Ventura 13.2 is support for security keys for your Apple ID. This improvement is also found in other updates, such as iOS 16.3. From these versions you can make your Apple ID extra secure with a physical security key. You therefore always need this physical key when you log in somewhere with your Apple ID for the first time. It is a replacement for the regular two-step verification codes you normally receive.
The release notes show that Apple has mainly solved some bugs. For example, fixed an issue with Freeform where some drawn lines were not appearing on shared whiteboards. Another improvement can be found with VoiceOver. Due to a problem, VoiceOver could stop providing audio feedback as soon as you start typing. That has been fixed in this update. We also expect that Apple has further improved security, although the details are not yet known.
macOS Ventura 13.2 release notes
These are the official release notes of the new Mac update. The update is installed by default on the new MacBook Pro and Mac mini.
This update introduces advanced data protection for iCloud and security keys for Apple ID. This update also includes other improvements and bug fixes for your Mac.

Advanced Data Protection for iCloud reduces the total number of iCloud data categories, including iCloud Backup, Notes, and Photos, secured with end-to-end encryption expanded to 23, keeping your information protected even in the event of a data breach in the cloud
Apple ID Security Keys allow users to enhance the security of their account by requiring a physical security key to sign in
Fixes an issue in Freeform where some strokes created with the Apple Pencil or your finger may not appear on shared boards
Fixes an issue that could prevent VoiceOver from providing audio feedback while you type

Some features may not be available in all regions or on all Apple devices. Information about the security aspects of this update can be found on this web page: https://support.apple.com/kb/HT201222
Download macOS Ventura 13.2
You download macOS Ventura 13.2 from System Settings, just like iOS. You can therefore download this update as follows:
Go to System Settings.
Click on General > Software update.
The Mac will now automatically search for the latest version. Click on Download and install to download the update.
You can also adjust the settings to automatically search for the latest versions. You can read more about installing a macOS update in our article.
See also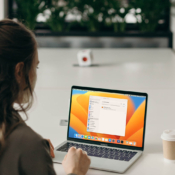 How to install a macOS update on macOS Ventura (and earlier versions)
When a new version of macOS becomes available, you naturally want to update immediately, but what are the different options? In this tip we explain how updating your Mac works.
Note: keep the responses on-topic, concrete and clear for others. Personal status updates on whether your download started/successful add nothing to the discussion. It may also take a little longer before the update is visible. You do not have to report this either. These comments will be deleted.