Instagram's filters are a matter of taste. Some you like, others you never use. In this tip, we explain how to always put your favorite Instagram filters first, by arranging them according to your own preference.
Set up Instagram filters
The Instagram app is bursting with filters to spice up your photos. Think of black and white or an exaggerated exposure, so that your photos look just a bit more unique. But did you know that you can choose which filters are at the top of the list? Because more and more filters have gradually been added, you quickly lose the overview, while you probably have a few favorites. You can put filters that you do not use at the end of the list.
Change order
Manage
Edit
Hide
Instagram's filters ensure that you quickly create something beautiful. If you often take food photos, you will use different filters than people who mainly photograph landscapes. Fortunately, you can arrange the filters in any order you want. This only applies to the filters on posts (Normal Clarendon, Gingham, etc.), because you cannot change the filter order (Normal, Paris, Los Angeles, etc.) on stories.
Reorder Instagram filters
To change the order of Instagram filters:
Open the Instagram app and choose a photo to create a post.
At the bottom of the screen you can see the different filters such as Junu, Slumber and Crema.
Put your finger on a filter that you don't use often. While keeping your finger on the screen, swipe the filter to the right, to the back of the list.
You can move favorite filters further to the front of the list in this way.
You can now exit the app without publishing the photo.


The 'Normal' cannot be moved and it is also not possible to delete a filter. You used to be able to do that.
Change Instagram filters
If you have chosen a filter, but you find the effect a bit too intense, you can adjust it. By default, the filter is set to 100%, but you can reduce this by choosing 50%, for example. The photo then looks a little more like the original. You can also make some other adjustments with the Edit button, such as brightness, contrast and sharpness.
We have many more useful Instagram tips and explanations about Instagram:
The best Instagram tips: better filters and more
Use Instagram filters without sharing your photo
Adjust the intensity of Instagram filters
See also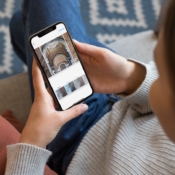 Instagram: everything about this popular photo app
Instagram is the well-known social media app for iPhone and Android. You can use filters to give your photos a special look, create Stories or share a live video. This page tells all about it.