You can also pay with iDEAL in the App Store, so you don't need a credit card or iTunes gift cards. In this tip we explain how to set up iDEAL as a payment method and how to use iDEAL in the App Store.
Paying with iDEAL in iTunes and App Store
Paying in the App Store can be done in several ways. By paying in the App Store with iDEAL, you simply use your own Dutch payment account to buy apps, music, films and books, to expand your iCloud storage or to pay your subscription fee for Apple Music. You can set up iDEAL as a payment method in the App Store in a few steps, after which you add money to your Apple ID balance.
Set up iDEAL
Use iDEAL
Limitations of iDEAL
Troubleshooting
Please note: We regularly receive complaints from people who have transferred money using iDEAL, but where the App Store credit not increased for days. So there may be problems with this payment method. Contact Apple (not iCulture) if problems arise. We cannot look into your account at the iCulture editors.
How can I set up iDEAL in the App Store?
To set up iDEAL as a payment method for the App Store, do the following:
Open the Settings app on your iPhone or iPad.
Tap your name at the top .
Tap Media & Purchases > Show account. Sign in with your Apple ID.
Tap Manage payment methods > Add payment method.
Tap Add payment method.
Now choose iDEAL and select your bank. Then go through the steps to confirm the payment method.
When you're done, tap Done.
All Dutch banks participate for iDEAL payments. If you don't see iDEAL listed, you may have Family Sharing turned on or you still owe a payment.

< img src="/wp-content/uploads/15fd2780791695e5a7aef68186287b16.png" />
How can I buy apps with iDEAL in the App Store?
Now that you have set up iDEAL as a payment method in the App Store, you can pay for apps with your own bank account. This can be done in two ways:
Option 1: Increase balance
Option 2: Automatic reload
Option 1: Increase balance< /p>
Open the App Store app on your iPhone.
Tap your profile picture and choose Add money to your account.
Choose an amount: €25, €50, €100 or any other amount.
If you have Apple Pay, you can immediately complete the payment. If not, you will be redirected to the iDEAL environment of your bank. Log in there with internet banking and confirm the purchase.
You can choose an amount between €1 and €250. If you want to pay the exact price of the purchase, simply enter the correct amount so that there is no remaining balance.
Option 2: automatic reload
You can also ensure that there is always sufficient balance on your App Store account, so that you do not have to worry about it. You can opt for weekly, biweekly or monthly replenishment. You can also choose to automatically top up your balance if it is too late. To do this, choose the option Enable automatic reloading. Now all you have to do is log in to your bank and give permission.
What are the restrictions of iDEAL in the App Store?
If you decide to use iDEAL in the App Store, you have to take into account some limitations:
iDEAL is not suitable as a payment method for Family Sharing. If you are already using this, you will not see the option for iDEAL. You need another payment method for this, namely a credit card or PayPal.
iDEAL can only be used to increase your balance. You cannot authorize iDEAL once, after which each individual purchase will be debited from your account. You can therefore only increase your balance and pay with it. You can, however, increase the balance with the exact amount of your purchase, so that there is no remaining balance.
You can also pay in the Apple Store with your App Store credit, which you have topped up with iDEAL. Of course you can also pay with a debit card in the Apple Store, so you don't need to have credit first.
Troubleshooting iDEAL in the App Store
Loop you encounter problems because iDEAL does not work? It sometimes happens that the added amount has been debited from your account, but is not yet visible in your iTunes credit. We discuss this issue in more detail in the article below.
See also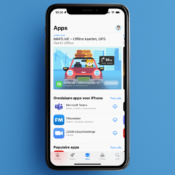 Topping up App Store credit with iDEAL doesn't work? Here's what you can do about it
Did you top up your Apple credit with iDEAL and it doesn't work? Then of course you wonder how to proceed. Money has been debited, but the credit has not yet been credited to your Apple ID.