Do you have a Fitbit? Then it is useful to know that you can synchronize all data with Apple's Health app. By default, Fitbit does not offer synchronization with HealthKit, but with a workaround it works!
Sync Fitbit with HealthKit
As a Fitbit owner, you may be disappointed that you can't automatically see your workout data in Apple HealthKit and end up in the Health app. Fitbit does not offer official support and since the takeover by Google, there is little chance that this will ever happen again. You therefore need a separate app to synchronize the Fitbit with the Health app. RunGap and Power Sync are free to use with optional in-app purchases, while Sync Solver and Health Sync require an upfront payment.
RunGap
Sync Solver
Power Sync
Health Sync
RunGap
It doesn't look that nice, but trust us: RunGap is the most versatile app to sync your workout data. This app works with no fewer than 40 services, so you'll never lose your training history again. It works with Polar, Garmin, Coros, RunKeeper, Strava, Runtastic, Suunto, TomTom, Adidas, iFit, SportsTracker, Nike+, Zwift and many more (and yes, Fitbit too). The app works unnoticed in the background and can both read and write workouts in Apple's Health app. Includes heart rate readings, route maps and distances. You can then view the statistics on interactive maps. RunGap is free to use; some additional features cost money.
Sync Solver
If you find RunGap a bit confusing due to the large number of supported services, then Sync Solver is what you are looking for. This app is all about Fitbit data. After the first synchronization, the app will always retrieve the workouts in the background. But beware, because the App Store description states that only daily data can be retrieved at the moment. This includes steps, number of floors, distance for walking and running and more.
Power Sync
Don't feel like spending a few bucks on a sync app? Then there's Power Sync. The app offers almost the same functions as Health Sync, but is just a little less beautifully designed. You must give permission when starting the app. After that you have to manually retrieve the data. Power Sync can also do it for you automatically, but that will cost a few euros.
Health Sync
With Health Sync you can synchronize all kinds of data from your Fitbit with the Health app. Think about your calories burned and sleep analyses. The functions are packed in an attractive and modern design. We do regret that this app has not had an update since 2019. You don't expect that with an app that costs a few euros.
As soon as you open Health Sync you will be asked for your permission to write data in the Health app. You can determine for each category whether or not Health Sync is allowed to supplement the data. Tap "Allow" and your data will be synced. In a future update it will be possible to automatically sync your Fitbit. For now you have to do this yourself, but fortunately no duplicate data is written.
Don't have a Fitbit yet, and aren't sure which one you need? Check out our article to buy your first Fitbit!
See also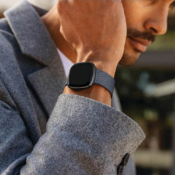 Fitbit in 2023: which tracker is right for you?
Fitbit is a well-known name for fitness trackers and wearables. There are bracelets and smartwatches that monitor your daily activities, sleep, nutrition and weight. Which Fitbits are worth buying in 2022? We help you on your way!