He made it into the "Rock and Roll Hall of Fame" with two bands. Now the American singer-songwriter David Crosby has died at the age of 81.
David Crosby (1941 – 2023)
"Although he is no longer here with us, his humanity and kind soul will continue to guide and inspire us. His legacy will live on through his legendary music," said David Crosby's family. He died "after a long illness".
Crosby, who was born in California in 1941, was a founding member of the band "The Byrds", which recorded five key US folk rock albums from 1964 to 1967. It features hits like "Mr. Tambourine Man" and "Turn! Turn! Turn!".
In 1968 he formed Crosby, Stills and Nash with Stephen Stills and Graham Nash. The band is considered one of the most influential formations in rock history. Together with Neil Young, the "supergroup" also operated under the name "Crosby, Stills, Nash and Young".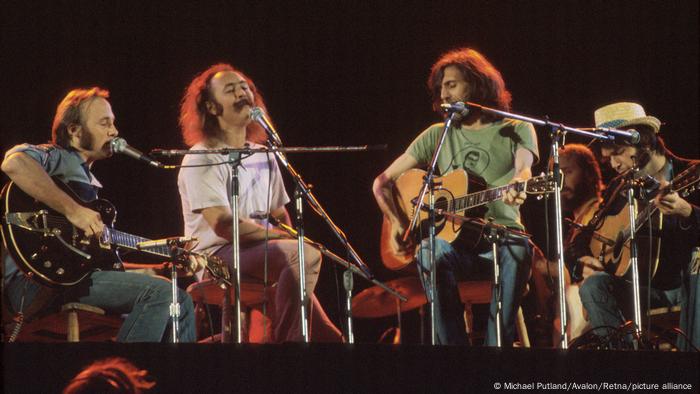 Crosby, Stills, Nash and Young (1974)
Solo success too
The singer and guitarist – blessed with a clear, bright voice – also recorded several solo albums , including his debut "If I Could Only Remember My Name", released in 1971. He released his late work "For Free" in 2021.
Crosby often made headlines with drug escapades and an excessive private life. In the 1980s, he spent several months in prison for cocaine and gun possession. In 1994, he underwent a liver transplant – the organ weakened by decades of drug use.
"I don't know why I'm alive when Jimi (Hendrix) and Janis (Joplin) aren't," said in an interview with Rolling Stone magazine in 2014. "I was lucky."
wa/mak (dpa, afp)