Slovakia is a world leader: nowhere else are so many cars built in relation to the number of inhabitants. But with the end of combustion engines, jobs are in danger. How is Slovakia managing change?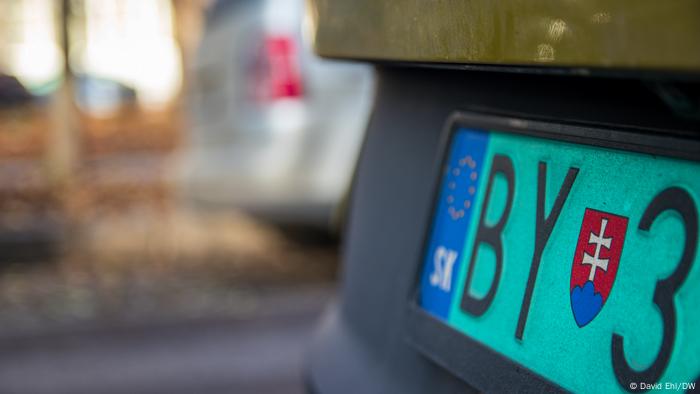 < p>Turquoise stands for electric: Up until now, there have only been a few e-cars on the roads in Slovakia
Gradually there are more of them, the turquoise-green license plates that are issued for e-cars: Especially in the Slovakian capital Bratislava, e-cars are not yet ubiquitous, but have become a familiar sight. The government subsidizes every fully electric new car with 8,000 euros, and the charging infrastructure is also being expanded with investments running into the millions. But Slovakia is still at the beginning of the electric revolution and once again this applies to the automotive industry in the country.
Around one million new cars rolled off the production line in Slovakia in 2021 – a worldwide record, measured against the population of 5.4 million. The car industry contributes around 13 percent to the gross domestic product here, about three times as much as in Germany, known as "Autoland". Production is mainly for the European domestic market; Cars make up 33 percent of Slovakia's export goods. The car industry is the engine of the Slovakian economy – and this engine has so far been driven by climate-damaging fossil fuels.
The electric car is coming – but will the economy take it with it?
From 2035, only new vehicles with zero-emission drives will be allowed to be registered in the European Union. Until then, manufacturers who want to continue selling cars in the EU will have to change their production; this usually means: on battery electric vehicles.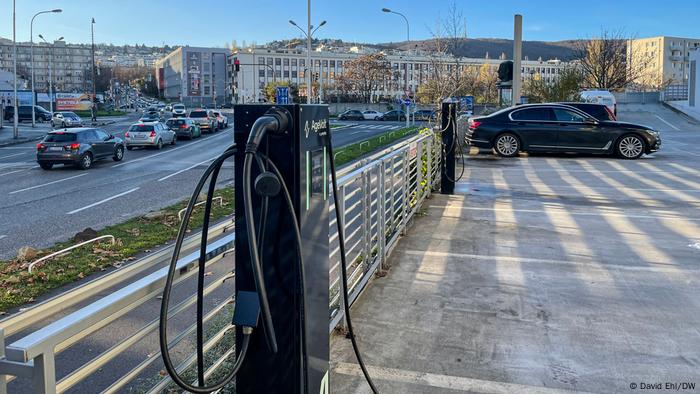 Ready to charge: In this parking lot in in the Slovakian capital of Bratislava there would be room for e-cars
The first purely electric car to go into series production in Slovakia was the small car e-up! from Volkswagen in 2013. A spokeswoman for the plant in Bratislava told DW on request that around 41,500 units had been delivered in 2021 (data for 2022 are not yet available) – with a total of almost 309,000 vehicles from the plant. "In addition, we have hybridized our entire SUV model range in recent years," wrote the spokeswoman – but that also means, conversely, that all other models still have combustion engines installed.
Electric motors are much easier to build than conventional motors. You need fewer individual parts, fewer work steps and ultimately fewer factory personnel. Slovakia is therefore facing a major economic risk: "In the worst case, GDP could be ten percent lower than in the best case," says a study by the Bratislava-based think tank Globsec from 2020, in which the transformation of the automotive industry in the Central European country by 2040 is analyzed. The best case would create up to 8,000 new jobs – but it would be crucial that key components such as batteries for electric cars are also manufactured in the country.
A new plant in eastern Slovakia
"Any country or factory would be happy to produce the most modern cars from the fleet," says Radovan Durana from the Institute for Economic and Social Studies in Bratislava. "But if, for example, Volkswagen decides that electric cars will be manufactured in Germany, then we in Slovakia have no choice." The electric VW models ID.3 and ID.4 are built in Zwickau, Saxony; and batteries from Braunschweig and motors from Kassel are also supplied for the e-up!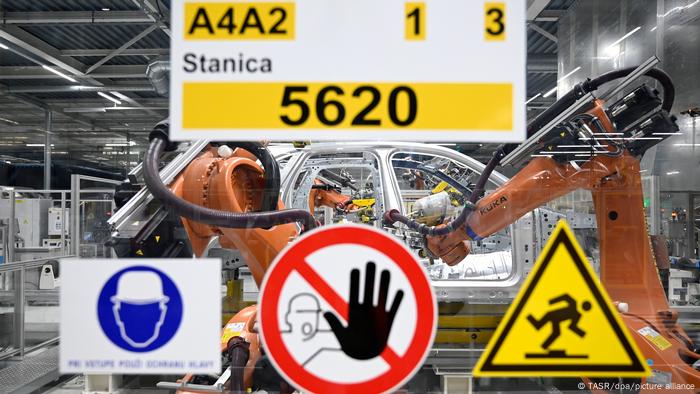 Cars from five brands from the group roll off the assembly line at the VW plant in Bratislava
In the intra-European competition for locations, Durana doesn't think much of luring investors with overly large privileges: "They come anyway if they think it makes economic sense to concentrate their activities in this region." In an interview with DW, Durana warns against narrowing the focus solely on Slovakia – it's about the entire region including the Czech Republic, Hungary and parts of Poland. Many suppliers are also located here and qualified workers can be found here.
An announcement by Volvo in the summer raised high hopes: The Swedish carmaker wants to build a new plant specifically for electric cars in Kosice in eastern Slovakia and is investing 1.2 billion euros for it, 20 percent of which is to come from public subsidies. From 2026, up to 250,000 cars a year are expected to roll off the assembly line. The Volvo plant could also help to narrow the economic gap between the west and the less industrialized east of the country.
A beacon of hope with a big hall – and even bigger visions
Another beacon of hope will first have to prove itself on the market: The Slovakian start-up InoBat wants to supply batteries for special requirements – buses, sports cars, aviation. If you want to reach the future factory, you need the coordinates of the hall in the industrial area of ​​Voderady, half an hour's drive north-east of Bratislava, because it is not yet marked on any map. Inside a huge factory hall, a corridor separates the areas for the two opposite poles of the batteries; The anode for each battery is to be built on the left, the cathode on the right. Workers pour a special white floor covering onto the screed to prevent electrostatic charging. Later, work will be carried out here under clean room conditions, but first the production machines have to be delivered from China.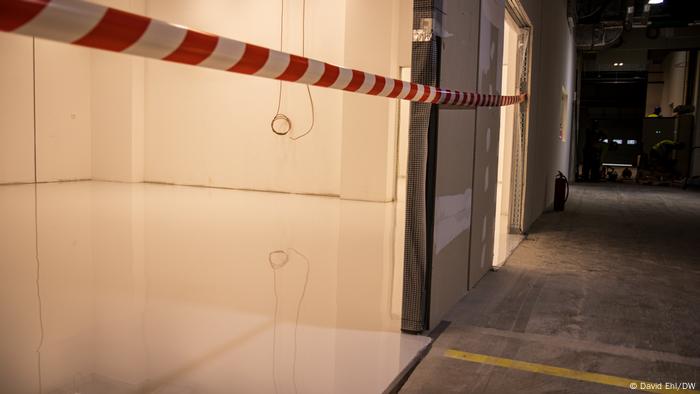 Needs yet some imagination: InoBat wants to produce batteries in series here soon
Founder and Managing Director Marian Bocek is sitting in a meeting room over coffee and biscuits, with executives gathered around him. "To me, batteries are what the internet was in the 1990s," says Bocek. "It's completely game-changing, without it the energy transition doesn't work. Batteries are at the heart of industrial change."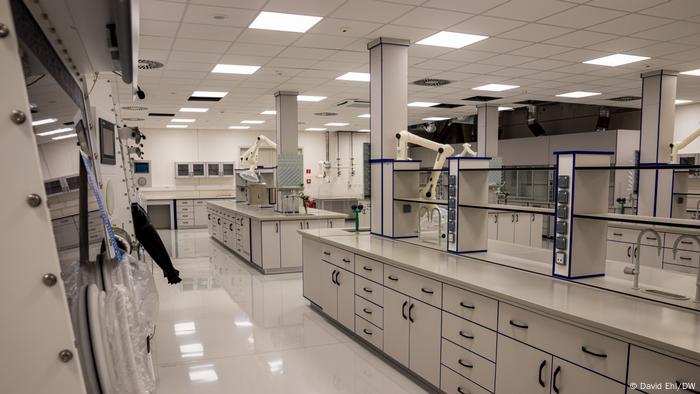 Lithium laboratory: this is where InoBat wants to advance battery research
In Voderady, InoBat wants to offer all steps in the smallest of spaces: right next to the production hall, a test laboratory has been set up where engineers research the optimal composition of batteries for various fields of application. A recycling plant is also planned, which will break down prototypes and faulty batteries into their valuable components from the second quarter of 2024. This is the only place in Europe where all of this can be found within a 200 meter radius, says Bocek.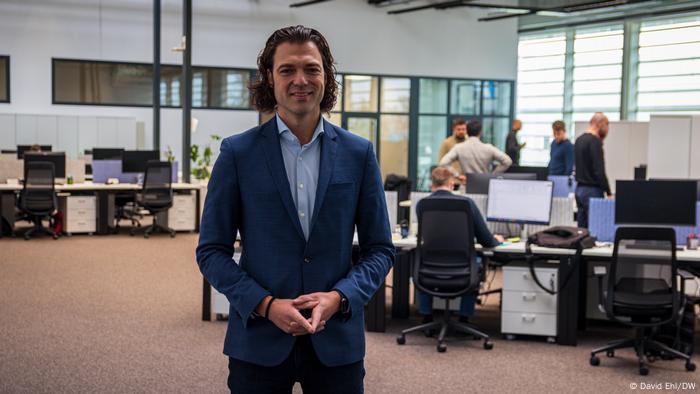 Visionary at work: InoBat CEO Marian Bocek in the engineering office in the factory building in Voderady
The first batteries are scheduled to be manufactured in the second quarter of 2023, but Bocek is already thinking far beyond the 500 million euros that InoBat says he has in the order books: A gigafactory is to be built right next door in Voderady, in Central and Eastern Europe there will be over Others are being negotiated, and a plant is also to be set up in the USA under the Biden government's gigantic economic subsidy program.
The future of "Danube Tech Valley"
Born in Slovakia, Bocek was an investment banker in the USA for a long time – and even if he has long been thinking beyond his small home country, he sees it as a logical decision to take the first step here: "It's like the Shenzhen of Europe, with many car manufacturers in a small space." From Voderady it is ten minutes to Jaguar/Landrover and Stellantis, and a total of nine car manufacturers are located within a 250-mile radius. Bocek also likes to refer to the region on the Danube as the "Danube Tech Valley".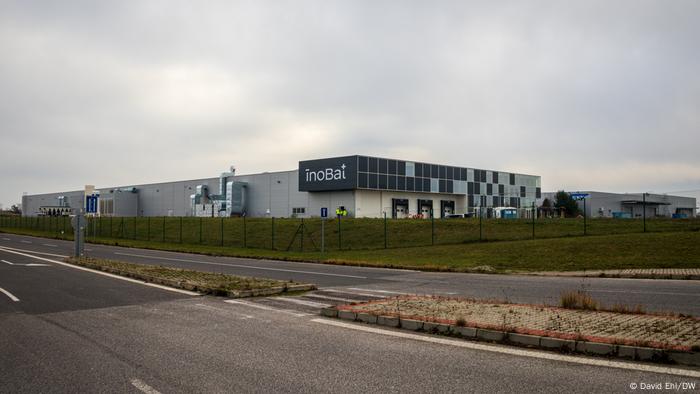 The location of his InoBat strategically chose the first plant
Is Slovakia heading towards an economically rosy future thanks to electromobility? Analyst Radovan Durana reminds that InoBat first has to prove "that it can do business and grow. We'll see if they succeed or not." And quite apart from that, Slovakia will have to consider whether it wants to continue to rely so heavily on the automotive industry in the future.