Sapphire, one of the exclusive partners for graphics cards from AMD, stages the Radeon RX 7900 XTX and Radeon RX 7900 XT in the Nitro+ series very conspicuously with double RGB lighting. A no less opulent 3.5 slot high cooling solution with new fans is supposed to keep the custom design at the right temperature.
Opulent cooling solution with dual RGB
After Sapphire had already given a preview of the new cooling solution for its Nitro+ graphics card series based on the RDNA 3 architecture and the Navi 31 GPU in mid-November, the AMD -Exclusive partner now proposes the design of the graphics cards via its official Twitter account.
The manufacturer unveils a massive cooling solution, which is enclosed by a cover with double RGB lighting and new types of fans, each with nine rotor blades.
Recommended external content
Twitter
At this point there is external content from Twitter that complements the article and is recommended by the editors. It can be loaded with one click and also hidden again.
Load Twitter Embeds I consent to loading Twitter Embeds. Personal data can be transmitted to Twitter. More on this in the data protection declaration.
NITRO+ AMD Radeon RX 7900 Series LET'S GOOOOOOOOO!
.
.#RX7900Series # NITRO #hardware #teaser #AMD #Radeon #SAPPHIRETech pic.twitter.com/jyobiQAW0E

— SAPPHIRE Technology (@SapphireTech) December 9, 2022
Load Twitter Embeds Privacy Policy
As with the previously presented Sapphire Vapor X series, which will be revived with the release of the Radeon RX 7000 series, images from the VideoCardz website indicate a vaporization chamber ("Vapor Chamber").
The graphics cards also have a total of three 8-pin PCIe connectors and can therefore, at least in theory, up to 525 watts or 516 watts. The I/O area offers 2× HDMI 2.1 and 2× DisplayPort 2.1, while unlike the reference design, USB-C is not used.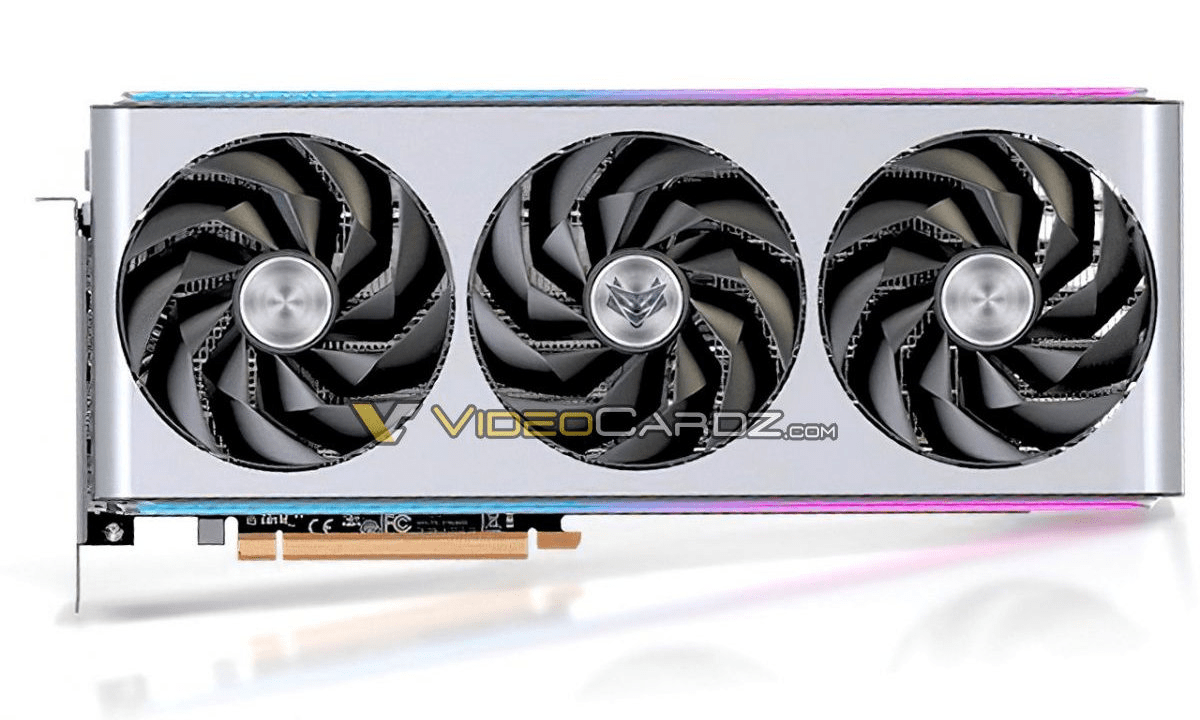 In the past few days and weeks, the editors had already written about various custom designs from Asus, ASRock , PowerColor, XFX and Sapphire based on AMD's new gaming graphics cards.
Asus TUF Gaming Radeon RX 7900 XT(X)
PowerColor Radeon RX 7900 XT(X) Red Devil
PowerColor Radeon RX 7900 XT(X) Hellhound
XFX Radeon RX 7900 XT(X) Speedster Merc 310
ASRock RX 7900 XT(X) Phantom, Aqua and Taichi
Whether all board partners will release the upcoming Radeon RX 7000 series at sales launch on December 13, but is not certain yet.
The editors would like to thank d he community for the information about this message.