Apple is redesigning the App Store pricing options for app providers to include more price points. Overall, developers get more flexibility by having cheaper and more expensive prices available and being able to choose the jumps in between more precisely. It starts at 0.29 euros, the maximum is 11,999.99 euros.
Apple is now offering the addition of new price points for apps that have an automatic subscription extension. The rollout for all other apps and in-app purchases should then take place in spring 2023. From now on, app providers will be able to choose from a total of 900 price points for their apps, including 600 new price points that can be freely selected and 100 higher price points that are available on request.
0.29 euros as a new entry
A minimum price of 0.99 euros in the App Store was usual for many years, but with a price adjustment in September of this year there was an increase to 1.19 euros, as taken from Apple's price lists for developers as of October 2022 (PDF). can be. Prices from 1.19 euros to a maximum of 1,199.99 euros could be selected from 87 so-called "tiers". A finely divided pricing between the individual tiers was not possible so far, so that the cheapest price of 1.19 euros was followed directly by a jump to 2.49 euros. In the higher price regions, jumps of 5 euros, 10 euros, 50 euros and 100 euros were common.
New maximum is 11,999.99 euros
Apple's new pricing for the App Store (PDF) provides significantly more flexibility and gives developers more options elsewhere. The cheapest price now starts at EUR 0.29 and can be adjusted in smaller steps from EUR 0.10 to EUR 9.99. In the category from 0.49 euros, 50 cent jumps up to 49.99 euros are provided, for 1 euro jumps the app must cost at least 0.99 euros and a maximum of 199.99 euros. In the higher price ranges, jumps of 10 and 100 euros are also possible. The most expensive category starts at 999.99 euros, specifies jumps of 1,000 euros and allows a maximum of 11,999.99 euros on request. The most expensive apps could previously be offered for a maximum of 1,199.99 euros in the App Store.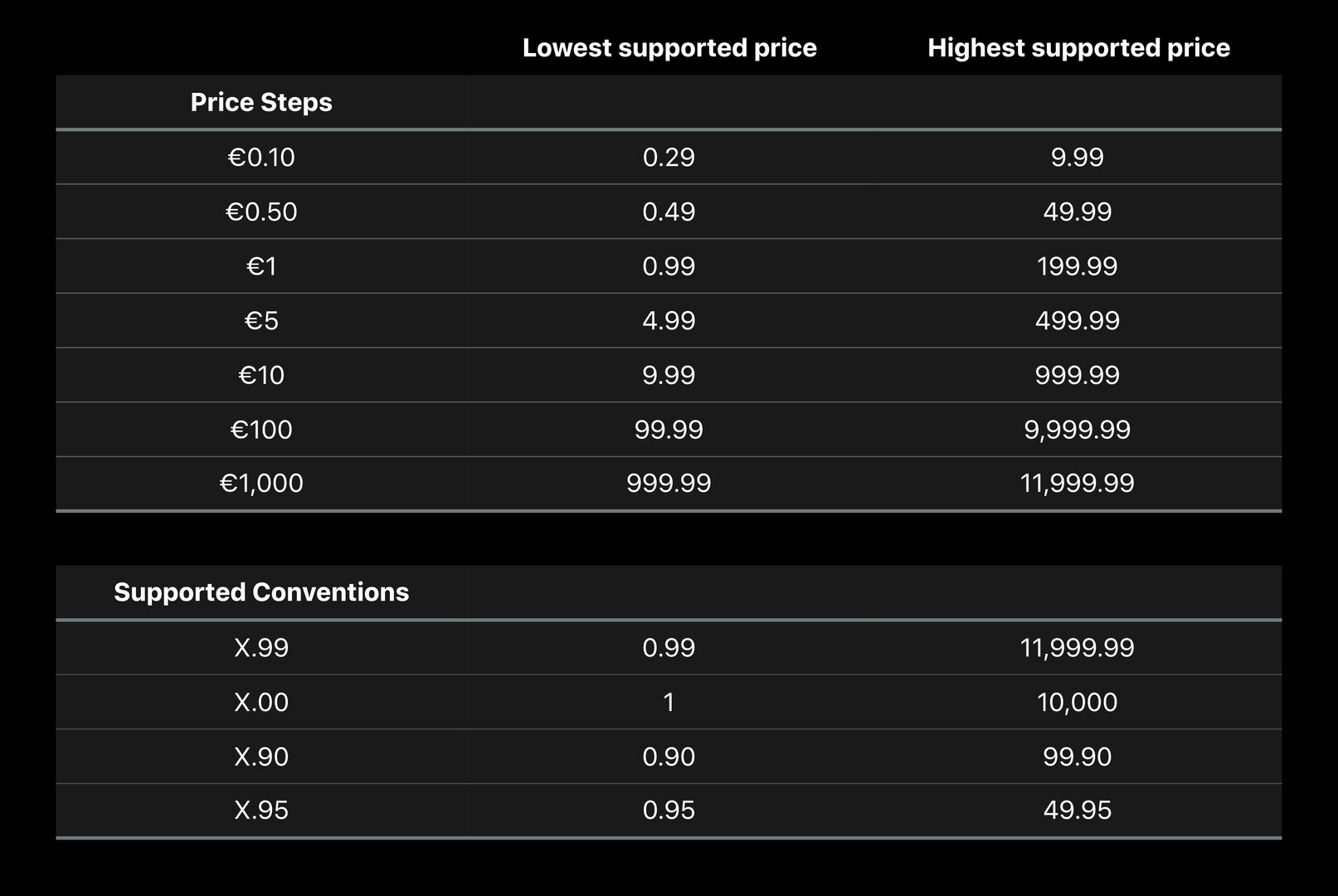 Rounded prices are possible
Developers also have the option of starting prices with two repeating digits, which can make sense in Korea (₩110,000), for example, and can also place their apps in the App Store with rounded prices, so that they cost exactly 1 euro , 0.90 euros or 49.95 euros can be offered. According to Apple, this function is particularly useful for managing bundles and annual plans.
Optional automatic generation of prices
The changes to the App Store also affect the management of currencies and taxes between each of the 175 App Stores. Developers can choose their primary region's app store as the basis for automatically generating pricing for the other 174 app store versions and 44 supported currencies, while still retaining the option to define pricing for each app store itself. The feature is initially available for subscriptions now and will be rolled out to all other apps in spring 2023. Balancing tools in the App Store should also help with fluctuating exchange rates and taxes.