Just one year after its presentation, the GeForce GTX 1060 (test), which was awarded an RRP of 319 euros at the time of release, secured the top position of the most used graphics cards in the monthly hardware and Steam Software Survey. It was only overtaken from the top position five years later.
The GeForce GTX 1650 takes the top
In the latest Steam Hard & Software survey (November 2022), the GeForce GTX 1650 (test) takes the top position with 12.1% (+ 1.2%).
While the GeForce GTX 1060 clearly loses favor with the players and with 11.2% (- 3.6%) only takes second place ahead of the GeForce RTX 2060 with 9%, the GeForce RTX 3060 laptop GPU (+ 2 .4%) made the biggest jump and lurked in wait at rank 4 with 8.9%.
The ranking of the most used graphics cards on Steam is dominated by Nvidia, while AMD and Intel are found – if at all – in the last places. New high-end graphics cards such as the GeForce RTX 4090 (test) and GeForce RTX 4080 (test) cannot yet be found in the list of the best, since their release is not far enough in the past and a corresponding market penetration is therefore not yet given.< /p>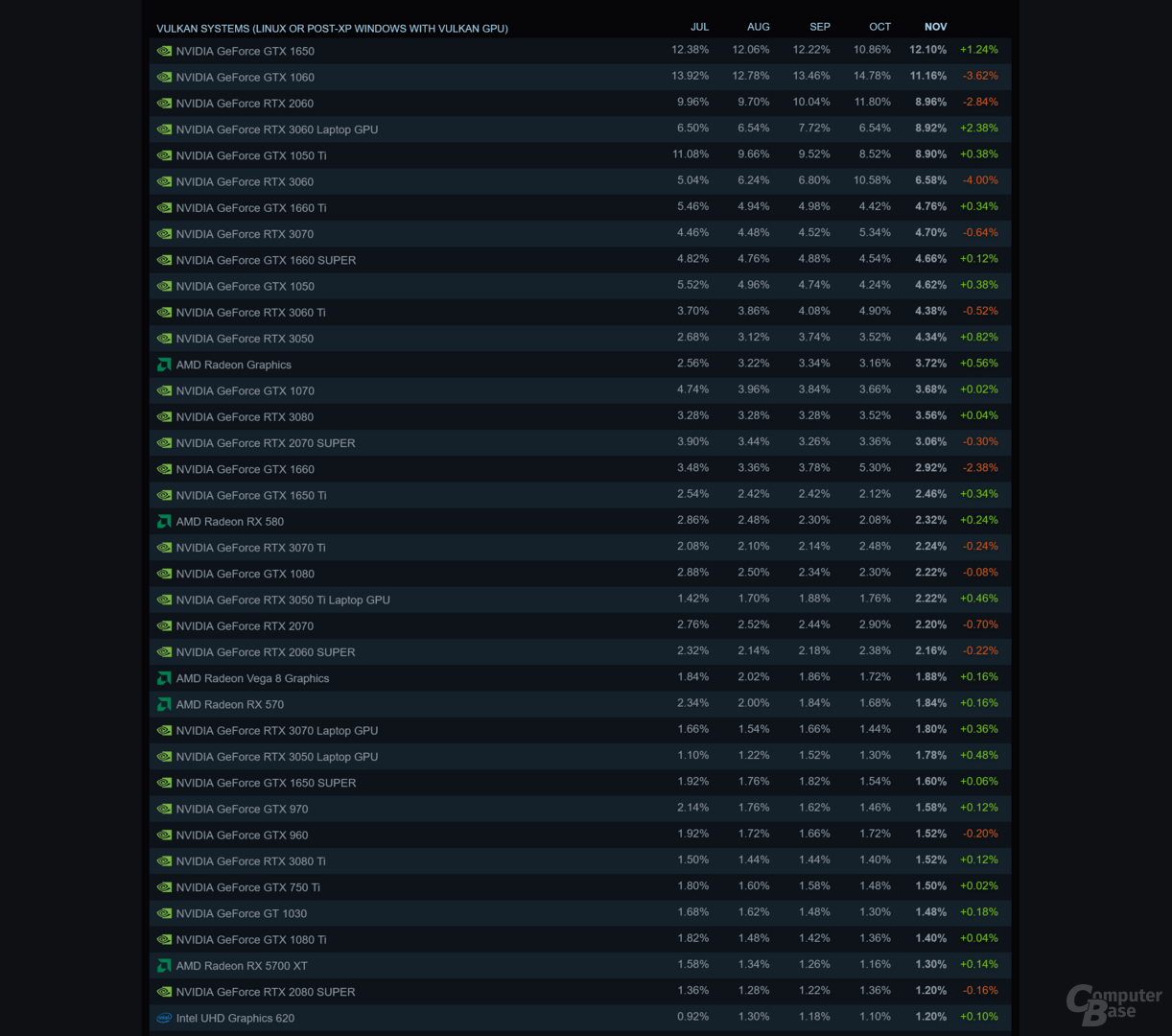 Always a recommendation for price-conscious gamers
The GeForce GTX 1060 based on the GP106 graphics processor ("Nvidia Pascal") with its 1,280 shader units was released on July 19, 2016 and was able to beat the AMD Radeon RX 480 (test), which was chosen as the direct opponent at the time, by an average of around six in benchmarks and games beat percent. With its good price-performance ratio, the GeForce GTX 1060 played at the level of a GeForce GTX 980, and thanks to its high efficiency, the graphics cards were very popular with price-conscious gamers right from the start.
Nvidia knew what the GeForce GTX 1060 needed to do to beat the AMD Radeon RX 480 – and it did just that.

The GeForce GTX 1060 Founders Edition is slightly faster than AMD's new Polaris graphics card, beating it by six percent.

In the end, the GeForce GTX 1060 ends up exactly on par with the GeForce GTX 980.

ComputerBase, July 19, 2016
So it's not surprising that the GeForce GTX 1060, less than a year after its release on the first ranked in the Steam Hardware and Software Poll. As early as June 2017, the graphics card took the top position among the players on Steam and dominated the ranking for years, while Nvidia Turing positioned itself behind it.
Dominance from June 2017 to October 2022
Finally, the GeForce GTX 1060, which was released between July 2016 and October 2018 in various versions with 3 GB, 5 GB and 6 GB GDDR5 and later also with GDDR5X, held the top position on Steam continuously from June 2017 to October 2022.