In exactly one week, AMD's new Radeon RX 7900 series will be launched. No wonder more and more information about the partner cards is leaking out. VideoCardz is now providing the first images of ASRock's models.
According to the report of the website known for leaks of this kind, ASRock is planning at least four models for the market launch on December 13th. Shown will be the Radeon RX 7900 XTX Phantom Gaming and the Radeon RX 7900 XT Taichi; the XT/XTX counterpart can also be expected from both of them.
RX 7900 as Phantom Gaming and Taichi
As with the refresh of the predecessors, ASRock uses a more subtle black design for the Phantom Gaming series, while older models such as the RX 6900 XT Phantom Gaming were decorated with silver elements.
The pictures of the new edition only suggest that the triple-fan cooler will once again tower slightly over the dual-slot panel. The central fan is also colored black instead of transparent. Three DisplayPorts and one HDMI can be seen, but not USB-C as in AMD's reference design.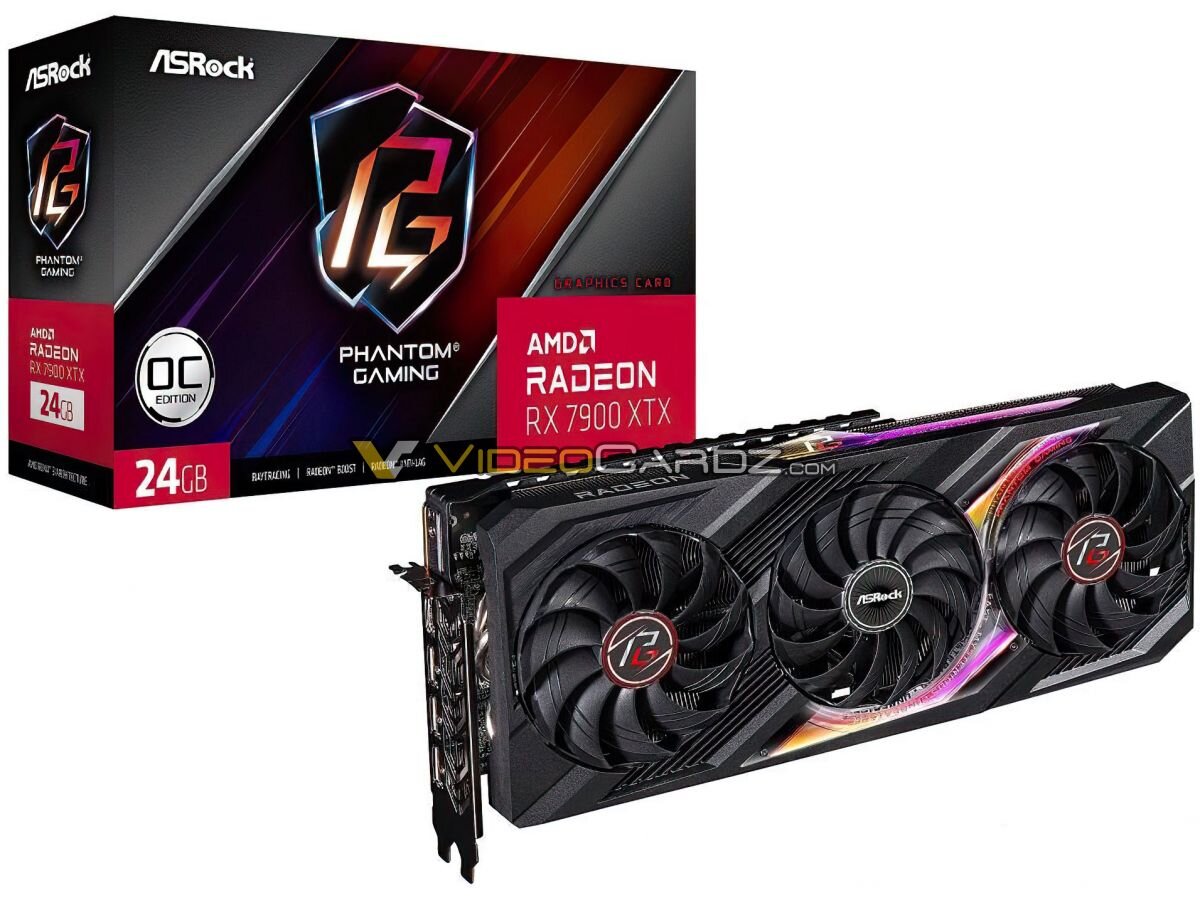 < p class="p text-width">The Taichi series did not yet exist in the RX 6900 graphics cards, making its debut in the new generation high-end segment. The Taichi series is still better than Phantom Gaming in terms of equipment and price, and the RX-7900 models will be better equipped accordingly. This can already be seen on the larger triple slot cooler of the Radeon RX 7900 XT Taichi. In addition, the report mentions three 8-pin sockets for the power supply, while the reference design provides for two. The Taichi model also has three DisplayPorts and one HDMI, but no USB-C.
ASRock has not yet provided any information on the clock speeds. The overclocked models from Asus' TUF series are said to be around 5 to 9 percent faster than the reference specification. There were also hints about the first models from PowerColor and Sapphire:
AMD Radeon RX 7900 XTX & XT: PowerColor Hellhound offers 14-layer PCB and 20 phases
AMD Radeon RX 7900 XTX & XT: Sapphire revives the Vapor-X with RDNA3